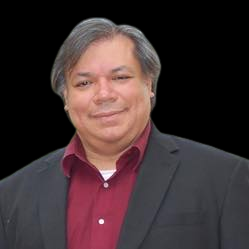 Starting at a young age, Mr. Lopez was exposed to some of the best Latin music. His father Arturo Lopez was the founder and director of Mariachi Chapultepec, one of the best mariachi ensembles to ever come out of San Antonio. His mother, Beatriz Llamas, La Paloma del Norte, was a famous mariachi and conjunto singer. She has been inducted into the Tejano and Conjunto Halls of Fame.
Mr. Lopez began his musical career as a percussionist at Thomas Edison High School in San Antonio and upon graduating, attended Texas State University (then known as Southwest Texas State University) to major in music. He eventually received a Master of Music in Percussion Performance and Composition in 1992. Shortly after graduating, he began working as a part-time faculty member at Texas State, teaching marching percussion; however, he quickly started to create courses that highlighted his passion for Latin music. This inevitably evolved into the expansion of Latin music at Texas State University. Starting with the creation of Salsa del Rio in 1995, the Latin Music Studies area grew to include Mariachi Nueva Generacion, Mariachi Lince De Oro, and Orquesta del Rio. In 2003, Mr. Lopez became a tenured Associate Professor of Music as well as the founder and coordinator of the Latin Music Studies area.
Under his direction, the salsa and mariachi ensembles quickly gained much recognition throughout the state, as well as nationally and internationally, through several performance opportunities. Most notably, Salsa del Rio won the prestigious Downbeat Music Award for "Best Band of the Year" in 2007, and Mariachi Nueva Generacion had a record-setting nine 1st place wins at the Mariachi Vargas Extravaganza during his tenure. Mr. Lopez was awarded full Professor of Music in 2018.
In 2019, Mr. Lopez was nationally recognized by The American Association of Hispanics in Higher Education (AAHHE) when he was awarded the William Aguilar Cultural Arts Award for his contributions to the advancement of the Hispanic Culture in higher education. Along with award-winning ensembles, he also created innovative and progressive graduate degrees in Salsa and Mariachi Performance and most recently, a certified Mariachi Music Education undergraduate degree. After 28 years of service to Texas State, Mr. Lopez retired to pursue many other exciting avenues in Latin music education.
Since his retirement, Mr. Lopez has remained very active in promoting Latin music education throughout the state via online courses, clinics and camps. In 2022, he worked as a part-time faculty member at San Antonio College, where he restarted Mariachi Estrellas Del Alamo. And most recently in 2023, he is teaching part-time at the University of the Incarnate Word to establish their newest ensemble, Mariachi Cardenal.