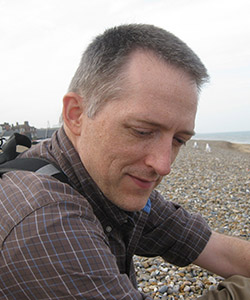 Kevin Salfen is a musicologist, composer, performer, and producer. He is Professor of Music at the University of the Incarnate Word in San Antonio, Texas, where he is also Co-Director of the Office of Sustainability. His writing on Benjamin Britten has appeared in Music & Letters, 19th-Century Music, and multiple essay collections, and he has written a theme-based music appreciation textbook ( Pathways to Music, Kendall-Hunt), now in its second edition. His paper presentations at regional, national, and international conferences cover topics ranging from anime to sustainability, from irony in music to the scores for James Bond films. Salfen has played key organizational roles for a number of conferences, including the 2018 national meeting of the American Musicological Society, and he is currently president of the society's Southwest Chapter. Salfen is a student of Japanese noh theater and a company member of international performing ensemble Theatre Nohgaku, whose 2018 tour of Blue Moon over Memphis, a noh about Elvis, was positively reviewed in the Los Angeles Times. Salfen's music has been performed in England, China, Japan, and throughout the US, and his New Year Canticles has been performed at the National Cathedral in Washington, D.C., and at Ripon Cathedral in England. His intercultural work Phoenix Fire, about the failed 1940 and successful 1964 Olympics, received an award from the National Endowment for the Arts. He writes for and curates the blog Sound Trove.
PhD (Musicology), University of North Texas (2005)
MM (Composition), University of North Texas (1999)
BM (Composition), University of North Texas (1997)
University of the Incarnate Word (2011–present)
Textbook
Pathways to Music, 2nd ed. (Kendall-Hunt, 2018)
Journal articles
"Britten the Anthologist," 19th-Century Music 38, no. 1 (July 2014): 79-112.
"Towards a Mechanics of Voice for Plomer and Britten's Gloriana." Music & Letters 92, no. 1 (February 2011): 84-113.
Book chapters
"Designing and Dancing Britten." Lucy Walker, coauthor. In Britten in Context. Cambridge University Press, forthcoming.
"Bond in the Middle: Swinging between High and Low in the Aspirational 1960s." In The Oxford Handbook of Music and the Middlebrow. Oxford University Press, forthcoming.
"William Plomer's Poetics of Exile at Home." In Britten in Context. Cambridge University Press, forthcoming.
"Anthologizing Christmas: Britten's Literacy and A Boy Was Born." 9-46. In Essays on Benjamin Britten from a Centenary Symposium. Edited by David Forrest, Quinn Patrick Ankrum, Stacey Jocoy, and Emily Ahrens Yates. Newcastle upon Tyne: Cambridge Scholars Press, 2017.
"Traces of Nō: Modularity and Saturation in The Burning Fiery Furnace and The Prodigal Son." 259-91. In Benjamin Britten Studies: Essays on an Inexplicit Art. Edited by Vicki Stroeher and Justin Vickers. Woodbridge: Boydell and Brewer, 2017.
Select Recent Presentations
"Cueing Shinjinrui Identity: Lupin III and Sounding Japanese in 1970s Anime," Society for Ethnomusicology Annual Meeting (Bloomington, Indiana; November 7-10, 2019)
"Combating Food Waste and Addressing Food Insecurity," w/UIW students Andrea Del Valle Soriano and Diana Mireles, Association for the Advancement of Sustainability in Higher Education (Spokane, Washington; October 27-30, 2019)
"Britten's Classroom: Music Rhetoric as Pedagogy in Postwar Britain," American Musicological Society (Rochester, New York; November 9-12, 2017)
"Excavating Bond Music: Dichotomies of the Middlebrow," Music and the Middlebrow Conference (University of Notre Dame-London; June 22-24, 2017)
"Transformations of Noh and Kyogen: Where Rivers Meet and Performing Theater History," Association for Theatre in Higher Education (Chicago, Illinois; August 11-14, 2016)
Select Recent Performances
"After Reading Baudelaire" (poem by Wendy Barker, music by Kevin Salfen) – Orit Eylon, voice; Ara Koh, piano – 2021 Society of Composers Online National Conference (May 6–9, 2021)
Made in SA: New Music, New Musicians, film by Brian Allen, co-produced by Brian Allen, Ken Metz, and Kevin Salfen, Lift-Off Global Network Film Festival (January 2021)
"Psalm" (poem by Octavio Quintanilla, music by Kevin Salfen) – Andrew White, voice; John McGinn, piano – SA24: Two Dozen Songs from Now (Sept. 28, 2019)
Gettysburg world premiere tour with Theatre Nohgaku, chorus member and music director (September 2019)
Evensong featuring the music of Kevin Salfen, with the choir of St. Luke's Episcopal Church, dir. Russell Jackson – Ripon Cathedral, England (July 19, 2019)
Phoenix Fire, workshop performance with Theatre Nohgaku in Tokyo, Japan (June 9, 2019)
American Musicological Society
American Musicological Society, Southwest Chapter
Composers Alliance of San Antonio
National Association of Composers, USA
North American British Music Studies Association
Society of Composers, Inc.
Society for Ethnomusicology
Theatre Nohgaku
Recent Awards/Recognitions
Artist Foundation of San Antonio People's Choice Award nominee (2019)
CHASS nominee for Moody Professor Award (2021, 2018)
CHASS nominee for Professor Award, Minnie Stevens Piper Foundation (2019, 2018)
William Mulcahy Award for Ecological Stewardship (2019)
Grants received
Japan 21st-Century Exposition Fund (in support of Phoenix Fire)
Marcia and Otto Koehler Foundation (in support of Phoenix Fire, Where Rivers Meet)
Nathalie & Gladys Dalkowitz Foundation (in support of Where Rivers Meet)
National Endowment of the Arts – Art Works (in support of Phoenix Fire)
Tobin Theatre Arts Fund (In support of Phoenix Fire, Where Rivers Meet)
Tokyo Club (in support of Where Rivers Meet)
UIW Faculty Endowment Research Award
UIW Faculty Workload Release Award
Asian New Year Committee
Cardinals' Cupboard Committee
Honors Council
Faculty Development Fund Committee
Faculty Research Awards Committee
Sustainability Advisory Board
University Research Council
Waste and Consumption Technical Working Group, Climate Action and Adaptation Plan, City of San Antonio
Opera, Benjamin Britten, composition, film, Japanese theater, anime, ecomusicology
MUSI 1110 Freshman Music Seminar I
MUSI 1110 Freshman Music Seminar II
MUSI 1111 Keyboard Skills I
MUSI 1121 Keyboard Skills II
MUSI 1300 Introduction to Music Theory
MUSI 1320 Music Appreciation
MUEN 3311 Singer's Workshop
MUSI 3341 Music History I
MUSI 3342 Music History II
MUSI 3347 Survey of Opera
MUSI 3348 Studies in World Music
MUSI 3350 American Popular Music
MUSI 3351 Music in Asian Theater and Film
MUSI 4341 Research and Writing in Music
MUSI 4398 Independent Study in Music History (for Minor in Music History)