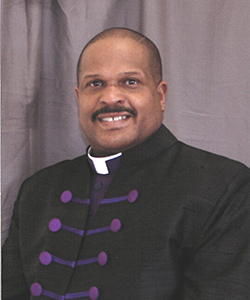 The Right Rev. Dr. Trevor Alexander was born in Romford, Essex, in England. He and his wife the Rev. Dr. Emma Alexander, have three wonderful girls. Bishop Trevor retired from the U.S. Army in 1995. Bishop Trevor has published sera articles on matters pertaining to the African American community and has presented in numerous conferences, locally, nationally, and internationally. On February 15, 2016, he was inducted into the San Antonio Black Worship Hall of Fame. During the month of February in 2018, Bishop was recognized by the University of the Incarnate Word, Black History Month Committee, with the Alumni of Distinction Ward.
Bishop Trevor holds an undergraduate degree from the University of the Incarnate Word, in Psychology (holding an emphasis on family) and Religious Studies, along with a Master of Arts degree in Pastoral Ministry from Oblate School of Theology, and a Doctor of Divinity Degree from St. Thomas Christian College and Seminary, Jacksonville, Florida.
Bishop Alexander is currently serving at the University of Incarnate Word as the Protestant Chaplain and Adjunct Faculty at the University of the Incarnate Word. He has taught for the Interdenominational Theological Center (ITC), Ministerial Certification Program, Atlanta, Georgia, and Oral Roberts University, (ORU), Ministerial Certification Program, Tulsa, Oklahoma. Bishop Alexander is also currently teaching in the Annual Conference for the Joint College for African American Pentecostal Bishops, Liturgical Track.
Bishop Alexander has served our nation in the U.S. Army for 20 years.
June 1996 - May 1998: The University of Texas at San Antonio (UTSA) Director of Service Learning
May 1998 - 2002: Alamo Community College District, Director of Service Learning
August 1998 - Present: School of Professional Studies
June 2004 - Present Protestant Chaplain and Adjunct Faculty
Alexander, Trevor D. (2011), "Moments for Reflection," The Word Magazine
Alexander, Trevor D, & Alexander, Emma M, (2003), "Revitalizing Relationships," Faith Magazine
Alexander, Trevor D. (2016), "Stop The Madness," IMAGE Magazine
Alexander, Trevor D. (2016), "Servant-Leader." Faith Magazine
Alexander, Trevor D. (2016), "Are Black Fathers Still Relevant," Faith Magazine
Alexander, Trevor D. (2016), "The Beloved Community," IMAGE Magazine
Manuscripts pending publications
Alexander, Trevor, (2018). In Sickness And In Health: A Husband's Journey As A Care-Giver."
Alexander, Trevor, (2019). The Theology of the Nets
2019 – Present: Vice President of the United State Catholic Mission Association
2018 – Present: National Treasurer for the Kingdom Council of Interdependent Christian Churches and Ministries
2009 - Present: Joint College for African American Pentecostal Bishops
2018 - Present: Interfaith Community Action Network (I/CAN)
Reading, writing, and fishing
February 2018: The University of the Incarnate Word, Black History Alumni of Distinction Ward
February 2016: Inducted to the San Antonio, Black Worship Hall of Fame
2010: Princeton Who's Who Registry of Executives and Professionals
2008: Biltmore Who's Who Registry of Executives and Professionals
2000: Church of the Year for Mission from Missionaries With The Vision
August 1987 – January 1990 Promise Land Church of God In Christ, Fort Leonard Wood, Missouri, Ordained Deacon, and Licensed Minister
January 1990 – February 1992 Divine Deliverance Church of God In Christ, Fort Leonard Wood, Missouri Senior Associate Minister
February 1992 – Feb 1996: West End Church Of God In Christ, San Antonio, Texas, Assistant to the Pastor and Education Director
March 1996 – Present: True Vine Church, San Antonio, Texas, Senior Pastor
June 2000 - 2019: Regional Overseer, Kingdom Council of Interdependent Christian Churches and Ministries
June 2019 - Present: Texas Southwest Regional Bishop, Kingdom Council of Interdependent Christian Churches and Ministries
April 2000 - August 2000 Mission Trips to West Africa
April 2002 - August 2002, Mission Trip to West Africa
RELS 1325 Religious Quest
RELS 3335 God and Human Sexuality
RELS 1315 Origins of Christianity
RELS 3320 Christian Sign, Symbols, and Celebrations
RELS 4301 Women In Christian Traditions