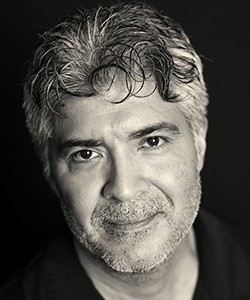 Philip M. Arévalo has been an English Instructor at the University of the Incarnate Word ever since it was a college. His teaching focuses on composition, resolving the challenges of learning and writing in a digital culture facilitated by Learning Management Systems. Professor Phil earned his master's degree at St. Mary's University, is a Certified Quality Matters Course Reviewer and is a recipient of outstanding part-time faculty awards at both the Alamo Colleges and the University of the Incarnate Word. He was first hired as a tenure-track lecturer at Palo Alto College. He also spent several years in the publishing industry as an editor at Harcourt and has published his own short stories, poetry and reviews of art and literature. Professor Phil is the poet in residence at the Equinox Gallery in La Villita where he organizes events and performs his writings in spoken word, often in collaboration with poets, musicians, dancers and visual artists. Phil Arévalo is a longtime supporter of the arts with his donation of time and effort to public art projects and cultural events. Phil and his wife, Suzanne, have an extensive collection of paintings, sculpture, and photography. As an active member of the International Order of the Alhambra Catholic service organization, Professor Phil helps to enhance the quality of life for God's children who are intellectually disabled. And when it is time to pause and give thanks, Phil and Suzanne go to their home away from home in Isla Mujeres, Mexico, where life is nothing but a beach.
ST. Mary's University, San Antonio, Texas
Master of Arts in English Literature and Language
Bachelor of Arts in Public Justice
St. Philip's College, San Antonio, Texas
Writing Lab Director 1991 to 1994
San Antonio College, San Antonio, Texas
Adjunct English Instructor 1995 to 1996
Full-time Temporary English Instructor 1994 to 1995
Palo Alto College, San Antonio, Texas
Lead Instructor for Developmental English 1997 to 1999
St. Mary's University, San Antonio, Texas
Adjunct English Instructor 2007 to 2008
UIW Graduate Writing Institute Coach 2011 to 2016
Alamo Colleges (SAC and SPC), San Antonio, Texas
Adjunct English Instructor 2003 to Current
University of The Incarnate Word, San Antonio, Texas
English Adjunct Instructor and Adjunct Representative 2005 to Current
Harcourt (Pearson Publications) San Antonio, Texas
Assessment Specialist – English Language Arts 2004 to 2007
Developed catalogue assessment tests for secondary education. Responsibilities included the writing, reviewing, and revising of test passages and questions. Assemblage of this content required attention to specific academic standards of a variety states. Required coordination with other groups, such as editorial and art production, to complete a cohesive assessment tool for publication.
Coordinated passage (content) development for all catalogue materials for secondary education. Duties included evaluating the content needs for publication, commissioning writers to provide content, and managing the production flow of written materials to ensure content quality within a scheduled timeframe. Content materials included short stories, non-fiction, and poetry
Contributed my own short stories and poetry for publication when commissioned content was inadequate
Responsible for assessing and developing grade 7 and 8 blueprints for item and passage development based on the secondary education assessment standards for 20+ states
"Book Review: Our House was on Fire," Voices de la Luna, Vol. 7, No. 3, April 2015.
"Multitasking for Survival: A Review of Solecism," Voices de la Luna, Vol. 7, No. 2, January 2015.
"Santos y Pecadores," Angel Rodriguez Diaz Beeville Art Museum Exhibit, December 2002.
"He Bop, She Bop, We Bop--They Bop," Voices of Art, Vol. 6, No. 8, August 2000.
Cycling
Running
Weightlifting
Yoga
Collecting Art
Cooking
Foodie
Beaches
Wine and Spirits
Drawing Writing
Outstanding Part Time Faculty Award Recipient for English Dept. at The University of the Incarnate Word
Adjunct Faculty Service Award for English Dept. at San Antonio College of the Alamo Colleges
Writing Academy sponsored by UIW 2019-2020
Flipped Learning Academy sponsored by UIW 2020
Quality Matters APPQMR sponsored by SAC 2018
Quality Matters PRC sponsored by SAC 2020
Learning Canvas Linkedin Learning sponsored by SAC 2020
PRC Online sponsored by SAC 2020
Order of Alhambra: Bejar Caravan N0. 56, San Antonio, Texas
Historiographer 2016 to Present
The International Order of Alhambra is a fraternal organization of Catholic men and women (age 18 years and older) dedicated to assisting persons that are intellectually disabled or handicapped.
Participate in Catholic rituals and celebrations, such as the annual commemoration of San Antonio de Padua at the San Fernando Cathedral, serving as the honor guard for Archbishop Gustavo García-Siller
Annually sponsor Zoo Trip and hotdog lunch for 700 intellectually disabled or handicapped children
Responsible for documenting events for quarterly publications in The Alhambran and Catholic Life
Advertise and coordinate Golf Tournament and Skeet Shoot Fundraisers
Central Catholic Marianist High School, San Antonio, Texas Alumni Association Board: Events and Fundraising 1979 to Present
Our mission is to preserve a close relationship between the school and its alumni, promoting faith and educational ideals and goals of the school and provide support in achieving these goals, and to provide scholarships and tuition assistance for current students.
Coordinate and participate in scholarship fundraising events, including Alumni Basketball Tournament, Wild Game Dinner and Fangdango Fiesta Festival
Coordinate volunteer events for Central Catholic, such as reunions, Homecoming Barbecues, and lunch for students on last day of finals
Coordinate 79ers Softball Team participation in Annual Alumni CCHS Tournaments, including recruitment of players and designing of uniforms
Annual La Villita Dia de Los Muertos Fiesta, San Antonio, Texas
Poet in Residence at The Equinox Gallery 2012 to Present
Coordinate and perform ritual ceremonies and calaveras (poetry) performances at La Villita and Hemisfair Park. Performers have included poets Octavio Quintanilla, Laurie Anne Guerrero, Sheila Black, Viktoria Valenzuela, Vincent Cooper, Victoria Garcia-Zapata Klein, Anthony the Poet, Nicole Marie Moore and Gerard Robledo.
Media influence on accessing and disseminating information, affecting perspective and expression of reality.
Composition I
Composition II
World Literature Studies
Creative Writing
Non-fiction Publication