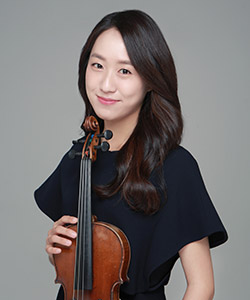 Dr. Yuri Noh has served as a faculty member, teaching applied violin lessons at University of the Incarnate Word since 2022. As a native Korean violinist and educator, Dr. Noh expanded her musical knowledge and artistic experience by participating in numerous music festivals, performances, and competitions in Germany, Italy, Korea, and the United States.
Her first solo debut was with the Dae-jin Orchestra in South Korea, and after, she has performed at various performance venues such as the Giardino del Teatro Olimpico and Teatro Comunale in Italy, and the Charles W. Eisemann Center, Moody Performance Hall, and Meyerson Symphony Center in the USA. Recently, she performed as a winner of the International Music Competition at Carnegie Hall in New York.
As an active orchestra player, Dr. Noh has served as a section violinist in the Abilene philharmonic, Lewisville Lake Symphony, Richardson Symphony, Monroe Symphony, and International Lyric Academy. Also, she was invited as a concertmaster in professional orchestras in the USA and Italy. Currently, she is a concertmaster of the Incarnate Word Orchestra.
Dr. Noh received a bachelor's degree from Daejin University in South Korea. At the University of North Texas, she earned master's and doctoral degrees in Violin Performance, Early Music, and Orchestral Conducting.
Daejin University (BM)
University of North Texas in Violin Performance and Early Music (MM)
University of North Texas in Violin Performance and Orchestral Conducting (DMA)
Taught Applied Violin Lessons at Daejin University, South Korea.
Teaching Applied Violin and Viola Lessons at UIW and McLennan Community College
Adjudicator at The Park Na Conservatory of Violin and Cello
Guest Lecturer at The Park Na Conservatory of Violin and Cello
Violin Faculty of the Young Artist String Summer Camp at University of Arkansas
String Orchestra Instructor at Immaculate Conception Catholic School
Instructor and Conductor at Wise Youth Strings Ensemble
Dallas Musik Society
Texas Music Educators Association
Pi Kappa Lambda
Second Prize, Golden Classical International Music Competition, New York
Honorable mention, Rising Stars Grand Prix International Music Competition, Berlin, Germany
Second Prize, Music Education Newspaper Competition, Korea
First Prize, Korean American Education Research Organization Music Competition, Korea
Applied Violin Lessons:
MUAP 1144 Basic Private Instruction
MUAP 1154 Private Instruction I
MUAP 1155 Private Instruction II
MUAP 2254 Private Instruction III
MUAP 2255 Private Instruction IV
MUAP 3254 Private Instruction V
MUAP 3255 Private Instruction VI
MUAP 4254 Instrumental Private Instruction VII
MUAP 4255 Instrumental Private Instruction VIII