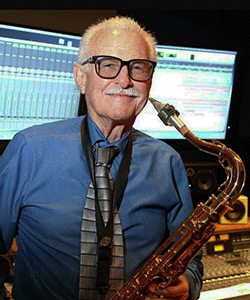 Jim Waller retired from the University of the Incarnate Word (UIW) in San Antonio, Texas May 2023 and is now emeritus faculty. Prior to teaching at UIW, in 2000, he had a forty-year career as a professional musician, musical arranger, producer, and recording engineer. He is the recipient of multiple awards for music compositions, including two ASCAPLUS awards, and multiple awards for jingle production, including two ADDY's.
His favorite hobbies are raising and training his German Shepherd, Miles, along with surfing, sailing, and horseback riding. His research interests include current developments in the music industry, music composition/arranging techniques, audio recording, and music technology.
He has been nominated twice for the Presidential Teaching Award.
Attended Fresno State College in California for four years, majoring in music.
Pursued professional music career for fourteen years, returned to formal studies in 1978.
Earned a Bachelor of Arts in Music Composition from the College of Creative Studies at the University of California, Santa Barbara, 1979.
Holds an Master of Science in Music Technology from Indiana University-Purdue University, Indianapolis, 2007.
Private study in music composition with Mildred Couper, Edward Applebaum, Gordon Crosse and Thea Musgrave.
Private study in jazz arranging with Billy Byers at the Famous Arrangers Clinic at UNLV
Adjunct Instructor at UIW, 2000
Full-time Instructor, Coordinator, Music Industry Studies, 2005
Senior Instructor, 2009
Assistant Professor, 2015
Associate Professor, tenured, 2020-2023
Professor Emeriti, 2023
Adjunct Instructor of Music at Santa Barbara Community College, 1978-1979
Directed the SBCC Jazz Ensemble and the SBCC Continuing Education Jazz Ensemble.
Taught jazz arranging for large ensemble.
Held California Community College Teaching Credential, partial fulfillment.
A big band jazz CD entitled Bucket List by the Jim Waller Big Band featuring Jacqueline Sotelo (UIW alumna) with special guest Will Kennedy (drummer with world-renowned Yellow Jackets) was released internationally on August 1st, 2020. A vinyl version was released on April 15, 2021. It has been on the national jazz charts for about six months reaching number 109 in March of 2021. It has received over 15 very positive reviews in the jazz press. Excerpts and links to the reviews are available at: jimwallerbigband.com/reviews. It was recorded and mixed in the UIW Recording Studio, produced by Jim Waller and Skip Burrows. All fourteen selections were arranged by Waller and seven are Waller's original compositions.
In December of 2020, pianist Dr. Artina McCain released a solo piano CD, Heritage, An American Musical Legacy, which has garnered excellent reviews and was a Gold Medal Winner at the 2021 Global Music Awards. Dr. McCain is a former adjunct professor of piano at UIW. Waller recorded and mixed the CD in the UIW Recording Studio.
Coincidentally, her husband, trombonist Dr. Martin McCain, played bass trombone on Bucket List.
On July 14, 2019 And Now . . . by the Aaron Prado Trio, was internationally released. It was recorded by Jim Waller in the UIW Recording Studio and is available on all the streaming platforms.
In 2020, Jim was commissioned by the U. S. Air Force Band of the West jazz ensemble, Dimensions in Blue, to write three musical arrangements.
In the past, Jim was commissioned to write arrangements for the U.S. Air Force Band Tops in Blue, several Las Vegas shows, British recording group The New Vaudeville Band, and in 1988, was commissioned to arrange and produce an orchestral recording of America the Beautiful for the U.S. Air Force "Tribute to Bob Hope."
Jim's professional memberships include:
Music and Entertainment Industry Educators Association (MEIEA)
American Society of Composers, Authors, and Publishers (ASCAP)
American Federation of Musicians (AFM) 1961- 2014
Voting Member of the Recording Academy, formerly known as the National Academy of Recording Arts and Sciences (NARAS)
Audio Engineering Society (AES)
As stated in his bio, JIm's favorite hobbies are raising and training his German Shepherd, Miles, along with surfing, sailing and horseback riding. His research interests include current developments in the music industry, music composition/arranging techniques, audio recording and music technology.
Jim won two ADDY awards, one local and one regional for his production of a jingle for Fajita Junction.
He also won three Communicator Crystal Awards for jingles produced for:
National Furniture of San Antonio
Becker Motor Company of New Braunfels
Discount Car and Truck Rental, an international company with over 200 stores in Canada, Australia, Egypt and the U.S.
Jim won two Communicator Awards of Distinction in website design for:
BobbyFlores.com
ShiplerBoots.com
Jim holds a certificate in Modern Recording Techniques from the Audio EnginEARing Institute of San Antonio.
He also has certificates in Dreamweaver, HTML, and Photoshop from New Horizons Computer Learning Center in San Antonio
Service to the Profession
Adjudicator - St. Mary's Annual Fiesta Jazz Festival Competition (2007 – 2019)
Adjudicator - Texas State University Hill Country Jazz Festival Competition (2019)
Coached/mentored Churchill HS Jazz Ensemble on three occasions in preparation for the St. Mary's Fiesta Jazz Festival Competition
Service to the University
Interim Music Department Chair for one year through June 1, 2013
Search Committee for Band Director/Coordinator of music Education (2013)
Faculty Advisor to Music industries Club (MIC) (2005 to present)
Mentored three McNair Scholars
Coordinating, consulting, budget formulation, equipment selection and integration of the new UIW Recording Studio
Authored Music Industry Studies portion of Department of Music Program Review for application for National
Association of Schools of Music (NASM) accreditation
Writing sixteen student recommendations
Volunteered musical services and contracted other musicians for the President's Spaghetti Dinner (2006 - 2009, 2011 - 2016)
Service to the Community
Fundraising Concert, Remembering Jackie King – raised $430 for Wounded Warrior Foundation (2017)
Fundraising Concert, A Night of Jazz and Strings on Broadway – raised $1000 for Wounded Warrior Foundation (2016)
Hosted several fundraisers at the Cove Restaurant while directing the Cardinal Jazz Band
In July of 2009, the UIW Jazz Ensemble, directed by Jim Waller, performed at the Montreux Jazz Festival in Switzerland and was the only university jazz ensemble from the U.S. invited to perform at the North Sea Jazz Festival in Rotterdam, Holland.
As a composer, Jim has had 60 plus compositions in various genres published by Acuff-Rose, Doral Music, EMI Music Publishing, Anthony Music Corporation, The Production Garden, and Southern Music. Three of his recently published compositions/arrangements for jazz ensemble won two ASCAPLUS awards and were performed at the Montreux Jazz Festival in 2009. As an artist/producer, Jim has had recordings released on Warner Brothers, United Artists, Del-Fi, Arvee, Sundazed, and CBS-Columbia Records.
Jim was a member of "Los Blues", a groundbreaking jazz-rock octet that once held the record for the longest steady engagement (300 weeks) in a Las Vegas lounge. Los Blues performed two shows a night at 3:30 am and 4:45 am in the Casbar Theater of The Sahara Hotel, where they shared the stage with Don Rickles, Duke Ellington, The Four Freshmen, Norm Crosby, and Sammy Davis, Jr.
During his residency in Nevada (1967-1973), Jim played lead trombone with the UNLV Jazz Ensemble, was Musical Director for the "Miss International Showgirl" television special broadcast live from the Dunes Hotel, and arranged and produced part of the soundtrack for the foreign-produced film "This Is Las Vegas" in which "Los Blues" made several appearances performing selections from their newly recorded "Los Blues - Volume One" LP on United Artists Records which Jim arranged and produced. In addition to the Sahara Hotel, "Los Blues" performed at the Flamingo and Tropicana Hotels, The Crater Festival in Honolulu, The Fiesta Palace Hotel in Mexico City, Madison Square Garden and the Waldorf Astoria Hotel in New York, Small's Paradise in Harlem, and Oil Can Harry's in Vancouver, B.C.
Jim has performed with Marvin Gaye, Etta James, Willie Nelson, Tony Orlando and Dawn, Cat Anderson, Nichelle Nichols, Bobby Hatfield, Ray Peterson, The Ojays, Gene Pitney, Richie Cole, Jackie King, Paul Gonsalves, Pete Fountain, Bill Watrous, Frank Rosolino, Will Kennedy, Bruce Conte, and with opening acts for Curtis Mayfield, Blood Sweat and Tears, Isaac Hayes, Helen Reddy, The Beach Boys, Tower of Power, The Drifters, O.C. Smith, and Jackie DeShannon.
As a recording engineer, Jim has recorded Kirk Whalum, Richie Cole, Bill Watrous, Bobby Flores, Roger Velasquez, Jackie King, Eugene Clark, Bobby Rey, Randy Garibay, and Dick Wagner.
As a session musician, he has performed on the soundtrack of Knightrider 2000, the theme for KENS-TV Saturday Morning News Show, the San Antonio Spurs Fast Breaking Fiesta jingle, and on jingles for Plug-ins, Bud Light, and Minute Maid Orange Juice.
Jim's research interests include the current state of the music industry, music composition/arranging techniques and developments, and audio and music technology.
Intro to Music Industry Studies
Intro to Music Technology
Studio Arranging
Record Production
Advanced Audio Production
Web Design For Music Applications
Jazz Improvisation
Jazz Arranging
Internship in Music Industry Studies