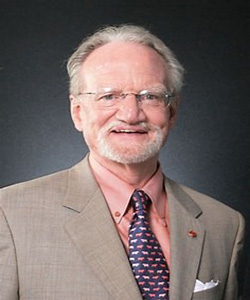 Ambassador Creagan was an American diplomat for 25 years. He served in many European and Latin American countries, including Mexico, El Salvador, Peru, Brazil, Portugal, Bolivia and Italy.
He was the U.S. Ambassador to Honduras and the Deputy Ambassador to Italy and the Holy See. He has been a professor of Political Science at the University of the Incarnate Word, St. Mary's University and Texas A&M. He is President Emeritus of John Cabot University in Rome, Italy.
Ambassador Creagan is Political Science Professor at UIW and is a Fellow of the Center of the Americas at UIW.
University of Virginia, PhD
University of Notre Dame, AB
Harvard University, President's Institute
Harvard University, Trade Union Program
Teaches and taught International Relations, Government and Political Science in the several universities noted above as well as at Mexico City College and lectures at John Cabot University, Rome.
35 years as U.S. Foreign Service Officer/Diplomat
15+ years as Professor at the several universities noted above
6 years as President of John Cabot University, Rome , Italy.
Speeches at World Affairs Council and Commencement Addresses at Hiram College, and Wesley. "Conversations with the Ambassador" at UIW. Talks with students, professors and the public.
American Foreign Service Association
San Antonio World Affairs Council (Board member)
San Antonio Council for International Visitors (Board Member)
Designated " Commendatore"(Knight) by President of Italy for U.S. Italian relations
Designated Commendatore (Knight) of St. Gregory the Great by Pope John Paul II
Globalization
International Law
Latin American Politics
U.S. Latin American Relations
International Organizations