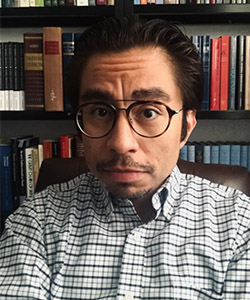 Dr. Garcia has been teaching at UIW since 2017. He is also affiliated with the University of Dallas as Adjunct Assistant Professor of Humanities. Dr. Garcia did his graduate work at KU Leuven (Belgium) where he taught several courses in the international programme of the Institute of Philosophy. His research specialization is in the History of Philosophy and how work focuses on Medieval and Renaissance philosophy—esp. the 15th–17th centuries. He is particularly interested in philosophical anthropology and the imagination, the long Aristotelian tradition(s) and the history of universities, and political philosophy and the task of education.
Ph.D., KU Leuven (Louvain)
M.Phil., KU Leuven (Louvain)
M.A., University of Dallas
B.A., University of Dallas
"The Monstrosity of Vice: Sin and Slavery in Campanella's Political Thought." Aithér: Journal for the Study of Greek and Latin Philosophical Traditions 12 (2020), 232–248.
Review of Minima Mediaevalia. Saggi di filosofia medievale (Aracne, 2019) by Ruedi Imbach. Deutsches Dante-Jahrbuch 95 (2020), 185–189.
"Tommaso Campanella: La città del Sole (The City of the Sun)." The Literary Encyclopedia, Vol. 1.6.1: Italian Writing and Culture (2019).
"The Editor, the Author, and the Saint: Dominic of Flanders and Antonio de Ferraris, Two Quattrocento Readers of Aquinas." Divus Thomas 120 (2017), 69– 88 (co-authored with A. A. Robiglio).
"Interiority and Human Experience: Dominicus de Flandria on the Interior Senses." Revista Española de Filosofía Medieval 22 (2015), 219–237.
"Aristotle Among the Jesuits: A Note Concerning a Recent Publication." Rivista di Filosofia Neo-scolastica 106 (2014), 177–193.
Review of Studies on Early Modern Aristotelianism (Brill, 2012) by Paul Richard Blum. Tijdschrift voor Filosofie 75 (2013), 802–804.
Renaissance Society of America
Society for Medieval and Renaissance Philosophy