Sister Raphael Eccell, CCVI, Professor Emerita of Library Services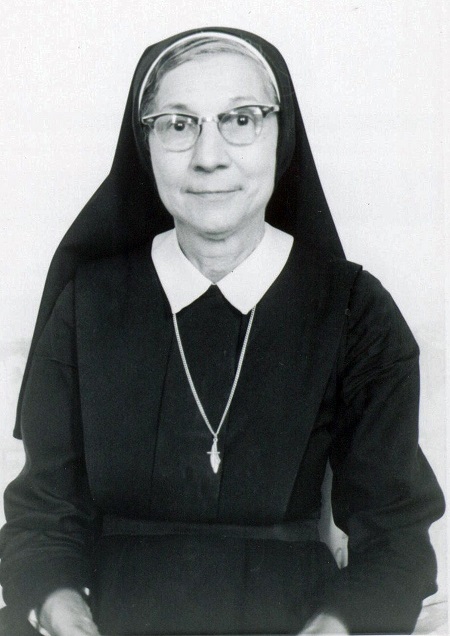 Lucy Eccell was a San Antonio native and a proud Incarnate Word graduate. She graduated from the High School in 1926 with Elizabeth Huth Coates who later gave the campus theatre named for her. Both appeared in a 1922 photo of the entire student body, grade school through college, in front of the new Administration Building. Both went on to the College. Lucy went on for the BA in 1934 entered the Incarnate Word convent and received the name Raphael; Elizabeth chose marriage and became Mrs Stieren and outlived three husbands. Their paths never crossed, but Sister Raphael never forgot her bright classmate even though their lifestyles could not be further apart. Sister was frugal to the point of Spartan, was devoted to her Congregation, and had a work ethic that betrayed her diminutive frame.
When she entered the Congregation she came with all she had packed neatly in a Post Toasties carton; upon retirement she moved with everything in that same box. She never ate between meals, but when mealtime she ate. When it was time to pray, she prayed. Long after the rules were relaxed she visited with her brother, once a month, in the community parlor. Her only known luxury came at Christmas when she made her much anticipated whiskey balls from a family recipe.
Other than brief assignments and time out for graduate studies, the library was her life. She opened it the morning and locked it in the evening. She may have had the only key people thought. In the beginning the entire Library was in the Administration Building which she ran a friendly but organized manner. In 1950, when the St Pius X Library was complete, she organized an effective way of moving the books; a line of students and volunteers passed the books, in shelf order, to the new facility.
Her simple lifestyle hid a fine sense of humor and compassion for the students and those who worked with her. She kept the Library holdings current for any accrediting visit, a watchful eye on overdue books, and students assigned to work in the Library appreciated the value of their work, from filing cards for new acquisitions or keeping bookshelves well dusted. But the years were passing and she had been honored by the Library Association for her Trojan work. The time had come for her to pass the baton, and the keys, to the new Head Librarian, Mendell Morgan, Jr. One day she retired; the next day she arrived to work more.
Even with reduced duties there Sister Raphael found time for other chores. She volunteered to work the College switchboard as needed in the evenings or weekends. It was during this period she encountered the precocious and very young Nancy Agnese in a conversation now part of Incarnate Word lore. "Your hands are really wrinkled, Sister.""That's because I'm old.""How old are you, Sister?" "I'm very old." "Are you going to die soon?"Sr. Raphael looked down at her small guest and said earnestly, "I hope not." Sister died at age 88. Nancy is now a veterinarian and married with a small child of her own. But as a student she worked in the Library.
This is our heritage. Making a difference.