Sister Mary Elizabeth Joyce, CCVI, Professor Emerita of Fashion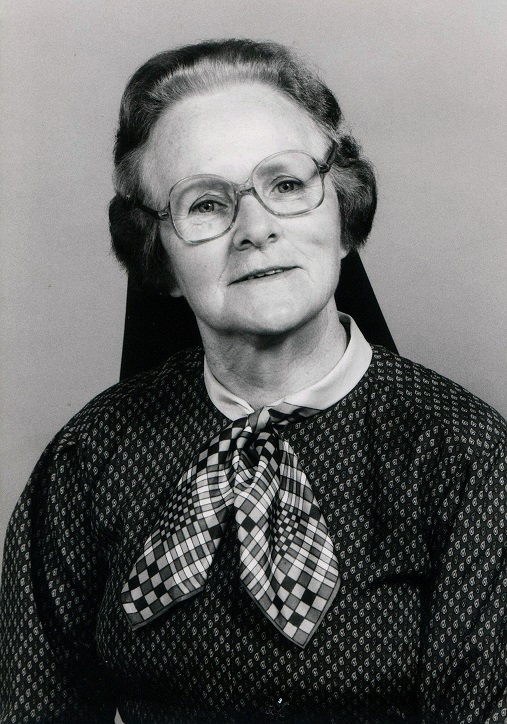 She started her long career at Incarnate Word as Sister Mary Clarence working with small children in the campus pre-school program. One of those children, Paula Ragusa, remembered her well and years later she came back for a visit after she had become award-winning actress Paula Prentiss.
Despite the uniform lifestyle she chose to enter, she had a talent for innovative and cutting edge fashion design with impeccable construction, and was full of surprises of her own. She had very high standards for both design and construction. Tailoring was never, ever an afterthought.Even costumes for a period campus play had to pass her critical eye, and even an impending dress rehearsal was no excuse for sloppy.
Under her leadership fashion design students spent minimesters and summers in Paris, Rome, London, and Geneva, as well as in New York. In 1976 new undergraduate programs leading to the Bachelor of Science degree were offered in fashion merchandising, interior design, and fashion design.
Hundreds of former students remember being brought to tears as she removed a hem as poorly done. At the same time they were in awe that her modern design for hostesses at HemisFair '68 was not only accepted but tailored to perfection. And to this day those garments survive. And she wanted her students to aim high and in that spirit she founded the now critically acclaimed 31st Annual Fiesta fashion show, The Cutting Edge.
A high honor for her reputation came in1989 when she was invited to recreated several original gowns from the 1938 film Gone With The Wind for the Harry Ransom Center of UT Austin. In 1998 a renovated Sister Mary Elizabeth Joyce Building was dedicated in her honor.
This is part of our heritage. Making a difference.