Sr Maria Goretti Zehr, CCVI, Professor Emerita of Music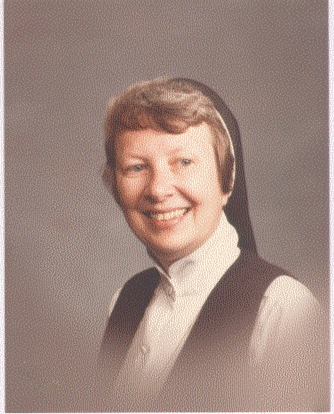 Margaret Zehr completed high school at Incarnate Word Academy in her native St. Louis and entered the congregation in 1949 where she received, and kept, the name Sister Maria Goretti. Nothing expresses the profound impact she had on her students than the fact that a music alumnus named one of his children Zehr. She taught piano to thousands of students at the University of the Incarnate Word during a teaching career that spanned nearly a half century.
She obtained a Bachelor of music degree in piano performance from IWC, a master of music from the University of Texas at Austin and a doctorate from Indiana University where she was accompanist for great operatic talents. Later in her career here she was named a Moody Professor of Music. Sister Goretti was a gifted pianist and organist with a pronounced sense of humor, some of it corny. She loved puns; her own and others she remembered. One was "What do you call a nun writing under an assumed name? Nundeplume". But at her core there was a deep dedication to music, teaching, and treating her students of all ages as persons. She was at ease with a youngster learning the piano for the first time as she was with an adult trying to master a complicated and intricate composition for the organ. One of her favorite sayings was, "You play and I'll pray."
She was also a composer of liturgical and popular music, was DJ for a classical music station, and frequent guest performer on and off campus. Her sudden death on campus at age 70 on the second day of a fall semester was a very sour note. She was walking into class, told the students she did not feel well and said, 'I'm going to get a drink of water' and collapsed. Perhaps it was coincidence, or something else, but at her funeral Mass the key of "G" on the chapel organ became stuck.
This is part of our heritage. Making a difference.