Frequently Asked Questions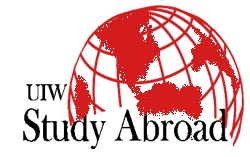 "Travel is fatal to prejudice, bigotry, and narrow-mindedness, and many of our people need it sorely on these accounts. Broad, wholesome, charitable views of men and things cannot be acquired by vegetating in one little corner of the earth all one's lifetime." Mark Twain.
Study abroad participants reported positive skill gains from studying abroad in 14 out of 15 skills desired for employment in today's workforce (Farrugia and Sanger, 2017).

93.6% of first-generation students who studied abroad earned their undergraduate degree within six years in comparison to only 58.4% of first-generation students who did not study abroad (Mason and Garcia, 2022).
98% of students said they returned with a better understanding of their own cultural values and biases, and a more sophisticated way of viewing the world and the people we share it with. iesabroad.org
An independent study abroad program describes a student's participation during an academic semester, or up to a year, at an academic institution located overseas.
Students may participate in an exchange program, which involves an exchange of students between two universities that are bound by an "Exchange Agreement". Students pay tuition to the home school and enroll directly in courses offered by the host partner university. Fees are paid directly to the partner institution abroad.
Students may choose to study at a non-UIW partner institution; however, are required to follow the same process as a student wishing to attend another university for a semester or longer. Students wishing to study at a non-UIW partner institution are instructed to visit the Registrar's Office and complete the required forms.
Students, who are academically eligible to participate, in any major can study abroad. In order to ensure the transferability of courses to be taken abroad, students are encouraged to meet with their academic advisors before beginning the study abroad process. For eligibility requirements please refer to the Study Abroad Website titled Eligibility, under Steps to Study Abroad.
To study abroad, you must have successfully completed 12 semester hours at UIW. Also, you cannot study abroad the semester you intend to graduate. The best time to study abroad is during your sophomore or junior year. Remember, you can study for the summer, a semester, or a full year. Your choice should depend on your course of studies and academic progress.
UIW holds Academic Agreements with more than 100 Sister Schools in more than 40 countries in Latin America, Asia, Europe, and Africa.
You are not limited to attending a Sister School, but the advantage is that your courses will more easily transfer to UIW and you will continue to pay regular tuition at UIW.
Foreign language proficiency is not necessarily a requirement. Some schools offer courses taught in English; however, it is to your advantage to be familiar with the language and culture of the country of your choice. Furthermore, studying abroad is the best way to improve your language skills in a language you have already studied.
ContinUIW is intended for main campus undergraduate classes only. As such, this does not apply to international sites.
If you arrive at the host institution and find that one or more of your classes is no longer offered, simply refer to the classes that you and your advisor have chosen as alternative courses and inform your academic advisor of the change.
That, of course, depends very much on the program itself. In many countries, dormitories as we know them, don't exist. Frequently, the university will indicate the options available (dormitory, host family, apartment). Living with a host family is usually the most rewarding experience.
YES, definitely. All study abroad participants are required to purchase CISI international health insurance. Dependent on the program, participants' insurance may be purchased on their behalf.