UIW is proud to be an active DoD SkillBridge partner, and we have the privilege of hosting many of these Servicemembers within our schools and departments. In this mutually beneficial arrangement, Servicemembers provide invaluable assistance to UIW, and in return, we offer them a meaningful civilian work experience.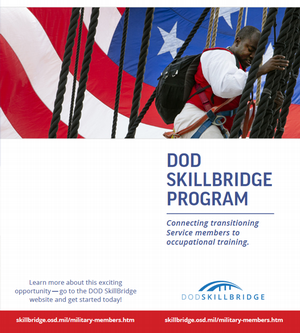 For more information about the Department of Defense (DoD) SkillBridge Program, please click here.
Each year approximately 200,000 members of the U.S. Armed Forces, stationed in over 140 military installations in the U.S. and overseas, will leave active duty and re-enter the civilian workforce or pursue higher education. 
Through the SkillBridge program industry partners benefit from gaining early access to the extensive experience, skills and unmatched work ethos service members bring to the workforce. Employers craft SkillBridge programs to meet their specific workforce needs, matching those needs to the skills and abilities of highly motivated Service members, all at no cost.
The Department of Defense (DoD) SkillBridge Program offers a unique opportunity for active-duty members to acquire valuable civilian work experience during the final 180 days of their service commitment.
If you are considering completing the program at UIW, please email Priscila Fiala, Military Programs Coordinator at pfiala@uiwtx.edu to specify the area of interest within the university. This information will help us facilitate the next steps in the process.
Once you provide your area of interest, we will reach out to the relevant school or department to explore potential opportunities for you.
Below are some departments and schools to consider. Other areas are potentially available upon request.
UIW Internships

Admissions
Advising
Alumni Services
Athletics
Business Office
Career Services
Financial Aid
Human Resources
Library
Military & Veteran Center
Office of the Registrar
Office of Research & Graduate Studies

Dreeben School of Education
Feik School of Pharmacy
H-E-B School of Business and Administration
Ila Faye Miller School of Nursing and Health Professions
Rosenberg School of Optometry
School of Mathematics, Science and Engineering
School of Media and Design
School of Osteopathic Medicine
School of Physical Therapy
School of Professional Studies
During SkillBridge participation, service members continue to receive military compensation and retain coverage under their military benefits.
Individuals participating in the SkillBridge Program are not obligated to have an existing affiliation with the University of the Incarnate Word (UIW), nor are they required to pursue a degree from UIW.