January 6, 2021
By Thomas M. Evans, PhD
Our University of the Incarnate Word faith community responds to Covid's challenge
Meeting needs across San Antonio and South Texas
As a faith community, the University of the Incarnate Word has moved toward the unknown of a global pandemic step by uncertain step, guided by one though line — our Mission. And while we remain far from seeing our way completely clear of this crisis, today we stand stronger, together thanks to a Mission that took root more than 150 years ago.
Writing in the San Antonio Express-News three months into the pandemic, I said this:
As the nation responds to this global pandemic, we at the University of the Incarnate Word know that our choices — and those of our partners — will shape our collective well-being for generations. As the world searches for a coordinated, systematic and dignified response to a vast human need, UIW can say that we are made for this time.
The claim "we are made for this time" did not try to deny our ground reality. Our University, like so many, remained in triage mode — meeting extraordinary student needs and adapting to changes in teaching methods, content, and assessment in real time (on a good day) or in three to five days, as each wave of new information and uncertainty would crest.
The thought grew from a far more abiding source — our inescapable origin story. UIW, as many of you know, traces its start to an 1866 cholera epidemic that prompted C.M. Dubuis, bishop of Galveston, to issue a call for help. The world responded — and three courageous young women traveled from France to form the congregation of the Sisters of Charity of the Incarnate Word and meet the health, societal and educational needs. Compassionate street medicine and pastoral care evolved into the creation of Santa Rosa Infirmary, the first Catholic hospital in the San Antonio area and the Incarnate Word School, now the (international, 10,000-plus student) University of the Incarnate Word.
Mission Inspires Action
The late author, educator and theologian Jeanne Knoerle, S.P., president of Saint Mary-of-the-Woods College in Indiana from 1968 to 1983, devoted her career to clarifying the role of mission in faith-based colleges and universities. Speaking to the 1996 Conference of the Lilly Fellows, Knoerle said:
"The identity of an institution lies not in what anyone says about it from time to time but in what everyone does about it every day. Identity is not a static thing. Rather it is a dynamic action, a constant movement among the many persons who create an institution and who seek to influence its life."
We have come this far through the events of 2020 as a community thanks to the tireless work of faculty, coaches and staff. Alumni and friends have stepped up to support urgent student needs. Leadership during this academic year has come from so many sources as we have learned to navigate this pandemic safely and ethically.
Through the pandemic, we have learned how best to bear witness to the grief of those who have lost family members to the virus. We have become even more attuned to longstanding issues of health discrepancies and food insecurity, leading to new partnerships with health providers and the San Antonio Food Bank. We've seen our various free health clinics step up and supported our School of Osteopathic Medicine and Ila Faye Miller School of Nursing and Health Professions students as they courageously carried out their residencies and clinical rounds on the front lines.
Looking Forward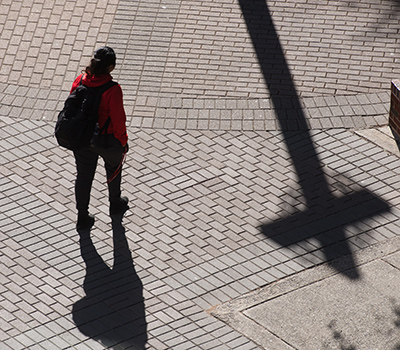 UIW's strategic priorities take on added urgency and significance going forward. These eight priorities provide clear direction that moves us toward our vision for a new century and in distinguishing UIW as a premier institution of transformative higher education for generations. UIW will expand and consolidate our presence at the former Brooks AFB, where we will gather students, researchers and clinical faculty across pharmacy, physical therapy, optometry, nursing and osteopathic medicine.
From this major medical hub on the city's South Side will come new innovations and care, and a model for regional health preparedness and resiliency. We will explore breakthroughs, such as regenerative rehabilitation that merge pharmaceutical and therapeutic science and care.
We will recruit, train and deploy a new generation of providers to close the gaps in patient outcomes and access to care — including COVID-19 infection rates and a persistent lifespan gap that has plagued our region for decades.
UIW will launch the Lewis Center of the Americas and draw talent and investment from across the United States, Mexico, Canada, and Central and South America. The Institute will convene cross-border partners — including the CHRISTUS Health System — and advance environmental, health and economic resiliency.
UIW will boost scholarships to keep student debt low and double the endowment. We know that education enables stronger incomes, reduced risk of job loss, community stability, civic participation, home ownership and better health outcomes.
The current global pandemic has brought us to a crossroads, as a region and as a nation. How we respond will shape our standard of learning and living for decades to follow. UIW believes that the most investible ideas — health science, global collaboration, access to education — can give us a more resilient and evenly distributed economy, wisely steward our global resources, and ensure our role as the world's most innovative and forward-minded nation.
In this COVID-19 age, higher education remains our best strength and hope — a reminder that any one of us is only as safe as all of us. It's the shared sense of well-being, and ultimately service to our fellow humans and country, that will restore faith and carry us forward.
It's our everyday rootedness in UIW's Mission that makes a shared faith experience possible. Energized by the Holy Spirit, our founders overcame great odds to translate Catholic social thought into reality. Let us then follow their lead, come together and lean into each other's support to imagine and create a more just and sustainable world.
Together, we can breathe new life into existence, for ourselves and for the greater good.