UIW and Southwest ISD - Impacting Our Local Community
The following are a listing of other UIW and SWISD collaborative programs and activities that have been implemented since the Spring of 2016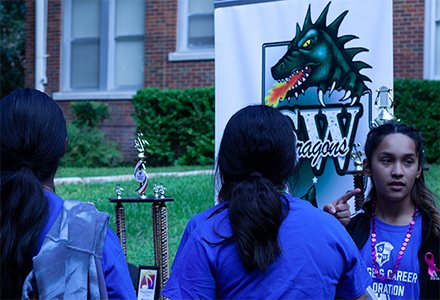 UIW's Health Professional Schools (Feik School of Pharmacy, Rosenberg School of Optometry, Ila Faye Miller School of Nursing and Health Professions, School of Osteopathic Medicine and School of Physical Therapy) have hosted over 75 SWISD high school students as part of a Health Professions Summer Camp since the summer of 2016. The focus of the camp is to educate students on the various opportunities, academic requirements and criteria in applying and matriculating into a health profession program. 
UIW's School of Osteopathic Medicine, Feik School of Pharmacy, and Ila Faye Miller School of Nursing and Health Professions in association with the University Health System has conducted over 1,100 health/wellness checks and immunizations for students from all grade levels in Southwest ISD since 2016. 
Since the spring of 2018, UIW's Rosenberg School of Optometry has provided full eye examinations for over 350 SWISD elementary students. As a result of this collaborative effort which includes the Essilor Vision Foundation, over 225 students have received free corrective eyewear/glasses. 
The Ettling Center for Civic Leadership and Sustainability in association with Southwest ISD, the City of San Antonio and Greenspace Alliance has begun the implementation of an "Outside Learning Center (OLC)" at Spicewood Park Elementary. The focus of the center would be to create an environment that promotes health, wellness and nutrition as well as a "safezone" that will assist with any issues of bullying on the campus. Phase I (fencing of the OLC area) began in the fall of 2019 with Phase II to be completed by June 2020 (construction of elevated and ADA compliant garden beds). 
The Ettling Center for Civic Leadership and Sustainability in collaboration with the National Hispanic Medical Association has hosted an annual College Health Scholars Program since spring 2017 focused on educating and increasing the number of Latina/os applying and matriculating to health profession school programs throughout the United States. Southwest ISD will continue to be one of the highlighted K12 programs that will be invited to the "high school" portion of the program. 
"Our partnership with Southwest ISD is one that continues to grow each and every year in providing 
opportunities and experiences for both educational entities and the communities for whom we serve. We are blessed to have two visionary leaders in Superintendent Verstuyft and President Evans that understand our commitment to community reinforces our overall commitment to the health, welfare, and education of our South Texas community." 
- Dr. Ricardo Gonzalez