2019 Season of Peace, Justice and Care of Creation at UIW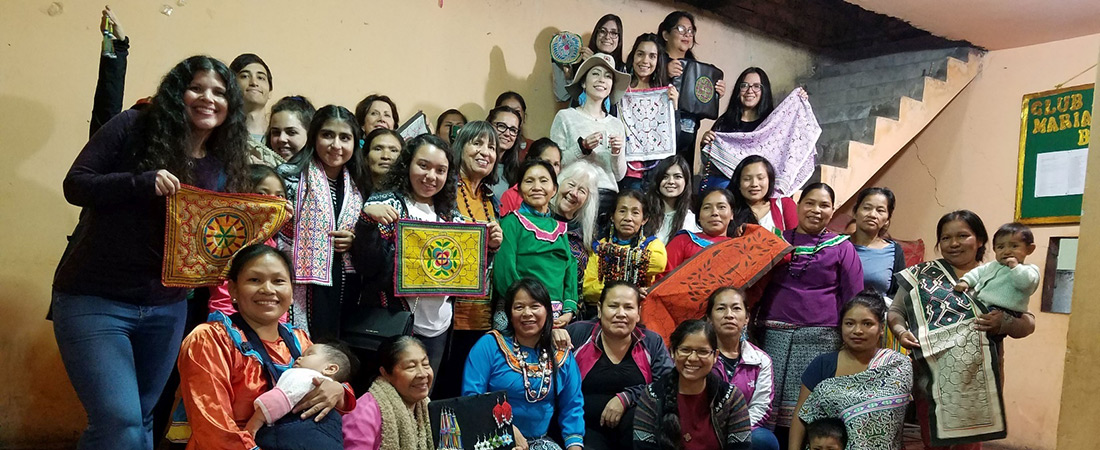 Celebrate God's Creation! A Blessing of the Animals remembering St. Francis of Assisi.
Oct. 2, 6 p.m., Entrance to the Headwaters at Incarnate Word
Bring your animals, live and stuffed! The Headwaters Sanctuary, a 53-acre nature preserve where the San Antonio River begins and native peoples have lived for over 10,000 years. This ministry of the Incarnate Word Sisters protects ecological diversity and spreads an ethic of care for creation. The entrance to the Headwaters is by the soccer fields.
Led by the UIW "Religious Quest" class. Information: kirk@uiwtx.edu, (210) 883-5934.
Women's Global Connection Gala
Oct. 3, 5:45 p.m. doors open
Learn of projects in Latin America and Africa and the San Antonio Girls Global Summit. With SA City Councilwomen focus on the Status of Women and how we can grow. Meet UIW people on the last WGC trips including Yesenia Caloca, Gisel Torres, Yesenia Alcala, and Aly Escobar and plan to be a part of the next ones.
More Information about the WGC Gala
The Texas Constitutional Amendments. What will their impact be on San Antonio and the state?
October 5th 2019 9:30 a.m. to 11:30 a.m.
Join policy experts from San Antonio as we explore the Constitutional Amendments coming up on the November 5th 2019 ballot. Honorable Rebecca Martinez, Justice 4th Court of Appeals; Honorable Jose Menendez, Texas Senator; policy expert Maurice Bono, Chief Strategic Officer VIA, Moderated by Celina Montoya policy expert. Co-sponsored by the Ettling Center for Civic Leadership and Sustainability and the UIW Pre-Law Society, President Casey Ogechi Iwuagwu. Hosted by Thomas Hill, ECCLS.
Taizé Prayer Service
Oct. 22, 6:30 p.m., St. Joseph's Chapel at The Village at Incarnate Word
A service of contemplative worship in the tradition of Taizé, a community founded to seek reconciliation and peace in France in a time of war. Pray with our retired citizens for peace and reconciliation today.
Information: Lena Gokelman, (210) 832-3207 / mgokelma@uiwtx.edu.
The Sultan and The Saint, a PBS documentary, dinner, and interfaith dialogue
Oct. 24, 6 p.m.
St. Francis of Assisi Catholic Church, 4201 De Zavala Rd., San Antonio, TX
In 1219 during the raging conflict of the Crusades, the Muslim Sultan Malek al-Kamil and the Christian Francis of Assisi courageously entered into dialogue paving a path that eventually led to ending the Crusades. https://www.sultanandthesaintfilm.com/about-the-film/ In light of this 800th anniversary, Pope Francis and The Grand Imam of Al-Azhar Ahmad Al-Tayyeb met and shared the " Document on Human Fraternity for World Peace and Living Together" which will be discussed. UIW Interfaith Project leaders: Dr. Sumeyra Tek and Selena Casanova of the Ettling Center for Civic Leadership and Sustainability.
Free but registration required.
Contact: sultanandsaint800years@gmail.com
Peace Day: United for Justice
October 30, 2019
University of the Incarnate Word, 4301 Broadway, San Antonio, TX 78209
Remembering a murdered faculty member, the University of the Incarnate Word annually focuses on issues of justice, peace, and care of creation near the anniversary of his death. Exhibits and presentations throughout the day in the UIW Student Engagement Center
Immigrants and Refugees: Our Brothers and Sisters
9 – 10:15 a.m., SEC 2051 – 2052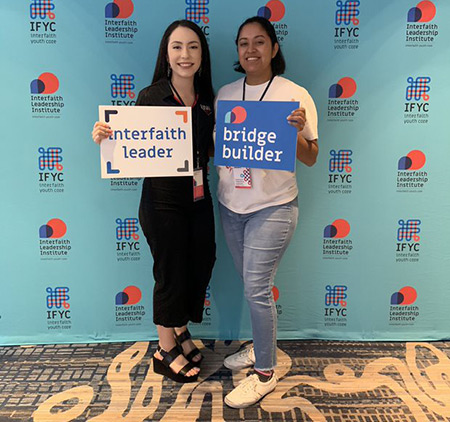 Hope M. Frye, Executive Director of Project Lifeline who has submitted testimony on " Kids in Cages: Inhumane Treatment at the Border" to the U.S. House of Representatives, Committee on Oversight and Reform, Subcommittee on Civil Rights and Civil Liberties, Dr. Maria Felix-Ortiz, UIW Psychology; and Dr. Lopita Nath, UIW History. Moderated by Dr. Ricardo Gonzalez, Ettling Center for Civic Leadership and Sustainability Director.
Aly Escobar and Selena Casanova participating in the Interfaith Leadership Institute, Chicago
Religions: Provoking Violence or Bridges to Understanding?
10:30 – 11:10 a.m., SEC 2051 – 2052
While there are hate crimes and mass shootings in synagogues, churches, mosques, gurdwaras, and public places, movements of education, bridge building, and interfaith service are growing stronger than ever. Learn of the Interfaith Youth Core empowering a new generation of young people skilled in dialogue and respect. Learn of interfaith groups in San Antonio like ISAA, the IYC grant at UIW and get involved. Shared by Aly Escobar, Dr. Sandy Guzman-Foster, Rev. Wyndee Holbrook, and Sr. Martha Ann Kirk.
About Face: Veterans Against the War
11:15 – 11:45 a.m., SEC 2051 – 2052
Learn of the local and the national groups asking questions and speaking up.
God's Global Family in God's Garden
12 – 1:15 p.m., SEC 2051 – 2052
Whether internationally, nationally, locally, or on our campus, God has provided enough. How can we as a global family and a local campus grow food, share food, make personal choices to eat in ways healthy for the planet and healthy for ourselves? Enjoy a lunch prepared by Dr. Heather R. Frazier's Quantity Food class and the Student Dietetic Association. Listen to her, Dr. Heather Barton-Weston, Tori Martinez, Dr. Benjamin C. Miele, Teo Reyes, Jacob R. Rodriguez, Dr. Gabriel Saxton-Ruiz, Bobby San Martin, Jorge L. Quintero and others and participate in this important conversation.
Who in your family needs to get shot before you get involved?
1:30 – 2:45 p.m., SEC 2051 – 2052
A panel on the U.S. problem of mass shootings with UIW faculty Dr. Roger Barnes, Dr. LuElla D'Amico, Dr. Benjamin C. Miele, and Alex Lecombe of MOMS Demand Action for Gun Sense in America. Every day, more than 90 Americans are killed with guns. Consider the ways we teach masculinity to boys, our failure to agree on safety laws, and our polarized rhetoric. Prepare for this by reading of " the role masculinity plays in mass shootings." Of 150 recent mass shootings, all the perpetrators were men except one was by a woman and one was by a man and woman. Boys are taught to value "power, dominance, aggression, over empathy, care and collaboration." Moderated by Dr. Lisa Lockhart, Psychology
The 400th Anniversary Year of the First Slave Ship in North America: The time for Examination
3 p.m., SEC 2051 – 2052
Dr. Brandi J. Coleman of the UIW Education Department shares information and activities to explore 400 Years of Inequality, develop critical thinking skills, and plan action steps so that the U.S. may be a nation of the people, by the people and for the people in the next 400 years.
Creativity and Conflict
4:30 – 5:40 p.m., SEC 2030-2031
Dr. Lalon Alexander of the UIW Fashion Management Department, who holds a Graduate Certificate In Creative Studies and Change Leadership from Buffalo State College, Buffalo, NY, brings wisdom and practical skills for transformation. Dr. Kevin Salfen, UIW Music Department and a creator of music will join in the conversation.
Stories of Compassion and Peace from students who have traveled internationally
5:45 – 6:20 p.m., SEC 2030-2031
Brooke Paynter, the Study Abroad Coordinator, will lead a rich sharing grounded in Global Citizenship Education where we begin to recognize that the world is full of friends that we just haven't met yet.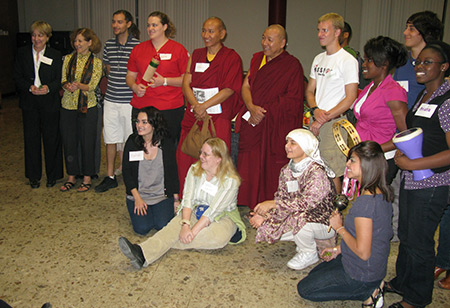 UIW Arts for Christian Worship class and interfaith friends, inaugurated the Charter for Compassion in San Antonio, Nov. 9, 2009. Through efforts of the peaceCENTER and others, San Antonio was proclaimed a City of Compassion by the City Council in 2016.
San Antonio as a City of Compassion and the Global Compassion movement
6:30 - 8:30 p.m., SEC 2030-2031
As the worldwide Charter for Compassion celebrates a tenth anniversary learn of our city which is linking hundreds in compassionate relationships of service, the leadership of Faith-Based Initiatives Office, and our call to be a world leader in compassion.  Read about thousands of compassionate acts in San Antonio. Be in conversation with Bill Neely, leader of SACRD.org, Dhawn Martin, director of the SoL Center and others, organized by Eric Palacios, graduate student, UIW Dreeben School of Education.
Exhibitors include: About Face: Veterans Against the War; MOMS Demand Action for Gun Sense in America; the Headwaters at Incarnate Word Incarnate Word Sisters Justice, Peace, and Integrity of Creation Office; Prayer Flags for the Interfaith Welcome Coalition; Sisters of Charity of the Incarnate Word Women's Global Connection