2014 Season of Peace and Justice Living Compassion, Justice and Peace
http://www.cctwincities.org/MajorThemesCatholicSocialTeaching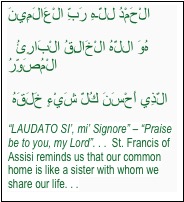 Oct. 1, Thursday, 5:15 pm, "St. Francis of Assisi Blessing of Animals and Prayer for Creation." entrance to the Headwaters Sanctuary (west of the baseball field, #55 on the map) http://www.uiw.edu/map/documents/uiwcampusmapland.pdf
Bring your animals live and stuffed. Enjoy God's creation and pray that we may work together to preserve it. Co-sponsored by UIW Liturgical Outreach and the Headwaters, a Ministry of the IW Sisters. www.headwaters-iw.org/
For Information: Sister Martha Ann Kirk, kirk@uiwtx.edu   Phone: 210-829-3854
Oct. 1, 6:30 pm, "A Catholic and Islamic Response to Climate Change," Admin. 319.
Recently Pope Francis shared "On Care of Our Common Home" http://w2.vatican.va/content/francesco/en/encyclicals/documents/papa-francesco_20150524_enciclica-laudato-si.html and Muslim leadership released "The Islamic Document on Climate Change." Both documents urge all to work together to preserve creation. Parts of the documents will be available, as well as, information from the Catholic Climate Covenant. All will be invited to discuss little and big things individuals and groups can do about climate change.  Sponsored by the Cardinal Community Leaders Social Justice class of the Ettling Center for Civic Engagement. http://www.uiw.edu/eccl/ For Information: Dr. Bob Connelly bobc@uiwtx.edu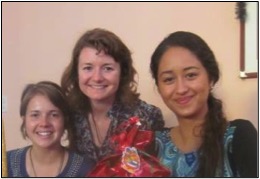 Oct. 6, 5:00 to 5:45 p.m., "Serving---for a year as an IW Missionary or a lifetime as an IW Sister," Admin. 215.
Ada Gonzalez of Women's Global Connection will present information about the Incarnate Word Missionary program, a 1-2 year service opportunity following university graduation. Three missionaries who have recently returned from Peru will share some of their experiences. Sisters Marichui Bringas and Martha Ann Kirk will share on the joy of being IW Sisters. https://www.amormeus.org/en/vocation/#become-ccvi Read of the IWM's adventures in their blogs Jackie Greene  http://embraceyourdisquietheart.wordpress.com/  Tessa Connally http://anotherworldperu.tumblr.com/ Ada Cordova http://wheremyfeetarenow.blogspot.com/ Light refreshments will be served. For Information: Ada Gonzalez, 210-828-2224, ext. 297 or wgc.adagonzalez@gmail.com
Series on Domestic Violence
Mabee Library Presents Films and Conversations about Sexual Assault and Domestic Violence
Each program will begin at 6:00pm, Special Collections Room, Mabee Library. For Information: Polly McCord, MLS Email: pmccord@uiwtx.edu
Oct. 7 – Domestic Violence. Film: Private Violence. Filmmaker Cynthia Hill examines the case of Deanna Walters, a survivor of spousal abuse who embarks on a crusade for justice. Speaker from Family Violence Prevention Services
Oct. 14 – Sexual Assault in the Military. Film: The Invisible War. An investigative documentary about the epidemic of rape of soldiers within the US military. Speaker: Jane Madison, Ph.D., Readjustment Counseling Therapist at a local Vet Center
Oct. 21 – Sexual Assault. Film: Searching for Angela Shelton. Filmmaker Angela Shelton searches across the country for other women with her name – and finds 70% of them have been victims of rape, incest or domestic violence. Speaker: Jenn Tristan, Director of Education, The Rape Crisis Center
Oct. 28 – Rape. Film: It was Rape. Eight women of different ages, backgrounds and ethnicities tell their personal stories of sexual assault. Speaker: Kimberly Berry, Education Coordinator, The Rape Crisis Center
Oct. 5, 12 noon to 1:15 pm. "Las Hermanas: The Struggle is One," Library Special Collections Room.
Sr. Yolanda Tarango, who recently received the Elizondo Award, discusses the history of Las Hermanas, a grassroots Latina movement which received the ACHTUS Award.
http://globalsistersreport.org/united-action-and-prayer-las-hermanas-helped-create-new-way-being-church-21856
Reception sponsored by Hispanic Heritage Month. Information: Paulina Mazurek pmazurek@uiwtx.edu.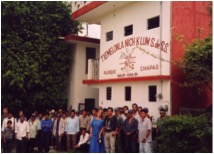 Oct. 8, 3:00 to 4:15 pm, "Your cup of coffee can help farmers escape poverty." Admin. 246
Scott Dittloff, Ph.D. will explain how most small-scale family farmers live in remote locations and lack access to credit, so they are vulnerable to middlemen who offer cash for their coffee at a fraction of its value. Fair Trade guarantees farmers a minimum price, and links farmers directly with importers, creating long-term sustainability. Through Fair Trade, farmers earn better incomes, allowing them to hold on to their land and invest in quality. This presentation will focus on what fair trade is and how it works, using coffee as an example. If you are concerned about the effect your consumption habits have on the world, come listen and join in on a conversation about how you can have your coffee and drink it too! For information: Scott Dittloff dittloff@uiwtx.edu
Oct. 8, 4:30 to 5:45 pm. "Living Green for All of Us." Learning at the Solar House www.uiw.edu/solarhouse from Mr. Danny Potter, the director of the Sustainability Office. Information: dpotter@uiwtx.edu
The Catholic Church in an effort to focus on human trafficking has declared Josephine Bahkita of Sudan, the patron saint.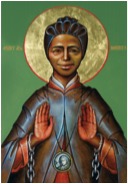 Oct. 13, 9 am to 3pm.  "Your Vote Matters!" Dubuis Lawn.
If you are not registered or would like information on how to register to vote, please visit the Voter Registration Table. Sponsored by the Ettling Center for Civic Leadership. For Information:  Dr. Ricardo Gonzalez  rigonza4@uiwtx.edu  Phone (210) 283-6423
Oct. 20, 8 am to 5 pm, "Healthcare Response to Human Trafficking," Rosenberg Sky Room, UIW International Conference Center.
Fee $15.  Healthcare providers are often the first to encounter trafficking victims. In becoming familiar with the signs and symptoms of trafficking, medical professionals collaborate in our community-wide effort to eradicate this unthinkable crime targeted towards the invisible and vulnerable in our midst. Co-sponsored by the I W Sisters who have taken a corporate stance against human trafficking. CNE and CEU Credit available. Registration: http://www.eventbrite.com/e/healthcare-response-to-human-trafficking-tickets-18336681508 For Information: http://rapecrisis.com/events/
Deana Buril dburil@rapecrisis.com Phone: 210-208-5791
Oct. 20, 1:30-2:45 pm, "Making Peace Out of Violence:  Bombingham, 1963," Admin. 265
Dr. Roger C. Barnes will explain the momentous year of 1963 in Birmingham, Alabama, as the Civil Rights Movement dealt with the tragedy of the bombing of Sixteenth Street Baptist Church and the response by the Children's Campaign to segregation. For Information:   barnes@uiwtx.edu Phone: (210) 829-3976
Oct. 20, 3-4:15 pm, "Journey of Hope...From Violence to Healing." Library Auditorium. The family members of murder victims will speak of their experiences and why they now stand for alternatives to the death penalty. Journey "storytellers" come from all walks of life and represent the full spectrum and diversity of faith, color and economic situation. They are real people who know first-hand the aftermath of the insanity and horror of murder. They recount their tragedies and their struggles to heal as a way of opening dialogue on the death penalty. They choose not to seek revenge, and instead select the path of love and compassion for all of humanity. Forgiveness is seen as strength and as a way of healing. https://www.journeyofhope.org/   For Information: Dr. Roger Banes   Barnes@uiwtx.edu
Oct. 26, 4:30 to 5:30 pm. "Effort Aims to Curb Gun Deaths" Brackenridge Villa. You are invited to read the article of that title from National Catholic Reporter (Aug. 14, 2015) and come discuss it.   http://ncronline.org/news/people/effort-aims-curb-gun-deaths   Faiths United to Prevent Gun Violence, a coalition of more than 50 national faith groups and organizations support a "common-sense agenda" to obstruct violence from firearms. "In a country where guns outnumber people, according to a 2012 Congressional Research Service report, the U.S. murder rate by firearms is about 20 times the average of other high-income countries." Discussion led by Dr. Roger Barnes, Dr. Doshie Piper, and Sr. Martha Ann Kirk. Co-sponsored by the Incarnate Word Sisters International Justice, Peace, and Integrity of Creation Committee. For information: kirk@uiwtx.edu
Peace Day, Oct. 28,
Presentations in the Mabee Library Auditorium
On the last Wednesday of October, the community of UIW remembers a beloved faculty member who was violently killed, Dr. Bernard O'Halloran. Therefore, the community promotes education on justice and peace in the world. http://www.uiw.edu/PeaceDay/peacedayhistory.html
See Exhibits outside near the Library and attend presentations in the Library Auditorium.
9 am to 10:15 am, "Supporting Muslim Students On Campus: Dispel Myths, Address Islamophobia and Break Barriers." The post-9/11 era in the U.S. has exposed a significant degree of prejudice and bigotry towards Muslim people around the country. Underscored by the horrific murders of three University of North Carolina students earlier this year, there is a great need for schools to educate all on Islam, build positive relationships, and value diversity. A film with Amer F. Ahmed, Intercultural Center Director at Swarthmore College, followed by a discussion. For Information: Melissa A. Villanueva, Sponsored Student Coordinator mavillan@uiwtx.edu   (210) 805-3051
10:30 to 11:45 am, "The Death Penalty" shared by Dr. Roger C. Barnes. Recently Pope Francis I called for the global abolition of the death penalty in his address to a joint meeting of the US Congress, "The Golden Rule also reminds us of our responsibility to protect and defend human life at every stage of its development. . . . . every life is sacred." http://tcadp.org/2015/09/25/pope-francis-calls-for-global-abolition-during-address-to-congress/ For Information: barnes@uiwtx.edu
12 noon to 1:15 pm,  "Playing for Peace,"  Dubuis Lawn (or in case of rain in the courtyard of the Admin. Building) Music for Compassion, Justice, and Peace from many countries shared by International Students and their friends. Music exchange, international playlist and performances, and conversations from around the world. Sponsored by the International Student office.  Free soup lunch provided by the Student Dietetics Society.  (If you plan to bring a group for lunch, please send the number coming to kirk@uiwtx.edu)  For Information:  Sheena Connell  sconnell@uiwtx.edu
1:30 to 2:45 pm. "Genocide and Ways to Prevent It" There is a perception that genocide is an inevitable result of racial and ethnic tensions within a community.  Members of the San Antonio Coalition Against Genocide will discuss genocide as a planned activity that is preventable, including illustrating the steps that lead up to genocide.   All will be invited to be a part of the next San Antonio Walk Against Genocide in 2016, http://walkagainstgenocidesa.org/
For information:  Susan Smylie  sesmylie@gmail.com 
3 to 4:15 pm. "The Refugee Crisis in Europe: Impact on Human Rights, Security and Stability" shared by former Ambassador James Creagan and Dr. Lopita Nath. For Information: nath@uiwtx.edu
4:30 to 5:45 pm "Food Justice in the Era of Climate Change" shared by Dr. Jeff Crane, author of The Environment in American History, Nature and the Formation of the United States http://www.routledge.com/books/details/9780415808712   For Information: jcrane@uiwtx.edu
Oct. 29, 6-7 pm, "Annual Peace Research Symposium" organized by Dr. Noah Kasraie. Library Special Collections. Including this presentation and others: "Educational Achievement of Students in Rural China" Dr. Shishu Zhang and Dr. Greg Soukup will present on the impact that economic factors have on educational attainment in rural China and to provide recommendations for policy changes that will help lower dropout rates and improve the quality of education for children in rural China. For Information: Kasraie@uiwtx.edu Phone (210) 829-3133

We are grateful to all of the presenter and to the organizers and promoters of the 2015 Season of Justice and Peace:
Helen Ballow, Roger Barnes, Marichui Bringas, Alison Buck, Deana Buril, Sheena Connell, Bob Connelly, James Craghan, Jeff Crane, Scott Dittloff, Ada Gonzalez, Stephanie Grote-Garcia, Noah Kasraie, Jane Madison, Polly McCord, Mary Ruth Moore, Lopita Nath, Hansita Patel, Doshie Piper, Priyangana Risal, Greg Soukup, Tanja Stampfl, Jenn Tristan, Horacio Vela, Melissa A. Villanueva, G. Lucy Wikening, Nürșen Zanca, Shishu Zhang, and Sr. Martha Ann Kirk, Chair
The Student Dietetic Association
All events are free and open to the public except where indicated.  
The University of the Incarnate Word provides reasonable accommodations with adequate notice. To request disability accommodation for an event, visit www.uiw.edu and click on the ADA/Section 504 link.