2022 October Season of Justice, Peace, Creation Schedule
St. Francis of Assisi: Blessing of the Animals, Prayer for Creation
Tuesday, Oct. 4, 2022, 5:30 p.m., Grotto by the SEC
Bring your pets as we thank the Creator for them and all of creation. Learn of earth justice, solidarity with all life, and compassionate care of the earth.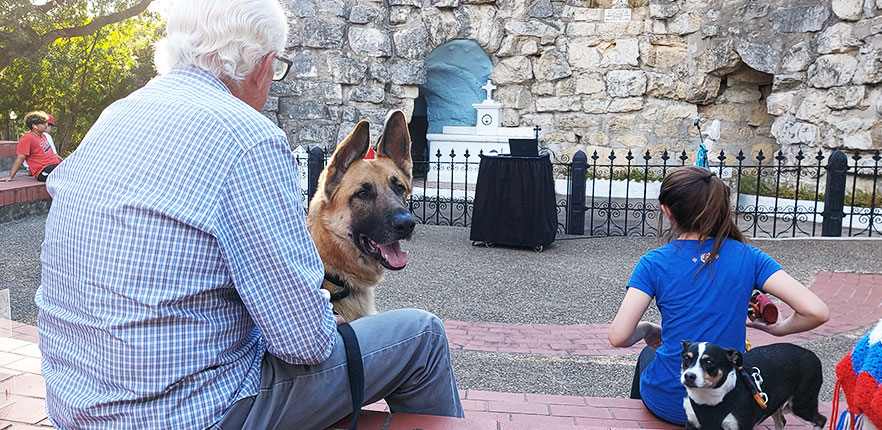 Pioneer of Mexican American Civil Rights: Alonso S. Perales
Thursday, Oct. 13, 2022, 1:30 p.m., Mabee Library Auditorium and 7 p.m., Bonilla Lecture Hall, BHS 129
Presented by Dr. Cynthia E. Orozco, an award-winning and best-selling author and professor, followed by a panel of students, faculty and others considering how we carry Mexican American Civil Rights into the future.
Interfaith Care of Creation Series: Learn from Swami Shivatmanada about Hinduism and the Importance of Caring for Creation
Thursday, Oct. 13, 2022, 3 - 4:15 p.m., Gorman Building, Room 119
Hinduism is the oldest of the world's major religions, and currently the third largest with about one billion followers. The U.S. population includes one million Hindus.
Peace Day, An Annual Gathering
Join us in person or online.
Oct. 26, 9 a.m. - 5 p.m., Student Engagement Center (SEC), or Zoom, Presentations in SEC 2050, Exhibits in the concourse
In 1986, Incarnate Word began hosting annual Peace Fairs with educational content and planted the first " peace pole" monument to mark the beginning of its new Master of Arts degree in Peace and Justice. This past year, UIW established a concentration in Social Justice and Peace and a concentration in Sustainability, strengthening our academic commitments.
Young Women's Global Leadership Program—Facing and Changing Gender Inequality One Girl at a Time
Oct. 26, 9 - 10:15 a.m., SEC 2050 or Zoom
Coordinated by Dr. Joan Labay Marquez, young women from Kenya, Kosovo, Mexico, Uganda and the U.S. have been gathering online monthly, learning, making friends and developing their leadership skills. Some of them will join us in conversation. The Young Women's Global Leadership Program and Summit is a global citizenship education leadership training program that provides young women with the opportunity to discover how they can influence and create positive change at home and abroad. Education graduate student leaders will also share at this event.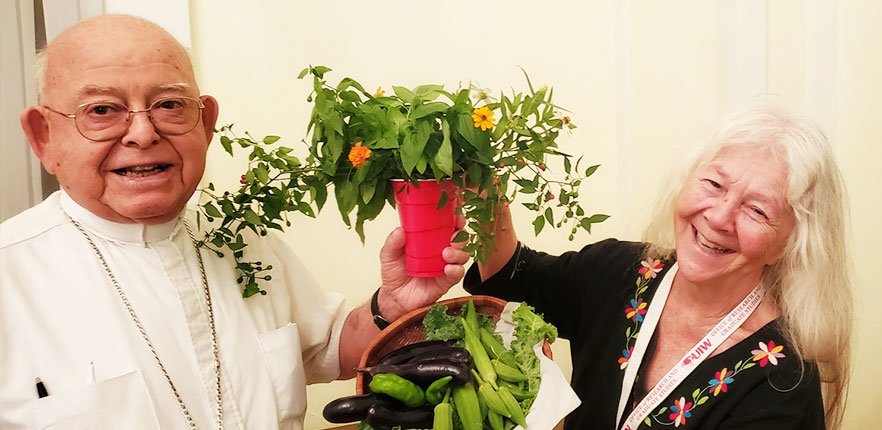 Dr. Ben Miele, Chair of the Sustainability concentration, SUSTAIN Student Organization and Bishop Michael Pfeifer, OMI, Pastoral Letter on Care for Creation Author
Oct. 26, 10:30 - 11:45 a.m., SEC 2050 or Zoom
See part of the documentary film, The Letter, on the unfolding ecological emergency and Pope Francis's letter, Laudato Si, crying for a united response. The film was made by Off the Fence, Oscar-winning producers of My Octopus Teacher, and the Vatican. See Pope Francis and others representing the peripheries of the ecological crisis. Hear from a teenage youth activist from India, an indigenous leader from the Amazon, a climate refugee from Senegal, and scientists from Hawaii.
Daily Opportunities to Revolutionize for a Sustainable World: Enjoy a Free Lunch and Consider our Food Choices
Oct. 26, 11:50 a.m. - 1:15 p.m., SEC Patio
The Nutrition class of Dr. Heather Frazier is preparing the lunch. Enjoy plant-based food, good for the planet and good for you. What we choose a few times a day and how we get it, produce it, or share it can reshape global economics and opportunities. How we deliberately compost, Bokashi, and recycle is an act of resistance and care.
"Gods of Metal"
Oct. 26, 1:30 - 2:45 p.m., SEC 2050 or Zoom
Do the "Gods of Metal," the small guns and the large guns, save us, bring security, and create a good world? A conversation on the Sustainable Development Goals as security and competing ideas of the "Gods of Metal." How do our ideas call us to action? On behalf of MOMS Demand Action for Gun Sense in America, Amy Kercsmar will speak. MOMS will have an exhibit all day. Paul Furukawa is leading the Sane Society Collaborative, a group of San Antonians uniting in the face of gun violence to educate and preserve lives. Sister Martha Ann Kirk, among the founding group of the Interfaith San Antonio Alliance, joined other faith leaders in writing this open letter from the wisdom of our different faith traditions.
"Mississippi Freedom Summer and the Murders of Schwerner, Chaney and Goodman" by Dr. Roger Barnes
Oct. 26, 3 - 4:15 p.m. SEC 2050 or Zoom
In the Summer of 1964, hundreds of white and Black student volunteers from across the U.S. converged on Mississippi in an effort to register black people to vote. No sooner did "Mississippi Freedom Summer" get underway than the Ku Klux Klan murdered three of the student volunteers. This presentation describes what happened in Mississippi that summer and how those events still resonate years later, as voting rights are under attack in many states today, including Texas.
Dr. Roger Barnes, UIW Sociology Professor Emeritus, is a frequent contributor to the San Antonio Express-News.
Save the date for our next Interfaith Care of Creation event "the Islamic Community on Care of Creation" at 6:30 p.m. Nov. 16.
For More information and Registration
Exhibits all day in the SEC Concourse include:
We are grateful to all presenters and exhibitors for Peace Day 2022. Special thanks to Lorena Cestou, MS, Service Learning Assistant, for coordinating the day's events.