June 23, 2021
Dr. Arturo Chávez, Associate Vice President for Mission & Ministry and Diversity, Equity & Inclusion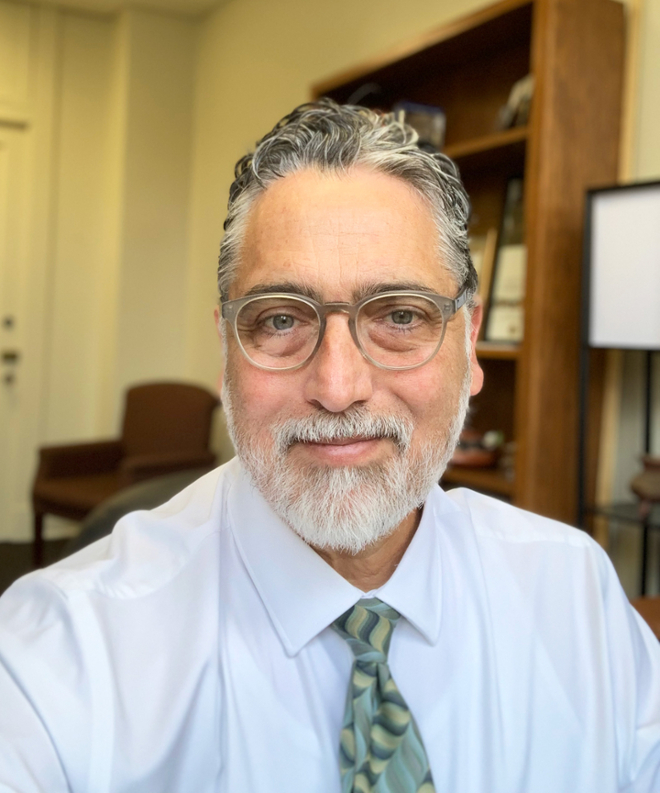 By any measure, Dr. Arturo Chávez has already scaled career and professional peaks that would more than fulfill the average person: 
teacher, youth minister and chaplain to San Antonio's most vulnerable and incarcerated; 
founder of a non-profit youth organization (JOVEN) instrumental in addressing the needs of poor and disenfranchised families; 
recognized by President Barrack Obama for his efforts to combat racism and poverty and appointed to the White House Council on Faith-based Partnerships to foster collaboration among faith-based organizations; 
honored by Catholic Charities USA with the Keep the Dream Alive Award for his work as a national champion of the poor;
saluted across San Antonio for transforming a little-known Cultural Center into the Mexican American Catholic College (MACC), one of the nation's first and only to offer adult Spanish speakers a path to English proficiency and B.A. and M.A. degrees in Pastoral Ministry. 
But in late May 2020, Chávez, like many in America and around the world, found himself taking stock. A global pandemic had already sickened some 60,000 Texans and killed more 1,500 — with those numbers on course to quadruple in the coming year. Into that crisis flashed the murder of George Floyd, late in the evening of May 25 in Minneapolis. In the ensuing days and weeks of protests, voices gathered in more than 2,000 cities and towns in over 60 countries involving some 25 million people.
After several decades on the front lines of pressing issues of social justice and inequity, Chávez faced a difficult question. "I just really had to ask myself, you know, has anything that I have done really made a difference?"
In the coming weeks and months, Chávez grappled. "All the uncertainty of the pandemic was somehow secondary to the uncertainty I felt about our notions of being a country where life and liberty, we're told, is assured of everyone."
Faced with an uncertain future, Chávez credits his MACC students with re-igniting a fire. "They inspired me with their own commitment and ferocity," Chávez says. "With their help, I recommitted to the work."
By last November, Chávez had made a decision to return to his alma mater, the University of the Incarnate Word, and become associate vice president for Mission & Ministry and Diversity, Equity & Inclusion. Already a longtime UIW faculty member in the Religious Studies department, Chávez will also oversee the Ettling Center for Civic Leadership and Sustainability. 
Over an interview of five good questions, Chávez spoke about his journey, a life-long commitment to protecting diversity, equity and inclusion, and his goals moving forward. 
1. Your connections to UIW include being an undergraduate, an alumnus, a faculty member and now your new role. What's kept you so close? 
I initially enrolled in seminary out of high school, so when I finally left seminary, I switched from a Philosophy major to a Religious Studies major and completed my degree at UIW. I was working full time, so I didn't really live the experience of a traditional undergrad. The faculty, though, worked closely with me to help me shape some independent studies related to my work and goals. This was the mid 1980s, at the height of conflict in Central America, which was very close to my heart and my work. (It's estimated that between 1981 and 1990, an estimated one million refugees from El Salvador and Guatemala fled repression and violence in their homelands and entered the United States).
I met kindred spirits here — people who were concerned about peace and justice issues. That concern flowed directly from the Incarnate Word Sisters. I felt very connected to UIW in that way. I was doing chaplain work in the jails. I was reaching out to youth coming out of juvenile courts. That's how I met some of the Sisters doing similar work on San Antonio's South side. We joined forces. The Sisters represented a living symbol of peace and justice. I felt very connected to the Sisters.
2. Can you tell us about the Mexican American Catholic College, and its link to both UIW and social justice?
I try always to see each social justice effort as part of a larger systemic change. With MACC, everything began with identifying a mindset that you find here in the United States that argues, somehow, that higher education can only happen in English. Systemic change happens when you open a door that was previously closed to disenfranchised groups.
By working with UIW as a partner, the Mexican American Catholic College has been able to create a pathway over the years for Hispanics, especially those more recently arrived and whose language was primarily Spanish to be able to access higher education in their native language while at the same time acquiring fluency in English.
This tiny little college, with the help of UIW, has prepared seminarians for priesthood, sisters for sisterhood and lay people for lay ministry. By graduation, MACC students need to demonstrate bilingual proficiency (Spanish/English) because that is the Church of the Southwest. And that's becoming the Church, quickly, of many, many parts of the United States. For me, this is UIW living that Mission as a HispanicServing Institution. UIW is opening doors and giving meaning and purpose to lives who might have otherwise not had an opportunity.
3. How has your work as a UIW faculty member teaching Religious Studies contributed to this larger sense of personal and professional mission?
First, let me say that UIW has always been a place where people are willing to think outside the lines and bring some moral imagination to a challenge. I love that UIW is place where people will step forward and say, "Yes, we can do this. Let's try to make a situation better."
I see that willingness in offering an undergraduate course that I taught four times — a course titled Latino/Latina Spirituality. Unlike the challenge of teaching older and newly arrived Spanish-speaking natives, the undergraduate course would attract a room full of 25 young, Latinos and Latinas, and also non-Latino and non-Latinas. While the older group has a close sense of culture, the younger group often haven't really thought about what it means to claim their culture or ask what their culture means to them. It would often be an interesting mix of students from the Rio Grande Valley who live and breathe culture, and who wrestle with the transition of being away — far away culturally — from home. And mixed in there are San Antonio students who may or may not connect with spiritual traditions familiar to their elders. That dynamic is common at UIW and something, again, that's key to living out our identity as a Hispanic-Serving Institution. 
4. The relationship between the Incarnate Word Sisters, the University, South Texas, and Mexico stands apart in all of higher education. How do you see its potential to bring change in this moment?
Yes, I think we see it within our congregation, but also with women religious everywhere. I see these amazing women inviting us to move beyond comfort zones to be able to prepare for the future. Inviting us to embrace what they've been doing for generations; inviting us to embrace the charism. They remind us that the charism doesn't belong to any particular order. In the case of the Sisters of Charity of the Incarnate Word, it's a very particular charism rooted in incarnational spirituality. We are entering into this unique time where Sisters are envisioning what the future of religious life will be and moving beyond the religious lay divide. They're envisioning a sisterhood beyond their order, you know, looking at a true global sisterhood, with congregations working together. They're also moving into intercultural reality and seeing the essential work of affirming life and protecting dignity among minority cultures of all kinds.
5. Can you share more about human dignity, and what it holds for your new assignment at UIW?
Let me start by saying that social justice — that's an idea rooted in the UIW Mission and our Catholic identity. What roots us as a Catholic institution is not that we have Mass every day, as important as that is, but rather, that we are living now the Catholic social teachings of the Church — in our curriculum, our life together as faculty, in our life together with our students. 
What I've been reflecting on since I assumed this role is the centrality of human dignity. It's part of a larger challenge — how do we give students a language to talk about spirituality and God's love as part of the world that they're living in and the life that they're living, including all the difficult stuff that someone may feel ashamed about or that they don't want to talk about. Everyone has a right to human dignity; it comes with being human, that's something that's not earned. We see that in the incarnational view, this idea of God becoming one of us in Jesus, that means that everything about us as human beings was found worthy by God. As a University that welcomes people of all faiths, I think the central tenant of many faiths is this idea that God loves us, that God is with us, that God is for us – and that God calls us to be that for each other.
My message to all students, faculty, staff, to everyone, is that you are dignified, you are worthy, and therefore you are worthy of respect, of my respect, my giving you the benefit of the doubt, of my addressing you with respect, of my giving you every opportunity to succeed. Dignity is conveyed in my wanting to know what your dreams are, what your hopes are and supporting you in that, being honest with you and me assuming that you are honest with me. Dignity is also honesty — not being afraid to challenge one another if we feel that something is not right. Dignity is central to the idea of incarnational spirituality and of embracing our humanity … and fighting against anything (a person, a policy) that threatens our dignity.