UIW Names New Head of Diversity, Equity and Inclusion
November 16, 2020
Dr. Arturo Chávez Brings Long History of Work to New Position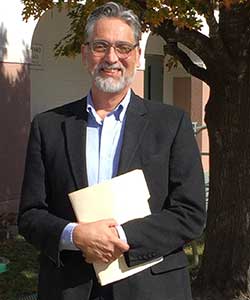 San Antonio – Nov. 16, 2020 – The University of the Incarnate Word (UIW) is proud to announce that Dr. Arturo Chávez has accepted the position of Associate Vice President for Mission & Ministry and Diversity, Equity & Inclusion. Dr. Chávez will work toward advancing diversity, equity and inclusion at UIW and will also oversee the Ettling Center for Civic Leadership and Sustainability. 
Dr. Chávez is already a longtime UIW faculty member in the Religious Studies department. Since 2007, Chávez has served as the president at the Mexican American Catholic College. There, he also served as a faculty member and helped develop the college's curricula on intercultural competencies and the roots of racism. He also served as the Chief Executive Officer and director of Community Development of the Benedictine Resources Center, a nonprofit organization engaged in social justice education, community development and legislation, also located in San Antonio.
"I am honored to join the UIW team," says Chávez. "Even during this chaotic time of pandemic and racial/political unrest, UIW's commitment to the sanctity of life and human dignity shines brightly and gives hope. As an alum and longtime partner, the mission of the Sisters and UIW is alive in my heart and has formed my personal leadership style in ministry. I believe the incarnational view of creation and humanity is needed now more than ever to foster integral education, conversion of hearts, and strategic systemic change."
Chávez has had a long and illustrious career in the fields of social services, social justice and higher education. He was the founding member of JOVEN, a nonprofit community-based organization providing outreach and community services for at-risk youth, with a center on the Eastside of San Antonio called UTOTO. His efforts primarily focused on the needs of the poor and the marginalized. In 2009, Chávez's efforts were recognized by President Obama when he was appointed to the White House Council on Faith-based Partnerships. He worked with a racially diverse group of 24 leaders representing every major faith tradition to strengthen ways that the U.S. Government can partner with nonprofits and faith communities to address poverty, racism, threats to the environment, access to healthcare and other issues of common concern. In 2010, the Catholic Charities USA recognized Chávez with the MLK "Keep the Dream Alive Award" for his efforts to combat racism.
Chávez received a Bachelor of Arts degree in Religious Studies from UIW and a Master of Arts degree in Theological studies from the Oblate School of Theology. He received the Ph.D. in Religious and Theological Studies from the Iliff School of Theology and the University of Denver's joint Ph.D. program in Religion and Social Change. His doctoral studies centered on religion and social change, focusing on how racism can be deconstructed through courageous leadership and community organizing. He was mentored by wise veterans of the African American and Indigenous Peoples' civil rights movements. UIW recognized Chávez with the Alumni of Distinction Award in 2008.
Chávez has several publications and media presentations related to diversity, equity and inclusion and is a nationally recognized expert and consultant on these areas. He has also facilitated workshops on intercultural understanding around the world. He brings a wealth of knowledge, expertise and enthusiasm to work with each of us to develop the diversity, equity and inclusion program at UIW.