UIW Tricentennial Invitation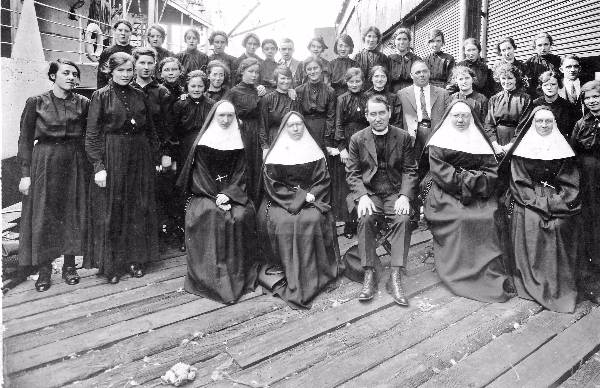 Young women coming to San Antonio to study and to serve about a hundred years ago. They came from about twenty cultures and now UIW students come from over seventy cultures. (Photo: Archives of the Sisters of Charity of the Incarnate Word)
Learning to Serve, Serving to Learn
Before going out into the community for a service project, faculty and students will benefit from knowing context and background.  
Those of us in a university are privileged that we can read and write. Many in the world, and in our city, have not had that opportunity. 
"If you are reading this article, you're one of the seventy five percent of adults in San Antonio who are literate. Sadly, approximately twenty five percent of San Antonio's adult population reads at a 5th grade level according to the U.S. Census. Among the many challenges that permeate international conversations—poverty, human rights, and global climate change—adult illiteracy is often forgotten." Read the whole article, "San Antonio's Adult Literacy Epidemic".
San Antonio is a favorite tourist destination and has much beauty, yet many of our brothers and sisters are trapped in poverty. "Though local and national poverty rates are dipping, the percentage of San Antonio's population in poverty was the second highest among the top 25 largest U.S. metro areas in 2017." Read the whole article, "San Antonio Ranked Among Nation's Highest-Poverty Cities".
Global hunger continues to rise. On a local level, let's notice our hungry neighbors. Many are also homeless. Locally, homelessness is also a growing problem.
Growing in awareness of one's "social location" locally, nationally and internationally is an important part of a university education. Economic indexes give some perspective. The World Happiness Report gives other perspectives.
A major study which thousands of people of our city contributed to gives the big picture of who we are and how we could grow.
Women's Global Connection serves in the face of inequality for women and girls. Some context for the WGC Girls Global Summit can be found in this article- The Butterfly Effect of #MeToo.
Gender Equality Goals 
From UN Women, passing new laws or strengthening existing ones is one way to help. Other actions might include creating programs to eradicate violence against women and girls, encouraging women's participation in decision-making, investing in national action plans or policies for gender equality, creating public education campaigns to promote gender equality and more. Everyone has a role to play to make gender equality a lived reality by 2030.
Incarnate Word History in the 2018 San Antonio Tricentennial and in the 2019 One Hundred and Fiftieth Anniversary of the Incarnate Word Sisters
Faculty, administration and staff are encouraged to learn about Incarnate Word's history to guide students in creating a bright future. The Sisters of Charity of the Incarnate Word, founded in 1869, are part of almost half of the 300 year history of San Antonio.
See some of service that students and faculty did to celebrate the Tricentennial in 2018.
Learn More
Encourage students to do service learning and community service related to sustainability in light of "Serving in Sustainability Projects, Cultivating Compassionate Care for all of Creation," a Tricentennial sustainability initiative.
Watch a short promo of the San Antonio Tricentennial to get a sense of the celebration.
For the Good of Others A Brief History of the Sister of Charity of the Incarnate Word in San Antonio
By Dr. Gilberto M. Hinojosa, Professor Emeritus
The Sisters of the Charity of the Incarnate Word came to San Antonio in response to the cholera epidemic raging through the city in the mid-1860s. The clinic they founded became San Antonio's first hospital, Santa Rosa, which eventually evolved into the Christus Health System. The Sisters responded to other challenges the growing city and state presented them – education and social services.  In time, they shared with other men and women their mission to see Christ in those most in need.
This half-hour presentation traces the Sister's answering God's call to serve others as San Antonio developed into a major metropolitan area and their invitation to others to join them in being the hands and feet and loving hearts of God. For more information, email Dr. Gilberto M. Hinojosa at hinojosa@uiwtx.edu.
Ashes Could Not Stop Her: A One-Woman Drama on How the Sisters Started Responding to Needs in 1869  Leading into Discussion on How We Respond to Needs Today
Sister Martha Ann Kirk shares stories that were first researched and put into dramatic form as part of a grant program sponsored by the Texas Commission for the Humanities on service to communities. Excerpts of 15, 30, 45, or 60 minutes can be shared depending on what is sought. For more information, email Sister Martha Ann Kirk at kirk@uiwtx.edu.