Campus Master Planning Summary
The President invited Michael Larkin, Chief of Staff and Special Assistant to the President for Planning and Development, and Dr. David Jurenovich, Vice President for Campus Life and Facilities Management, to provide leadership for the campus planning effort and to serve as co-chairs of the UIW Campus Master Planning Task Force (CMPTF). UIW selected the team of Dober Lidsky Mathey, Inc., campus and facility planning consultants, and SportsPLAN Studio, athletics and recreation facility planners, to assist with the planning effort.
CMPTF members made recommendations regarding important elements that master planning should address. From the responses, the task force identified six major themes:
Academic Infrastructure
Business Services and Operations
Campus Experience
Health Professions
Traffic and Safety
Standards and Policies
These themes were discussed and later in the process, leveraged to establish Study Groups charged with further investigation of each theme and its impact on the campus plan. The study groups were chaired by CMPTF members with other UIW community members invited to add their perspective and expertise.
The team also conducted interviews with a broad cross-section of UIW faculty, students, staff, and trustees to elicit their perspective and expertise in their various areas of responsibility and concern. From these interviews, campus planning goals were identified.
The plan proposes major projects on the Broadway campus and at the Brooks City campus. These initiatives have been organized into a strategy-driven sequence that is anticipated to be implemented in four phases over the space of 20 to 25 years. The highest priority facility project consistently identified throughout the plan process is the comprehensive renovation of the Columkille Administration Building (AD), the university's "Old Main" and architectural icon. Accordingly, the plan begins with this major project. This building is critical to the university and must be thoroughly renovated to address maintenance and produce a high-quality environment in as efficient a manner as possible.
While the descriptions above highlighting major projects assumes an implementation timeline of 20 to 25 years, already significant progress has been made in advancing UIW's strategic and campus master planning goals. Additional updates are to come.
Directional Concept of the Campus Master Plan
Broadway Campus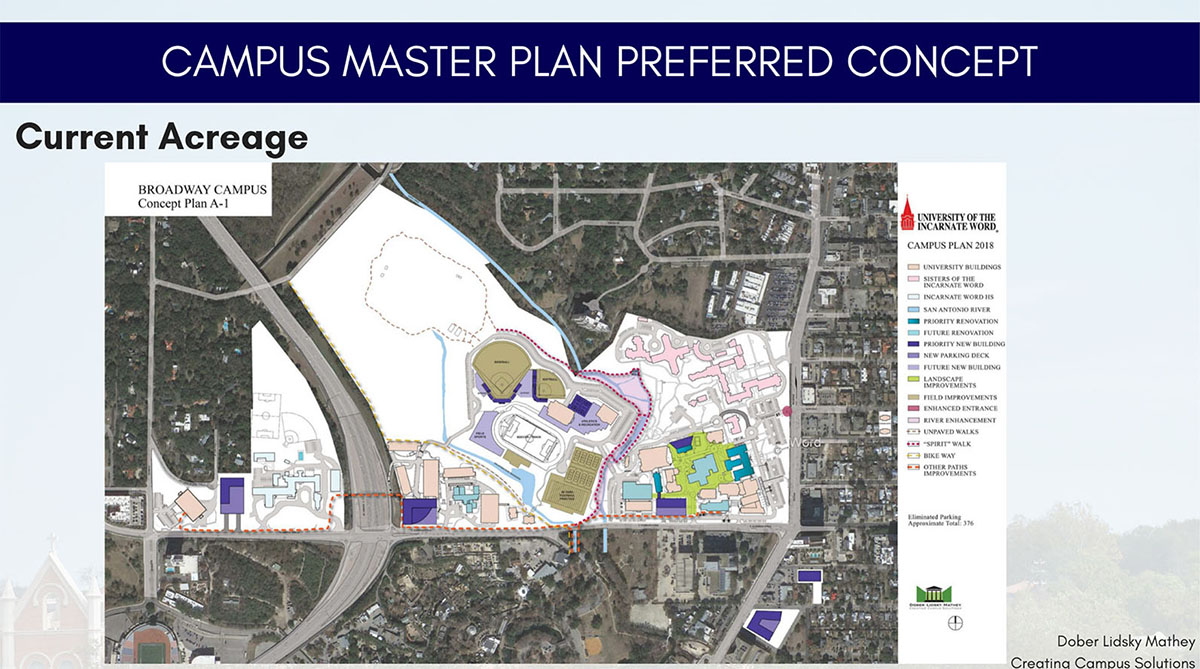 Brooks Campus