President's May 2022 Community Message
May 19, 2022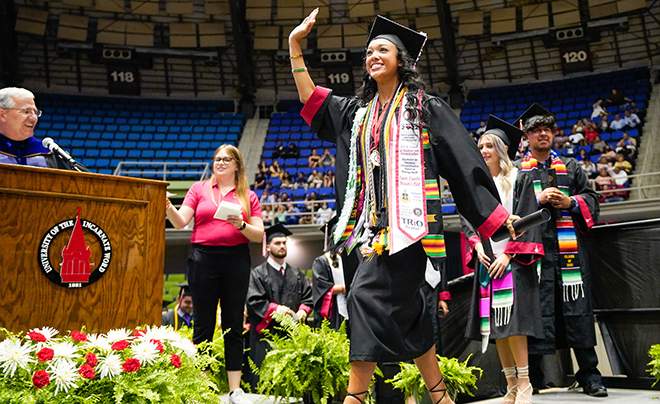 Dear students, faculty and staff,
This time of year is always one of great transition. Many of our students have completed their spring semester and are off on summer break. Some are back in their learning spaces continuing their studies. Others still have come to the end of their academic programs and are embarking on new endeavors.  
Earlier this month, our community celebrated our newest graduates during spring commencement events. We prayed with them and for them at Baccalaureate Mass and cheered them on at two graduation ceremonies. Surrounded by friends and families at the Freeman Coliseum, graduates marked the culmination of long journeys filled with new experiences, growth, challenges and rewards.
Seeing our graduates achieve their dream of attaining their degree never fails to remind me of our great purpose. UIW exists because of our students, because of their journeys and because of the tremendous potential they have to live the Mission in the world.
Certainly, our vibrant community is made up of many constituencies. Among the many things at UIW of which I am proud is how committed we all are to the Mission and to seeing it flourish in our students while they are with us and in our alumni long after they have graduated. Our faculty and staff work tirelessly to support our students on their individual journeys, educate them and broaden their horizons. I would like to thank our faculty and staff across our campuses for their many efforts over this challenging year and for putting our students first in all that they do. It is because of their support that our students grow and develop into concerned and enlightened citizens with hearts for our Mission and for their UIW family.
The summer also prepares us to expand our university family even more as we welcome new Cardinals to the Nest. Over several orientation sessions, incoming students will come to better know our community and culture. I know that we will all show them the kindness, compassion and support that makes UIW so distinct.
There is so much that lies ahead for our community. I am eager to move forward together and serve our students even better as a result. Whatever your plans for the season, I wish you a wonderful summer.
Praised be the Incarnate Word!
Sincerely,
Thomas M. Evans, PhD
President