April 15, 2022
Dr. Thomas M. Evans, president, addresses the audience during the reopening ceremony of UIW's historic Dubuis Hall.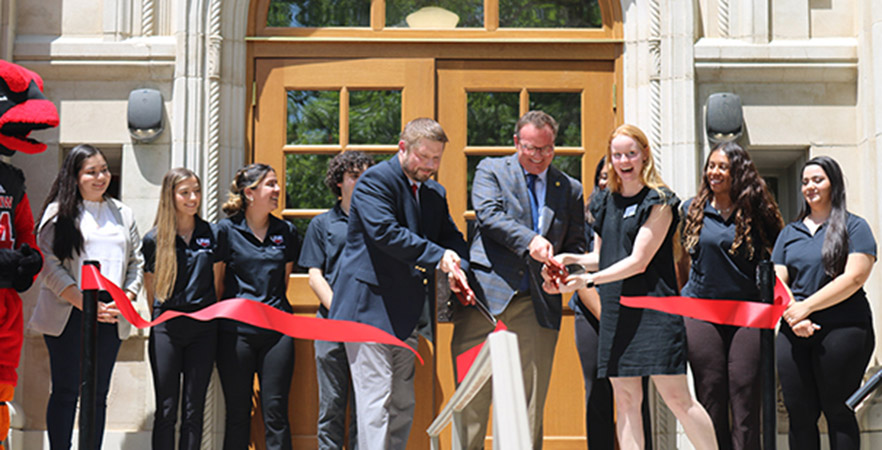 Good afternoon, everyone. Thank you for joining us for this long-awaited day – the reopening of Dubuis Residence Hall!
Today, our oldest residence hall becomes our newest. Shortly, we will cut this ribbon officially opening Dubuis and then you will be invited in to take a tour of the newly remodeled building. I know we are all anxious to explore, but before we do, I would like to share a little about why this building is so important to life at UIW.
In 1928, just before the coming depression, our founders, the Sisters of Charity of the Incarnate Word, constructed three new buildings on the Incarnate Word College campus. Two -- an auditorium and Education Hall -- no longer stand. The third was Dubuis Hall, named in honor of Bishop Claude Marie Dubuis, bishop of Galveston, who in 1869 called the first Sisters to San Antonio from France. That call is at the root of our Mission and is one that we still know by heart: "Our Lord Jesus Christ, suffering in the persons of a multitude of sick and infirm of every kind, seeks relief at your hands."
His words, his legacy and the building that honors him all form part of our university culture and heritage. Generations of students have lived inside these walls, so it was very important for us to keep its historic significance as we upgraded and readied it for generations more. Today, we are proud to share that the exterior or Dubuis Hall looks much like it did nearly 100 years ago, but the interior reflects a first-class living and learning environment. I think you are all going to love what you see.
Now, I would like to invite Dr. Chris Summerlin to share more about Dubuis.