In Praise of Great Teaching: Dr. Veronica Martinez Acosta
April 8, 2021
We have asked some members of UIW faculty to share their experiences from the past year. In this installment, we hear from Dr. Veronica Martinez Acosta, professor of Biology.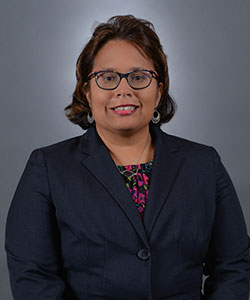 Dr. Veronica Martinez Acosta is a professor of Biology at UIW where she runs a lab focused on systems-level neural plasticity and other regenerative processes in the annelid worm (Lumbriculus variegatus) and in Drosophila melanogaster. She serves as co-director of the National Science Foundation Research Experiences for Undergraduates site at the Marine Biological Laboratory: Biological Discovery in Woods Hole Summer Opportunity for Undergraduate Research.
A Pause in COVID Times
I think that we have all had the experience of losing track of time during this past year. Without personal and professional rituals — attending a conference, interactions with colleagues, a family birthday — we lose those essential time markers. What really made me realize how much time has passed was the week that we were away from school during the February snowstorm. I kept checking my email, you know, every day. Are we going to go back tomorrow? I mark my days of the week by my classes and what I have to do each day. The week away from classes gave me a pause to think. It's been incredible what we've done as students and as educators to function during this past year.
What is Most Important?
My relationship with my students has always straddled that boundary between professional and personal. But even with that habit, I have had to think even more about where a student is coming from during the pandemic. I've always had a good frame for understanding students and the situations that they manage outside of school. Again, though, never on this level. That process eventually led me to reevaluate my teaching. It's forced me to think more creatively and to ask a question that I think many faculty members have asked at some point during their last two semesters: What is most important?
Truth be told, there is always more material to cover than there is time. I have asked myself, what pieces of that teaching do I feel are the most important that a student should take away from this class. And I have communicated more clearly my expectations. I hope that my students know; these are the things that I absolutely need from you. Before this experience, I had a fairly fixed routine around tests, quizzes and writing assignments. I've had to think beyond swapping one book for another. I looked at teaching and the material from a more strategic level and asked: what do my students really need in the profession from this particular class? And how can I focus on that and provide them, you know, guidance and practice in the classroom with me so that they're still prepared when they leave.
Practice for Becoming a Professional
I realize that this new environment requires a higher degree of trust on both sides. Students are trusting us to prepare them, regardless of the obstacles we might face. And more than ever, I have to trust my students to be open with me and to do the right thing. We tend to worry, rightfully so, about plagiarism. I have been clear with my students that I trust you. Our relationship is practice for your becoming a professional. I will release the test to you. You will turn it back to me and, if you have any trouble while you're taking the test, you will email me, and we will communicate.
I'm not wanting to assess a moment of particular stress in their lives that might prompt them to compromise. That's not what I'm wanting to assess. I want to assess what do they know and what do they need help to better understand. My students prompted me to bring a fresh perspective to how moving to online had changed assessment. I think more now about how to design a test. I'll be honest, I haven't thought about assessment like this for a long time. I used to just pass out exams on exam day. I credit the students with challenging me.