In Praise of Great Teaching: Dr. Tanja Stampfl
April 8, 2021
We have asked some members of UIW faculty to share their experiences from the past year. In this installment, we hear from Dr. Tanja Stampfl, professor of English.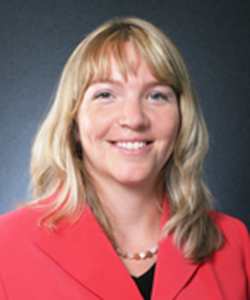 Dr. Tanja Stampfl, professor of English, teaches freshman composition, world literature, and upper-level English courses in literature, women's and gender studies, and literary theory. She and her colleagues in the English Department began a virtual "coffee hour" to remain connected through the pandemic.
Learning Gets Complicated By Life
I think generally, students report feeling like they're doing a lot more work. As a teacher, I know that online offers both the convenience — and the stress — of always being available. Coming to campus offers a buffer between learning and life, but when you remove that buffer, then you have students dealing simultaneously with learning and with whatever else is going on. Some have kids of their own, or they have younger siblings with them in quarantine. Learning gets complicated by life. But you also have those students who worked a lot of hours outside of school, often in food service, who found that the online format gave them increased flexibility to juggle work and classes. I usually opened up the virtual room a few minutes before class started just to allow students some time and space to share what was going on in their lives. It was a chance to vent frustration or to name the various forms of uncertainty they faced.
Challenging Students to Discover More About Themselves
Myself and two of my colleagues knew that we needed to redesign the Composition courses for online teaching and learning. We built Composition I around the theme of gaining self-confidence and achieving success. Our goal was to design each reading and writing assignment so that students would be challenged to find out about themselves. For example, we began by asking them to describe a moment when they felt successful and confident for their first essay.
I don't want Composition to be a class that only tells you what you do wrong or what you can't do. We create scaffolding, so that each assignment reveals a set of skills or insights that can be applied to the next assignment. Students had to identify two people — mentors — who could help them to be successful. They had to research what it takes to be successful in their field. Whether they want to pursue medicine or game design — what does it take? We're comparing and contrasting, doing all of that, but in the process acknowledging both their inner experience and outer aspirations, which taken together allowed students to find out about themselves.
Sharing Perspectives Across Borders
Even as we anticipate a return to "normal" and the classroom, I think we, as faculty, will want to keep some aspects of online instruction. For my world literature class, I collaborated with a colleague in Turkey. Once a week, we had nine students from Turkey join us in the world literature discussion. We all read the same books, so that was something that everybody really enjoyed because I could put them in breakout rooms together and they shared insights and perspectives across cultures.
The Turkish students were amazing — the class started at noon central time, which meant 9 or 10 p.m. in Turkey. They were there ready with the reading, every time. Many of them worked a full day and then they joined this class. Together with Dr. Nath's Global Refugee class, we followed the theme of what it meant to be a refugee. We read the Odyssey through that lens. We read The Tempest. We read Cast Away: True Stories of Survival from Europe's Refugee Crisis by Charlotte McDonald-Gibson. And we read Javier Zamora, Unaccompanied — he's a Salvadoran poet who immigrated to the U.S.
All of the Turkish students were advanced English majors. The UIW students represented a mix of majors and academic classifications from freshmen to seniors. I asked my students to reflect on the collaboration, and they found more of what the two groups had in common. Both groups found it to be really positive. We're going to do it again in the fall. There was some magic that happened.