In Praise of Great Teaching: Dr. Christopher Edelman
April 8, 2021
We have asked some members of UIW faculty to share their experiences from the past year. In this installment, we hear from Dr. Chris Edelman, associate professor of Philosophy.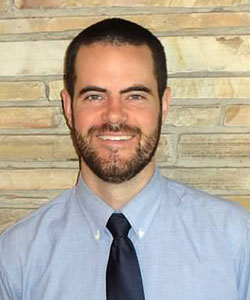 Dr. Christopher Edelman, associate professor of Philosophy, teaches both introductory and upper-level courses. He serves as coach of the UIW Ethics Bowl Team, which competes in the Intercollegiate Ethics Bowl. In 2019-20, the UIW team captured second place in the Texas Regional IEB and went on to compete in the National Championship.
Searching for the Big Questions
When Spring semester ended last year, we began to meet regularly as a department to address all of the COVID-related changes and decide how best to serve students. We wanted to make our intro classes extra engaging. We looked around at the big questions of the day — the pandemic, solitude, racial justice, cancellation — and worked to bring those more into the discussion.
Think For Oneself, but Never By Oneself
The pandemic turned out to be useful insofar as it gave students a concrete way for thinking about the nature and purpose of philosophy in connection with Socrates' famous distinction between two ways of moving through the world: living as a sleepwalker versus living as a lover of learning. Socrates described himself as a gadfly, sent to "wake up" the Athenians by interrupting their activities in the marketplace with an invitation to reflect on what they were doing and why. A global pandemic is its own sort of gadfly, and I think it helped students to appreciate the urgency of philosophical reflection on their understanding of happiness, for instance. Being trapped at home contemplating the risks of serious illness or death hopefully made it easier for them to recognize how worthwhile it is to think for oneself, but never by oneself, about what one thinks is really important in life and how those reflections might lead them to modify their life projects in some ways, as well as prepare them for still more iterations of this process of reflection and growth in the future.
As we worked as a department, I realized that the process had something for me as well. While I recognized costs to the move online, I also discovered benefits: I found that the challenge loosened me up a bit. I felt more willing to take risks, which is to say to try to teach material that I didn't't feel completely prepared to teach. Henry David Thoreau was a good example. My colleague Paul Lewis suggested that we all do a session with our Intro to Philosophy classes on constructive solitude. We looked at Thoreau's decision to live alone on Walden Pond as an experiment in living — not unlike the experiment we all found ourselves living. Would we merely endure the experiment, or see this as an opportunity to do some things differently in our lives and discover something new … good, bad or indifferent?
Living an Examined Life
I think our discussions of Thoreau offered our students a tangible way to recover some of the agency that COVID-19 had taken from them. Meanwhile, inserting Thoreau into my course gave me a new way to talk about what "living an examined life" means, and—with the help of his writing on civil disobedience—to establish another link in the chain that I use to connect Socrates and Dr. Martin Luther King, Jr. in my intro classes. The whole experience helped me to appreciate that I probably do play it too safe as a teacher. Hopefully that realization will have a lasting impact both for me and my future students.