In Praise of Great Teaching: Dr. Amy Crocker
April 8, 2021
We have asked some members of UIW faculty to share their experiences from the past year. In this installment, we hear from Dr. Amy Crocker in the School of Physical Therapy.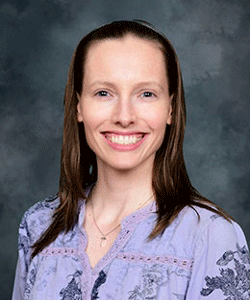 Dr. Amy F. Crocker is associate professor and director of Social Accountability and Experiential Learning in the School of Physical Therapy (SOPT). She joined the University in January of 2012 as a founding faculty member of SOPT and is the director of the UIW Community Clinic that provides pro bono physical therapy care to individuals who are underserved in the community. She is a fellow of the National Academies of Practice and is passionate about interprofessional education to prepare future health professionals for interprofessional collaborative practice.
Figuring Out a Way to Continue Learning
When I think about the past year, my first thought is with my students. How resilient they've been. How hard they have worked. How they have learned to be flexible beyond what anyone should be asked to be. We use a problem-based learning approach in the School of Physical Therapy. We are the guide on the side instead of the sage on the stage. Under normal circumstances, we challenge our students to take responsibility for their learning. They learn to get comfortable with ambiguity. It's a big change from everything they have experienced to this point. This year, that challenge grew exponentially.
Physical therapy education includes a big hands-on component. The pandemic forced us to restructure how we taught the hands-on skills. We had to rethink everything — like we would normally rotate partners throughout a class session so that students would practice the hands-on skills across a range of body types and sizes. Nothing would stop our students. They figured out a way to practice skills when they were home alone in an apartment and hadn't seen another classmate for weeks. They would build a body using a hoodie and jeans stuffed with other clothes. I mean, they were building their own lab partners and sending us pictures of them. The things that they came up with to figure out a way to continue learning were amazing.
Where There is a Will, There is A Way
Throughout the pandemic, clinical rotations were cancelled, and clinical partners were unsure about welcoming students for their clinical rotations. We have students in clinical placements throughout the United States, and when clinical rotations were suddenly canceled — some students hustled back to San Antonio to work wherever anyone would take a student to earn their clinical hours. We had students working with patients with COVID-19 and making sacrifices to not see their parents and grandparents because they did not want to put anyone at risk.
While there are many things that we lost with the shift to fully online learning, we gained the ability to overcome the barriers of physical space and travel time across multiple campuses. We were able to have large groups of health professions students participate in interprofessional interactions virtually. We modified activities to be done online and were able to include students from professions that had never participated.