Be the Change: UIW Business Professor Adesegun Oyedele Sets an Example for Global Collaboration
June 14, 2021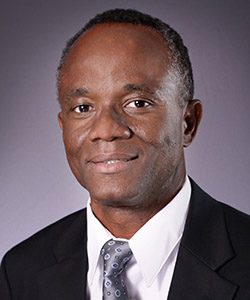 Long before he became a recognized expert at fine tuning business models across emerging global markets, Dr. Adesegun Oyedele, an associate professor of International Business and Marketing at the H-E-B School of Business and Administration (HEBSBA), understood the power of relationships, especially ones that could bridge longstanding divides, be they tribal, political, cultural or linguistic.
"It's a natural part of being Nigerian," Oyedele says.  
His African homeland, after all, ranks as the world's most linguistically diverse nation with as many as 500 native languages and more than 300 tribal affiliations. Oyedele, born into a Yoruba family, had so many friends from the Igbo tribe that his parents used "Igbo" as his boyhood nickname.
"I've always been curious about differences in cultures," he says.  
That curiosity led Oyedele to leave the frantic pace of London's financial district for the wide vistas of Edinburg, Texas, where he earned a Ph.D. in marketing from the University of Texas, Rio Grande Valley. "One of my first revelations was that I was living in a bilingual country," he says about his arrival in South Texas. "Coming from an African nation that was colonized by the British, I didn't see the Americas fully."
He began his academic career at St. Cloud State University in central Minnesota, a region dominated by some of the state's largest lakes, the headwaters of the Mississippi River and deeply rooted descendants of German, Finnish, Swedish and other immigrant communities.
"One of my teaching and research goals was to engage students and local business owners with a basic question: 'How do we connect Minnesota manufacturing with global markets?'" He found no shortage of candidates — longstanding, family-owned metallurgy and machining companies making quality components and finished products. But the drive to expand into overseas markets faced an invisible obstacle.
"Nobody wanted to leave Central Minnesota," Oyedele said. "I had business owners with eager buyers in Thailand and India, but they couldn't get anyone — engineers or technicians — to spend time away from home."
At UIW, Oyedele finds no shortage of cross-cultural opportunity or interest. He coordinates the International Business program at the HEBSBA and sees great potential in the emerging Liza and Jack Lewis III Lewis Center of the Americas. "Our role in the world is expanding," he says.
In 2020, he teamed with Prof. María G. Alba from UIW Campus Bajío, located in Irapuato, Guanajuato, Mexico, to co-teach a course titled: Startup Models Beyond Borders.   While the pandemic prevented the traditional week-long excursion to the Bajío region during Spring Break, UIW San Antonio students used a virtual platform to connect weekly with their Mexican peers and a group of mentors and advisors.  
A key strategic partner, the Fundación Comunitaria del Bajío, enjoyed the trust of the indigenous Chicimeca community built over 20-years of regular investment in improving healthcare, education and economic opportunities.
Oyedele shared his deep understanding of how business models must adapt to the inherent complexity and risks of emerging markets, as students looked to support the Chicimeca community in their efforts to sell their handmade artisan goods in the United States. The result — a fair-trade social enterprise called Manos Magicas.  
"A challenge such as this teaches students about finance, import/export regulations, distribution and logistics, and the challenges of a global market," he says. "The Chicimeca face many obstacles, including Chinese-made counterfeit goods."
At the end of the semester, Oyedele felt that his UIW San Antonio students appreciated the University's first bicultural course experience. "My experience with the Start-Up-Models-Beyond-Borders course has challenged my problem-solving skills," says David Flores, a UIW San Antonio International Business major. "We were not relying on a textbook, but rather engaging in real time with real world transactions."
Oyedele saw even deeper change. "Some of my students began the course reluctant to speak Spanish," he says. "But as the course evolved, we all experienced the value of different perspectives and mentors, and we saw the courage of the UIW Bajío students to fully engage, in English and Spanish."
Oyedele sees a world of possibility going forward, for more co-teaching across borders and deeper relationships between UIW students, faculty and global partners. "UIW has so many historic and contemporary links to Mexico and the Americas," says. "We've only just begun to explore those relationships. I think that we will find new ways for our teaching and Mission to come together for a greater good."