A Thanksgiving Message from UIW President Thomas M. Evans, PhD
November 23, 2021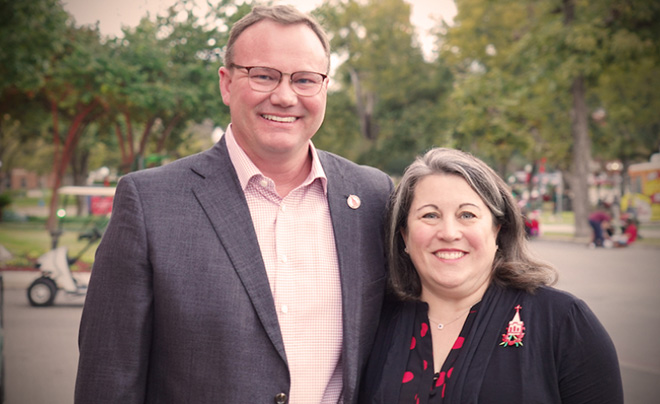 Dear UIW Community,
As we approach the Thanksgiving holiday, I look back on our semester's progress and all that we have accomplished, and I am filled with gratitude. To list even the greatest achievements would take far more room than this message allows, so I will skip to the heart of it: we did well by doing good. We served one another and our communities and effected positive change. Students, faculty, and staff contributed to the health, safety, well-being, education, and care of people in our city and throughout Texas in a multitude of ways. Every single act of service was, at one point or another, a bright spot in the life of another person. Taken together, our collective work brought light to the world when it was in need.
This Saturday, we hosted our annual Light the Way celebration and welcomed thousands of visitors to our Broadway campus. As daylight faded into evening and the lights were lit, the display was as dazzling as always. It felt wonderful to be able to offer this gift to our community members again and see the joy in their illuminated faces. I was also reminded of the significance of each bulb to the radiant glow that emanates from our campus and stretches for miles.
Like our lights, our good works are signs of the presence of God's love. This Thanksgiving, as I gather with my family to offer thanks and praise, I pray that we will continue, in ways great and small, to share His love by serving others and contribute to a better and more just world. In doing so, we fulfill our greatest promise.
Lisa and I wish you all a wonderful and blessed Thanksgiving holiday.
Praised be the Incarnate Word!
Sincerely,
Thomas M. Evans, PhD
President