President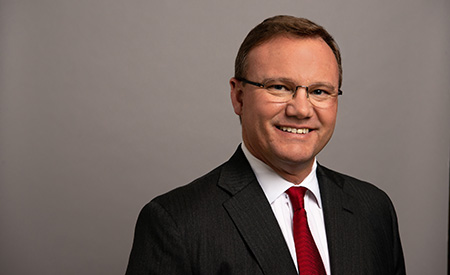 Dr. Thomas M. Evans was named as the 10th president of the University of the Incarnate Word (UIW) in 2017. As president, Evans oversees the management of UIW's multiple campuses in San Antonio, international locations and St. Anthony Catholic High School, a private, Catholic preparatory school owned by the university. Evans leads a workforce of more than 1,000 that is consistently named among the leading workplaces in San Antonio and the education community.
UIW is the largest Catholic university in Texas with a global enrollment of more than 10,000 students who reflect the racial and ethnic diversity of South Texas. UIW is also the largest private Hispanic-Serving Institution in the state. In the community, UIW has an economic impact of $559 million annually. In San Antonio, the university encompasses five health professions schools, five liberal arts schools and one college. UIW also maintains two campuses in Mexico and two European study centers. It counts more than 40,000 alumni.
As president, Evans has seen great success including an increase in high level donations and the transformational acquisition of the property located at 4119 Broadway, formerly owned by AT&T. Notably, he has created and developed UIW's Strategic Plan, which establishes a clear vision and priorities, and will shape the future of the university. Strategic Planning Implementation Teams, members of which make up approximately 10 percent of the university workforce, are now at work developing specific and measurable goals for each priority. Evans also established the President's Council on Diversity and Inclusion, an initiative created to ensure the university continues to serve and elevate the dignity of every person. In addition, Evans oversaw the development of a Campus Master Plan, which studied and proposed the most efficient use of UIW's multiple campuses in San Antonio. On a national level, Evans represented UIW at conferences for the Hispanic Association of Colleges and Universities and the Association of Catholic Colleges and Universities, where he participated in plenary panels on international education.
Evans is also a member of many professional and civic organizations in San Antonio, including the BioMed SA Board of Directors, the United Way Board of Trustees, the World Affairs Council Board of Trustees, Fiesta San Antonio® Board of Commissioners, Legatus and Young Presidents' Organization, San Antonio Chapter and The Boy Scouts of America.
He is also a member of several national organizations including the Hispanic Association of Colleges and Universities, the Presidents' Alliance on Higher Education and Immigration, the National Association of Independent Colleges and Universities, NCAA Division 1 Presidents, the Southland Conference Board of Directors, the Council of Independent Colleges, the Southern Association of Colleges and Universities and Schools Commission on Colleges, the Association of Catholic Colleges and Universities (ACCU) - CIMA Advisory and Oversight Board, EAB Higher Education Strategy Forum, and the Assembly of Presidents of the American Association of Colleges of Osteopathic Medicine. In addition, he also serves on the Asia Pacific University (Japan) Governing Advisory Board
Evans has been recognized with numerous awards, including being selected as an Outstanding Eagle Scout by the National Eagle Scout Association.
Evans, who is conversant in French and Japanese, holds a Ph.D. in Higher Education Administration from the University of Texas at Austin; a Master of Arts in Asian Studies from UT-Austin; and a Bachelor of Science in Language Arts with a minor in Theology from Georgetown University from where he studied abroad at Keio University's Center for Japanese Language and Culture in Tokyo. He has participated in many national leadership programs, including Harvard University's Institute for Educational Management and Seminar on Advancement Leadership for Presidents.
Evans previously served as president of Carroll College, a Catholic institution in Helena, Montana. Prior to Carroll, he was an associate vice president at St. Edwards University in Austin, where he was responsible for the university's professional education and global initiatives.
A native of Austin, Evans and his wife, Lisa, have two sons, Walter and Leland.