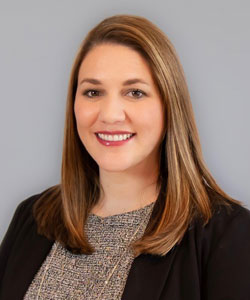 Elizabeth O'Connell Perez
Senior Counsel
General Counsel
Office Location: Second Floor of the Student Engagement Center - Room 2053
Phone: (210) 890-4179
Email: eoperez@uiwtx.edu
Ms. Perez has served as the Associate Counsel at the University of Incarnate Word since February 2022. A native of San Antonio, Ms. Perez has been a member of the UIW community since 1999, first as a student at St. Peter Prince of Apostles School and later as a part-time faculty member in 2016 and 2017, teaching Business Law and Human Resources and Law in the School of Professional Studies.
Ms. Perez graduated from Texas A&M University in 2009 with a Bachelor's degree in Speech Communication. After graduation, Ms. Perez taught middle school in Corpus Christi while completing her Master's degree in Secondary Education from Texas A&M University - Corpus Christi. She received her Juris Doctor in 2014 from St. Mary's University School of Law, where she served as a Staff Writer and later, Solicitations Editor, for The Scholar: St. Mary's Law Review on Race and Social Justice. Ms. Perez also worked as a Teaching Assistant at the St. Mary's University Center for Legal and Social Justice. During her time as a Teaching Assistant, Ms. Perez worked heavily with the ID Recovery Program at Haven for Hope – Prospect's Courtyard. Ms. Perez was awarded the Francisco Leos Award for Excellence in Clinical Studies for her work at the Civil Justice Clinic in 2014.
Following law school, Ms. Perez worked in private practice for almost eight years, and represented clients in a wide range of civil cases including labor and employment, professional liability, construction defect, premises liability, and general insurance defense. Ms. Perez also provided employment consulting to various small businesses and represented several K-12 private institutions and universities. Ms. Perez served as Vice President of San Antonio for the Texas Association of Defense Counsel. In 2015, was awarded the Young Lawyer Award by the Texas Association of Defense Counsel for outstanding service by a young lawyer. She is admitted to the State Bar of Texas and the United States District Court for the Western, Southern, and Eastern Districts of Texas.
Elizabeth and her husband, Greg Perez, also an attorney, are the proud parents of three beautiful children and two rescue dogs.