International Careers in the Americas Symposium
April 13, 2023
Lewis Center of the Americas Hosts Event for UIW Students and Alumni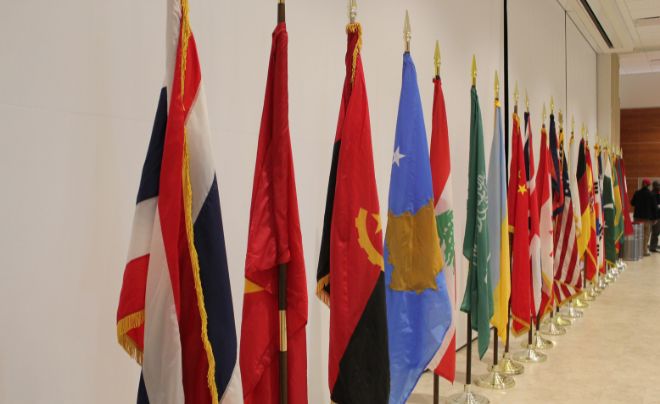 When Dr. Rafael Hoyle, director of the Liza and Jack Lewis Center of the Americas, read the stories of UIW alumni Atzel Jonatan Peña, BBA '08, MBA '20 and Dr. Jonathan R. Everhart CPA, Esq., MCSI (MS '11, DBA '17), he thought about "the internationality of the UIW system and the remarkable intercultural competence of so many of our students and faculty."
Hoyle realized not every student on campus fully understands the advantages such an international system provides. An idea to share these advantages was born, and the Lewis Center, in collaboration with UIW Career Services and the University's two campuses in Mexico - Campus Bajío and Centro Universitario Incarnate Word - will host the International Careers in the Americas Symposium. Sessions will run from 10:30-11:45 a.m. and again from noon to 1:15 p.m. on Tuesday, April 18 and Wednesday, April 19. The event is open to all UIW students and alumni from the campuses in both Mexico and the United States.
This is the second symposium presented by the Lewis Center. The first symposium, held in the Fall 2022 semester, focused on immigration and human displacement. Hoyle said the original plan was to have one such event each academic year, but "the success of that first symposium led us to go ahead and plan for a second during the 2022-2023 academic year, this time focusing on international careers."
According to Hoyle, the symposium was created to help students understand how careers can develop when they look for opportunities beyond national and cultural borders.
"I would love for students to see how so many different types of industries and businesses operate internationally," shared Hoyle. "Furthermore, I hope students learn that intercultural competence is very important for career success, and it helps professionals across all fields. I want students to recognize and take pride in the fact that UIW produces graduates with an exceptional level of cross-cultural sensitivity and awareness, and to see that international careers are thus very much in reach for UIW graduates."
Hoyle pointed back to Peña and Everhart as examples of graduates who have succeeded on the international stage. Peña is currently a senior wealth advisor for Skandia, a financial company with over 65 years focusing on investments for large multinational corporations. Everhart is the chairman, CEO and Chief Investment Officer of Global ReEnergy Holdings, a company that focuses on "connecting the global digital economy by launching innovative technology applications for multiple industries," according to their website.
These stories are two of many that will be shared during the upcoming Symposium. The speakers, each at various stages of their careers, are from a range of fields including government, legal practice, the automotive industry, food production, human resources management, financial services and international energy trading. Several speakers are UIW alumni, but the Symposium includes non-UIW leaders and public figures who are generously giving their time.
"The common element of all presenters is that their current position has a strong international and intercultural dimension," noted Hoyle. "Each speaker will focus on this international aspect of their career and position, as well as the importance of embracing the cross-cultural dynamics of their particular industry and profession."
See the complete list of speakers and presentation times (pdf).
Register for the International Careers in the Americas Symposium.
Learn more about the Liza and Jack Lewis Center for the Americas