June 6, 2022
By Jorge Jones, BA '16, MA '18
Bridging the Americas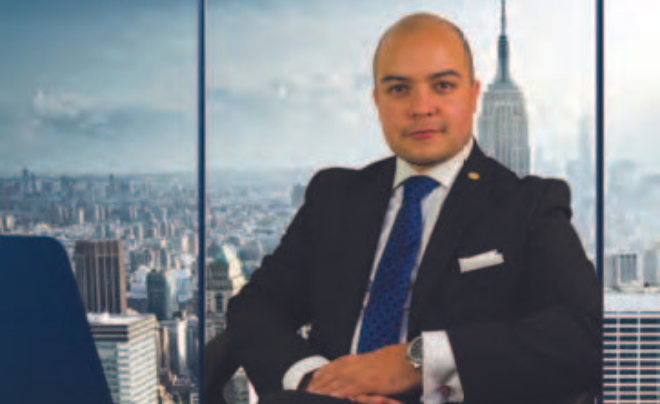 As a group of nine students crossed the stage on a cloudy Mexico City afternoon on June 21, 2008, history was made. UIW became the first American university to confer a collegiate degree on a Mexican campus.
For Atzel Jonatan Peña, BBA '08, MBA '20, being a member of the first graduating class is something he holds dear to his heart. This pioneer group of Cardinals is remembered as the group paving the way for all subsequent classes.
Nearly 15 years after crossing the stage and receiving his undergraduate degree, Peña continues to be involved with the University in a special way. In June 2021, he was welcomed to the UIW Alumni Association Board of Directors, serving as the Board's first UIW Mexico Alumni Network representative.
Peña has cemented himself as a leader among his peers. His vision is to provide Mexican alumni opportunities to grow and expand relationships with their Texas counterparts.
"We are one of the most recognized Catholic universities in the state of Texas and we are constantly growing in Mexico," he said. "Taking advantage of the talents our students and alumni have can help us develop new projects and enhance our scope - creating a multicultural and multinational community."
"We have determined clear goals and objectives for our UIW Mexico Alumni Network," added Peña. "We plan on having a series of shared REDTalks (webinars), joint networking events, conversation opportunities to allow continuous practice of the English language, alumni credential programs, and service opportunities throughout our communities."
One of the current initiatives being planned by the network stands out for Peña. After listening to fellow alumni and current students, he learned Cardinals in Mexico are constantly expressing interest in English language immersion programs.
"I have proposed and will seek to have within each campus in Mexico City and Irapuato, a space created so students and alumni can speak exclusively in English," explained Peña. "This will enrich our knowledge that mastering English is extremely important for our students and alumni, encouraging conversation amongst them and our extended community."
Through communication with current students, Pena is reminded of his time as a high school senior searching for higher education opportunities. He would eventually enroll at Centro Universitario Incarnate Word (CIW) after a recommendation from his father, a public health doctor who worked with hospitals overseen by the Sisters of Charity of the Incarnate Word.
"I learned more about UIW thanks to my father," remembers Peña. "He had the opportunity to work, share experiences and advise hospitals under the Sisters of Charity of the Incarnate Word. My father told me it was a golden opportunity to be able to study there. I knew it would be a challenge, but looked forward to the opportunity of creating relationships with students in the United States."
Upon graduating, Peña started climbing the ranks in the finance industry. His education led him to his current position as a wealth management senior financial advisor for Skandia, a financial company with over 65 years focusing on investments for large multinational corporations.
"Being able to learn from our teachers and directors like Carlos Diaz, Oscar Islas, Adriana Urrutia, Mathew Whitehouse, Yanina Cruz, Marcos Fragoso, and Fabiola Ortiz was such a blessing," said Peña. "I believe God gave me a very valuable opportunity."
For now, his focus is on forming a strong Cardinal community in Mexico and in Texas. With a set purpose in mind, the UIW Mexico Alumni Network will give its graduates the opportunity to develop relationships with "no borders, because the sky's the limit," Peña added.