Explore the latest happenings in the MHA program
The students and faculty of the Master of Health Administration program are active in a variety of initiatives outside of the classroom. These include volunteer events, case competitions and much more.
---
2022
August 2022
UIW's MHA Program welcomes another valuable member to their Executive Advisory Board. Karla Strawn is the Chief of Patient Administration Services at the South Texas Veterans Health Care System here in San Antonio, where she has served for the past 15 years. She has also served as a Health System Specialist in Geriatrics & Extended Care, and as a Systems and Procedures Analyst where she analyzed trend data. She is an alumna of Trinity University's healthcare administration graduate program and a Fellow in the American College of Healthcare Executives. UIW's MHA Program Executive Advisory Board consists of senior executives who currently or previously served in healthcare leadership positions, across a variety of healthcare settings, including group medical practices, hospitals, health systems, healthcare consulting, and long-term care organizations. They meet semi-annually with the MHA Program Faculty to review the program's strategic plans, curriculum, and annual goal achievement, providing valuable insight into current practices in healthcare.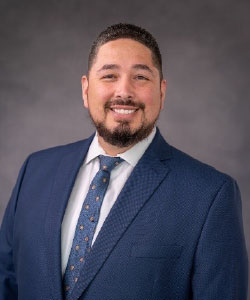 July 2022
Alberto Ornelas, MHA Class of 2023, was awarded the prestigious national Albert W. Dent Student Scholarship worth $5,000. The Foundation of the American College of Healthcare Executives established this scholarship in honor of Albert W. Dent, the first African American Fellow of ACHE. This scholarship is awarded annually to racially/ethnically diverse students, who are excelling in their graduate program in health administration. Scholarship applicants must submit an essay on their reason for pursuing a career in healthcare management / your career aspirations and goals and have a history of community service. Albert Ornelas will be formally recognized in the November/December 2022 issue of Healthcare Executives for this award, as well as in Executive News. Congratulations, Albert!
June 2022
Seven MHA students from the Class of 2023 were selected for highly competitive summer internships. Three students were selected for summer internships with CHRISTUS Health: Alberto Ornelas (CHRISTUS Santa Rosa Hospital - Westover Hills, Eduardo Morales (CHRISTUS Children's Hospital of San Antonio), and Madison Angelito (CHRISTUS Santa Rosa Hospital – San Marcos). MHA students from the MHA residential program were able to accept summer internships outside of San Antonio due to the flexibility of UIW's new online MHA program, enabling them to take their summer courses virtually while outside of San Antonio. Four students received internships outside of San Antonio, a first for UIW's MHA program: Shafeeq Virani was selected for an internship with Children's Health in Dallas, Aashika Ashok at Abbott Northwestern in Minneapolis, MN, Pooja Lehigh Valley Health in Allentown, PA, and Bryan Salvador at AnMed Health in Anderson, South Carolina. Congratulations to all the interns!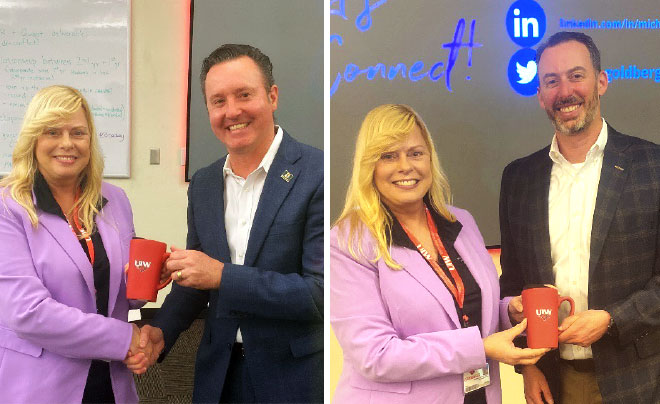 May 2022
The MHA Program's first annual MHA Educational Symposium was held May 20-21. The event is required for MHA students and is open to MHA alumni. Friday's event included several guest speakers. Michael Goldberg, Previous President of Northwell Health's Long Island Jewish Medical Center flew in from New York and presented on Social Media Marketing for Healthcare Organizations. Chris Sloan, Chief Operating Officer of Texas Vista Medical Center, San Antonio, shared his experiences as a healthcare administrator, giving students inspiration as they embark on a career. Major Rick Benson, U.S. Army (Retired) shared his career-long expertise in supply chain management and the challenges experienced during the COVID-19 pandemic. Kara Lindeman, UIW MHA Class of 2020 and Project Manager at WellMed, presented on project management and the healthcare-managed care model. The two-day event included an alumni panel discussion, a student/alumni social gathering, and a community service event at Haven for Hope.
Pictures (left to right): Dr. Chris Nesser (MHA Program Director) and Chris Sloan; Dr. Nesser and Michael Goldberg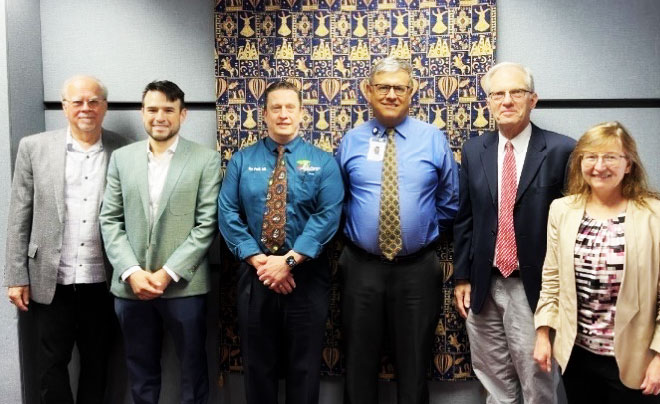 May 2022
UIW's MHA Program welcomed a new member to its Executive Advisory Board. The newest member, Francisco "Paco" Gonzaba, is the Executive Director of Business Operations at the Gonzaba Medical Group. The Gonzaba Medical Group was founded in 1960 by Dr. Bill Gonzaba and has a team of more than 90 physicians, hospitalists, physician assistants and nurse practitioners. They serve patients at eight locations across the city of San Antonio.
UIW MHA Executive Advisory Board Members attend the semi-annual meeting of the board. Picture (left to right): Jeff Cowart (President, SVP Strategies, LLC), Paco Gonzaba (Gonzaba Medical Group), Dr. Ike Pauli (President and CEO, Northeast Pediatrics Association), Dr. Carlos Moreno (Vice President and Chief of Clinical Affairs, CommuniCare Health Centers), Alvin Loewenberg (Former CEO, Morningside Ministries), and Mary Garr (President and CEO, Family Service)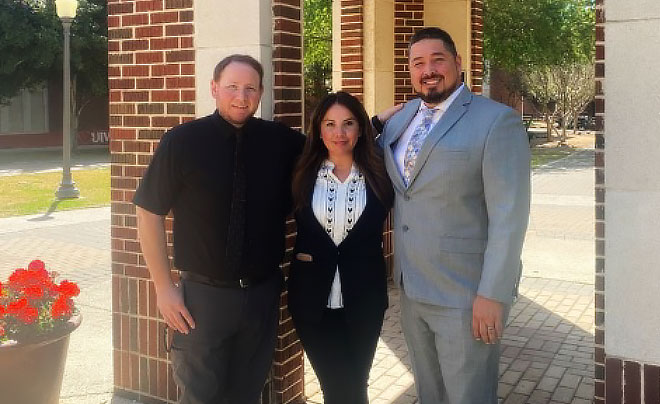 April 2022
An interprofessional team of UIW students competed at the University of Minnesota's Annual CLARION Case Competition. The competition is hosted by UM's Center for Health Interprofessional Programs (CHIP) and focuses on collaboration among health professionals. UIW Interprofessional team was represented by the School of Pharmacy and the H-E-B School of Business MHA program. "The students did a great job representing UIW and I am so very proud of them," stated Dr. Alan Jones, MHA Associate Professor who served as their faculty advisor for this competition.
Picture (left to right): Chris Franklin (MHA), Erika Durant (Pharmacy), and Alberto Ornelas (MHA)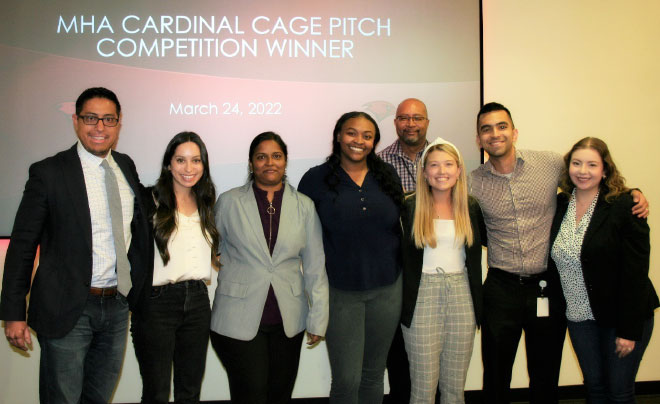 March 2022
Three UIW MHA teams were selected to advance to the second round, and competed in Trinity University's virtual Healthcare PRISm Pitch Competition on February 2nd and 3rd, presenting their innovative solutions to some of healthcare's most challenging problems. Team MHA Card consisted of Amy Nessen, Gillian Hansen, and Audie Tacito; Team NICU Milkmaker consisted of Madelyn Jordan, Getsy, Prabakar, and Antwanisha Riddle; and Team Transform consisted of Sarah Benni, Ruben Colon, and Gerardo Trejo. The Healthcare PRISm Pitch Competition takes students on a design thinking journey that emphasizes problem-solving and produces solutions fueled by empathy, problem-focused, fostered by creativity, and informed through feedback. The UIW MHA students begin preparing for the competition as part of their Leadership in Healthcare course in the Fall of 2021 and their Healthcare Marketing course in the Spring of 2022. The teams continued to perfect their innovative products and pitch throughout their Healthcare Marketing course, which concluded with all teams competing in the UIW MHA Cardinal Cage Pitch Competition on March 24th. Five UIW MHA Alumni judged the Cardinal Cage Pitch Competition.
Picture (left to right): Stephen Araiza (judge, Class of 2019, and MHA Alumni Association President), Larissa Garza (judge, Class of 2019), Getsy Prabakar (winning team), Antwanisha Riddle (winning team), Brant Kelley (judge, Class of 2019), Madelyn Jordan (winning team), Nick Sanchez (judge, Class of 2019), and Miranda Rodriguez (judge, Class of 2020).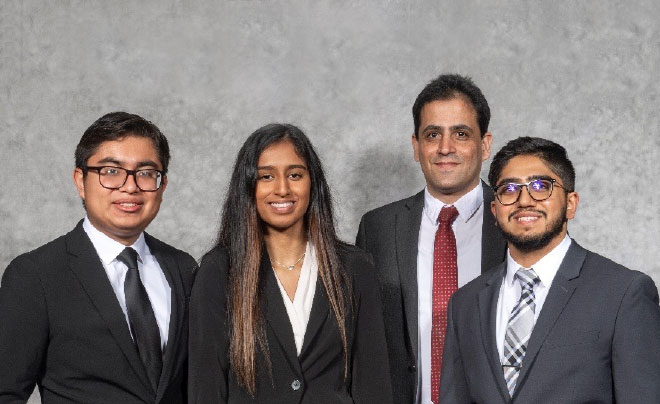 February 2022
Three first-year MHA students, Bryan Salvador, Aashika Ashok, and Shafeeq Virani participated in UAB's Health Administration Case Competition with Dr. Akbar Ghiasi, MHA Associate Professor, serving as their faculty adviser. This competition is limited to graduate students from CAHME-accredited programs and provides participants an opportunity to put what they have learned into practice with a real-life, real-time case. Graduate student teams travel to Birmingham, Alabama every year to present their recommendations before a national panel of judges.
Picture (left to right): Bryan Salvador, Aashika Ashok, Dr. Akbar Ghiasi, and Shafeeq Virani
2021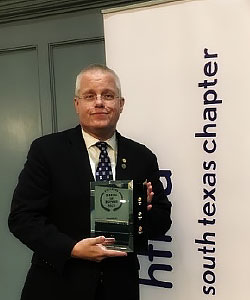 December 2021
Joe Topinka who teaches Health Law in the MHA Program was awarded the Healthcare Financial Management Association (HFMA) South Texas Chapter Founder's Medal of Honor. This prestigious award recognizes an individual who has been actively involved in HFMA for at least three years after earning the Muncie Gold Award, has provided significant service at the chapter, regional and/or national level in at least two of those years, and remains a member in good standing. Congratulations, Professor Topinka!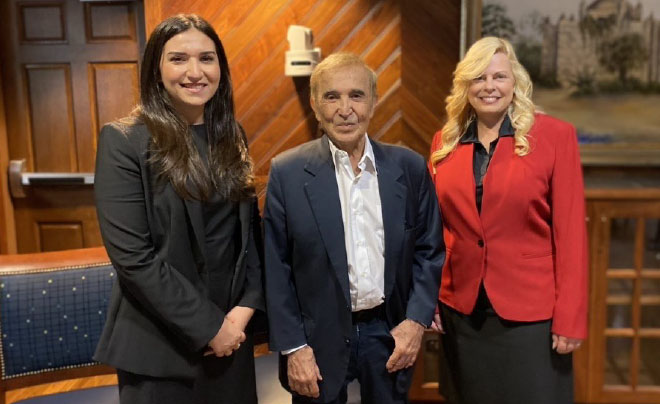 December 2021
Rosalinda Sanchez Moncada, MHA Class of 2023, has been selected to be the inaugural recipient of the 2021-2022 Gonzaba Endowed Scholarship for Healthcare Leadership and Innovation in Health Administration. Dr. Chris Nesser, UIW's Director of the Graduate Program in Health Administration, led an award ceremony, held on December 6, to honor Dr. Gonzaba's generous $50,000 donation to establish the endowment and to recognize Rosalinda as the first scholarship recipient. Congratulations, Rosalinda!
Picture (left to right): Rosalinda Sanchez Moncada, Dr. Bill Gonzaba, and Dr. Chris Nesser 
November 2021
A team of three MHA students, Bryan Salvador, Erika Zachary, and Aashika Ashok competed on November 6th in the Gulf Coast MGMA Case Competition, which was held virtually this year. The team had to develop a business plan to develop an effective recruitment and retention plan for a healthcare organization that has been affected by medical staff burnout and shortages due to the global COVID-19 pandemic. The student team delivered their presentation virtually to a panel of practitioner judges.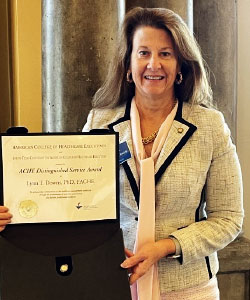 October 2021
Dr. Lynn Downs, MHA associate professor and internship coordinator, was recognized for her years of service and contributions to the American College of Healthcare Executives (ACHE), being awarded the ACHE Recognition Award for Distinguished Service. ACHE is the premier professional society for leaders dedicated to advancing health. With over 48,000 members, ACHE strives to advance the healthcare leadership of each member through education, service, and volunteerism. The ACHE Recognition Award for Distinguished Service recognizes individual contributions to healthcare management excellence through volunteer service to the chapter, ACHE National, and to the healthcare profession.
Dr. Downs, who is a Fellow in ACHE, served as Regent for Central and South Texas Chapters from 2019 through 2021, a nationally held position. She also served at the local level as the South Texas ACHE Chapter vice president, president, and Chapter Mentorship Chairman. Additionally, she served on the Volunteer Giving Committee from 2019-2021, as a judge for the ACHE Stull Student Essay Competition in Healthcare from 2019-2021, and she has been a member of the Health Administration Press Editorial Board since 2019.
This award is significant as it recognizes the numerous volunteer activities that members, such as Dr. Downs, participate in daily that often go without any recognition or acknowledgment of such service. Each of these service activities is time-consuming and neither the National ACHE nor local ACHE Chapter survives without volunteers who provide numerous service hours over the years.
Despite the full-time and time-consuming workload of serving as a faculty member of a CAHME-accredited program, Dr. Downs still finds time to contribute greatly to the healthcare profession through service. Dr. Downs indicates "I volunteer my service because I want to give back to my professional healthcare organization and community and help students and early careerists as they learn and grow in the healthcare profession." And indeed, her efforts contribute to UIW MHA students' participation in ACHE and other nationally recognized health administration professional associations. Congratulations, Dr. Downs!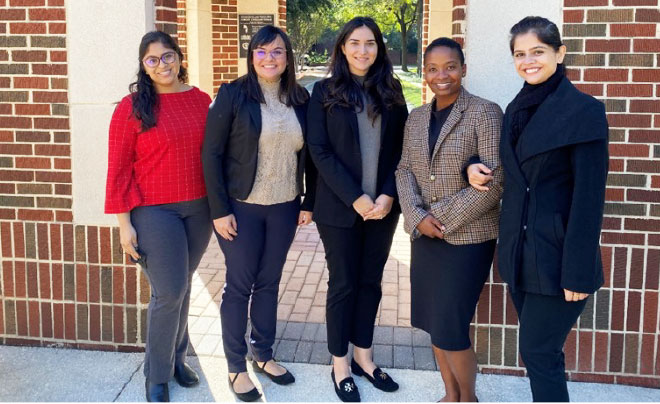 October 2021
The UIW MHA program competed in the 2021 Penn State Health Administration Case Competition. The University was represented by two teams: (1) 1st Year Residential; and (2) 1st Year Hybrid/Online. The team's faculty mentor, Dr. Akbar Ghiasi, was very impressed with the team's performance. Both teams finished among the Top 5 in their division. The Penn State competition is an invite-only competition for 1st year MHA students in a CAHME-accredited program. Way to go MHA Cardinals!
Pictured (left to right): Pooja Naik and Charisma Muller (MHA Hybrid/Online Team) and Rosalinda Sanchez Moncada, Erika Zachary, and Alokananda Mukherjee (MHA Residential Team)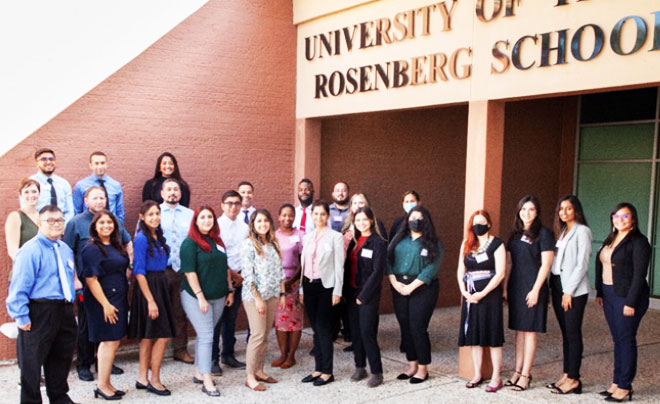 August 2021
The UIW MHA Hybrid/Online MHA has officially kicked off! The CAHME-accredited program uses a combination of in-person and virtual instruction. Dr. Chris Nesser, MHA Program Director, explained, "The Hybrid program allows graduate students from all over the U.S. to attend, remotely, UIW's CAHME-accredited program via live class sessions, while attending 3 in-person events over the 21-month program." "Planning for taking our MHA program virtually started back in 2018 and it is so exciting to reach additional students who would not otherwise be able to join in our residential program." The inaugural class is scheduled to graduate in May of 2023.
June 2021
Drs. Lynn Downs and Chris Nesser, along with colleagues from Trinity University's MHA program submitted the winning poster for this year's annual meeting of the Association University of Programs in Health Administration (AUPHA). The poster, entitled, "Why Wait to Innovate? Finding a Different View of the PRISM," describes the journey taken by the two MHA programs to develop innovative thinking and entrepreneurial skills in their MHA students.
2020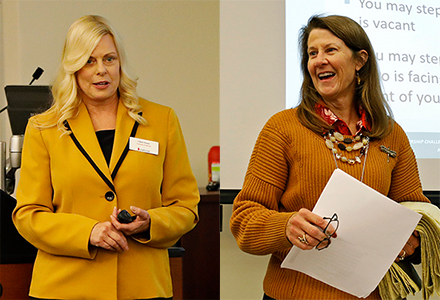 Two faculty in the Master of Health Administration program recently presented the Department's innovative model for evaluating student competencies and program effectiveness at an international conference hosted by the Association of University Programs in Health Administration (AUPHA).
MHA Director Dr. Chris Nesser and Assistant Professor Dr. Lynn Downs illustrated the program's competency evaluation model through a virtual poster presentation after the AUPHA conference was moved online due to the COVID-19 pandemic.
2019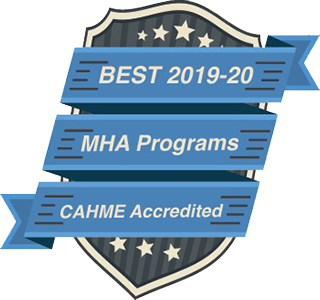 The Master of Health Administration program at UIW was recently named a top pick for graduate health care administration programs for 2019-20 by HealthGrad.com.
HealthGrad.com researched programs at more than 70 universities across the country and ranked them based on the following categories: career preparation, differentiated approach to teaching, student expertise and experiential learning, value and flexibility of scheduling. The MHA program at UIW, offered by the H-E-B School of Business and Administration, was one of only 17 selected as a top pick.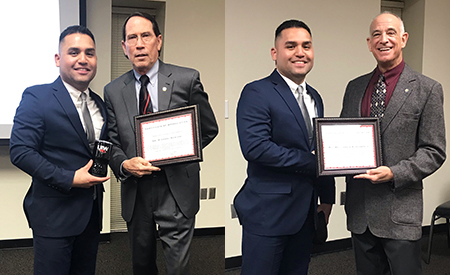 The MHA program hosted its first distinguished speaker series on January 23, 2019, with Dr. Michael Nowicki and Major General (RET) Rubenstein as the guest speakers.
Dr. Nowicki (pictured left) is a healthcare economics professor at Texas State University and current Regent for Central and South Texas for the American College of Healthcare Executives. General Rubenstein (pictured right) is a retired Army Medical Commander and past Chairman of the American College of Healthcare Executives.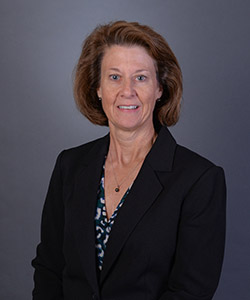 MHA faculty member Dr. Lynn Downs was selected to serve on the American College of Healthcare Executives (ACHE) Council of Regents beginning in March 2019. She represents District 4, covering South and Central Texas.
As Regent, she will support both the Central and South Texas Chapters, the higher education network and others in the local healthcare community to deliver programs, products, and services to healthcare executives, faculty, students and stakeholders.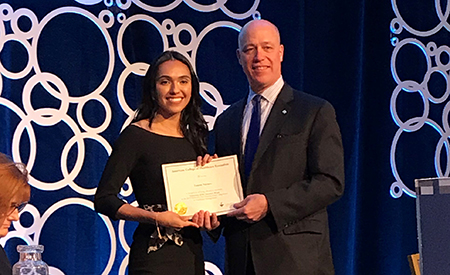 Lauren D. Navarro, a second-year student in the UIW Master of Health Administration program, recently placed third in a national essay contest hosted by the American College of Healthcare Executives.
Navarro's essay, titled "The Maternal Mortality Rate Disparity Between White and Black Mothers in the United States," earned a third-place finish in the ACHE Richard J. Stull Student Essay Competition.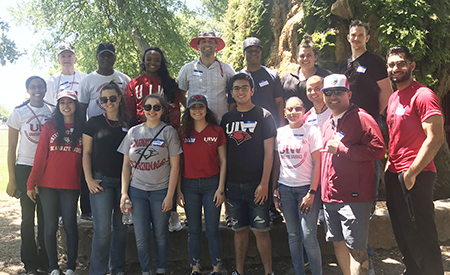 The MHA class of 2020 volunteered at the THRIVE Homeless LGBTQ Youth Street Outreach Event on April 27, 2019.
The students set up booths, passed out food tickets and provided a kind ear to youth and adults struggling with homelessness in San Antonio.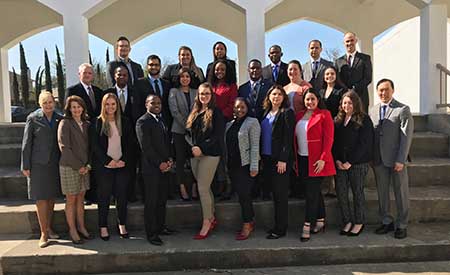 MHA students from the class of 2019 and 2020 participated in the South Texas Chapter of the American College of Healthcare Executives (STC-ACHE) Healthcare Landscape Conference.
The educational and networking event included presentations from Joseph J. Fifer, FHFMA, CPA, president and CEO, Healthcare Financial Management Association, and Dana A. Forgione, Ph.D., professor of accounting from the University of Texas at San Antonio, as well as panels on the following topics: Professional Associations and Their Impact on Health, and Behavioral Medicine: Approaches to Increase Value for the Organization and Meet Community Need.
Thirteen members of the UIW MHA Class of 2019 were recognized for their academic performance with their induction into Upsilon Phi Delta. The induction occurred at the UIW H-E-B School of Business and Administration annual Honors Convocation on April 7, 2019. The following students received this recognition: Myah Antwi, Stephen Araiza, Matthew Cortez, Cesar Costales, Jose Garcia, Shane Garduno, Larissa Garza, Mona Loordu, Sarah Lyons, Chloe, Mesa, Lauren Navarro, David Sanchez and Megliza Touchette.
Students are eligible for UPD induction if they achieve a cumulative GPA of 3.90 and fulfill their program's annual community service requirement. UPD is a national honor society in health administration sponsored by the Association of University Programs in Health Administration. It recognizes, rewards and encourages academic excellence in the study of healthcare management and policy.
2018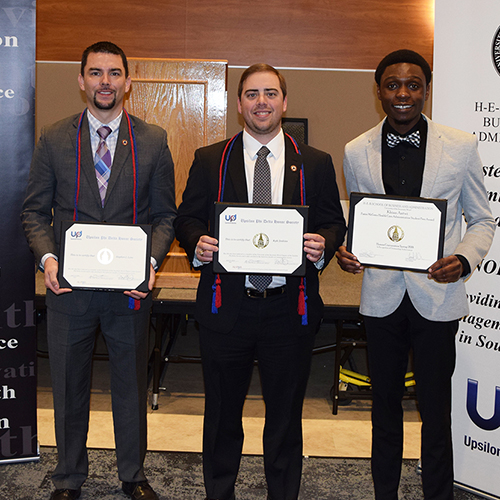 Four students in the Master of Health Administration program were inducted into UPD in the spring of 2018.
The 2018 UPD inductees for UIW were Stephen Lane, Omar Basam Thannoun, Zahida Mahmood and Kyle Jenkins.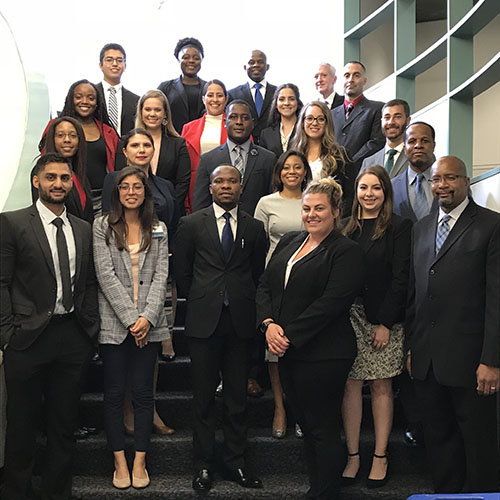 On Sept. 21, 2018, MHA students from the 2019 and 2020 classes attended an Educational Symposium hosted by the American College of Healthcare executives (ACHE), South Texas Chapter (STC) at St. Mary's University, San Antonio, TX.
The symposium was focused on educational events for the student and early careerist. Two education panels titled "Strategically Mapping Your Early Career Development" and "Quality Management Systems" were offered providing 3 hours of educational credits. This event was attended by over 130 students and early careerists.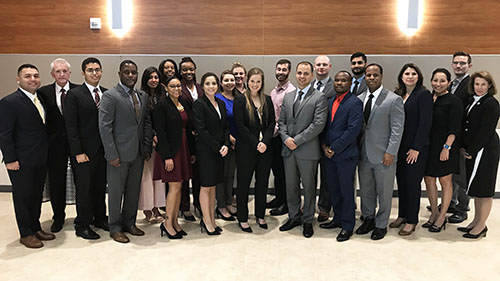 MHA students from the class of 2019 and 2020 attended the UIW Career Services Etiquette Dinner on Oct. 4, 2018. The event was held in the Student Engagement Center Ballroom.
Students had the opportunity to meet and learn from students in different programs during the cocktail hour, share a wonderful meal, and learn some basic dinner and business etiquette through an engaging guest speaker followed by a robust question and answer session. This was a great opportunity for students and sponsors alike.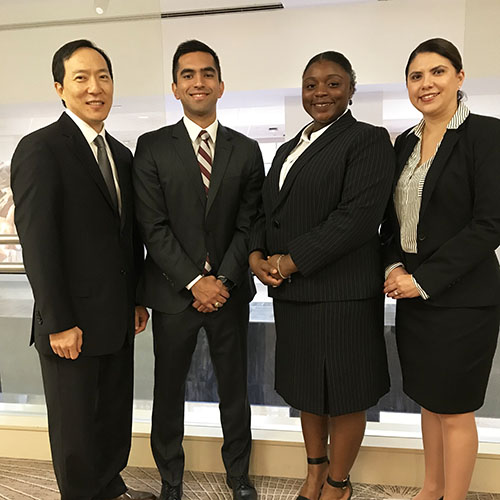 On October 9-12, 2018, three MHA students from the Class of 2019 participated in the Everett V. Fox Student Case Competition. The students – David N. Sanchez, Mona Loordu and Mona Antwi – represented the program well. MHA Director Dr. Forest Kim also attended the event. Although the team did not advance, the case competition was an excellent learning and networking opportunity.
The Case Competition was held annual at the National Association of Health Services Executives (NAHSE) Annual Conference in Orlando, Florida. NAHSE is a non-profit association of Black health care executives founded in 1968 for the purpose of promoting the advancement and development of Black health care leaders, and elevating the quality of health care services rendered to minority and underserved communities.
2017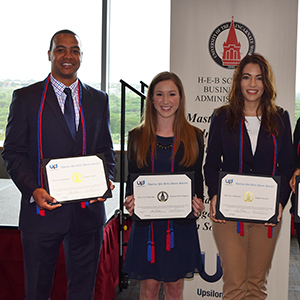 Seven students in the Master of Health Administration program were inducted into UPD in the spring of 2017.
The 2017 UPD inductees for UIW were Brittany Nicole Angelos, Stephen Phillip Gutierrez, Tiffany Gisela McLean, Magdilas Morales, Matthew Thomas Reyna, Antoniette Ruffino and Justin L. Smith.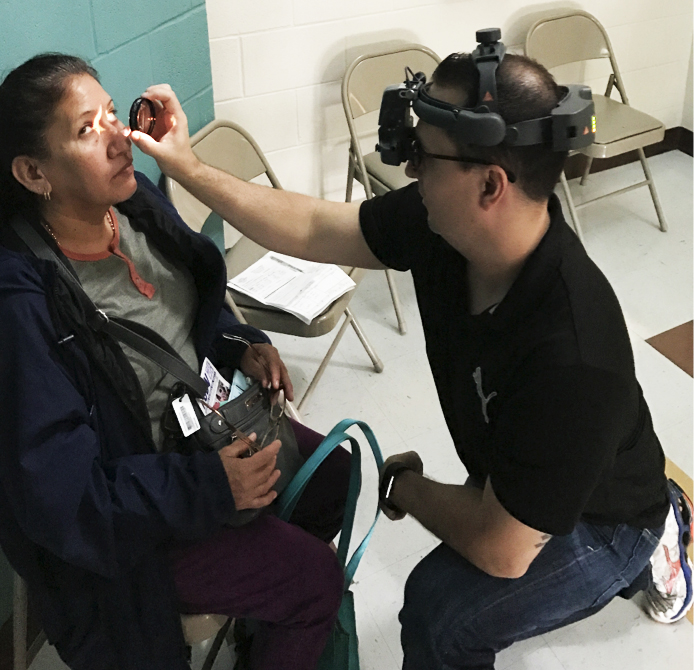 Army Maj. Steven Gutierrez offered his time and expertise as part of group of volunteers providing free eye care to uninsured and under-privileged patients in Alamo, Texas.
More than 300 men, women and children were seen for routine examinations over the course of the three-day mission. More than $70,000 worth of professional fees and eyewear were dispensed at no charge to the patients.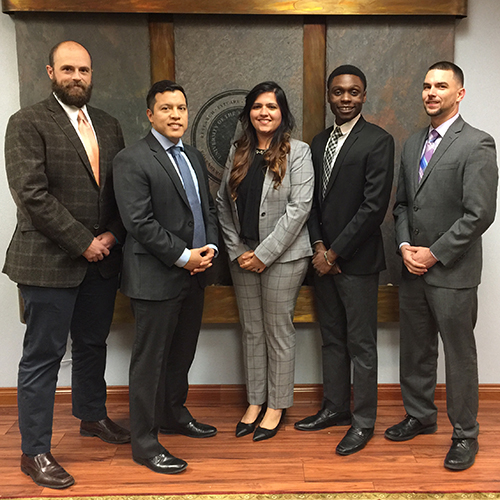 A team of five students in the Master of Health Administration program won the Gulf Coast MGMA Case Competition Oct. 28, 2017, in Houston.
The team developed a behavioral health program that demonstrated an ability to engage patients, improve patient outcomes and provide cost-effectiveness for the organization, all while maintaining provider and patient satisfaction.