MHA student provides eye care for under-privileged patients
April 12, 2017
Maj. Steven Gutierrez travels to Rio Grande Valley for medical mission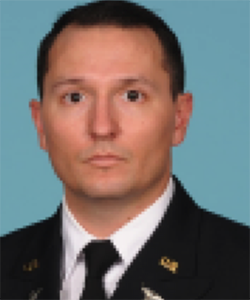 ALAMO, Texas – HEBSBA Master of Health Administration student Army Maj. Steven Gutierrez, a doctor of optometry at Brooke Army Medical Center (BAMC), recently offered his time and expertise as part of group of volunteers providing free eye care to uninsured and under-privileged patients in Alamo, Texas – a small community near McAllen on the Texas-Mexico border.
The humanitarian medical mission was comprised of 14 students from the UIW Rosenberg School of Optometry (RSO), 7 students from the UIW Ila Faye Miller School of Nursing and Health Professions, 2 optometrists from BAMC (including Gutierrez), 3 optometrists from RSO and Remote Area Medical (RAM), and one nurse practitioner. Several volunteers from ARISE – a nonprofit organization serving residents in the Rio Grande Valley – provided assistance in organizing and facilitating the event.
Gutierrez said the vision service was equipped to provide full-scope optometry care for routine eye examinations, including on-the-spot fabrication of prescription glasses by RAM.
"Many patients and volunteers were left in tears due to simple interventions such as glasses," Gutierrez said. "Whether it was a grandparent who was able to see their grandchild for the first time, or a child able to now see the blackboard at school. The trip impacted all who participated."
More than 300 men, women and children were seen for routine examinations over the course of the three-day mission. More than $70,000 worth of professional fees and eyewear were dispensed at no charge to the patients.
Gutierrez and the other optometrists referred some patients to local specialists to provide further care for newly diagnosed conditions such as diabetic retinopathy, visually significant cataracts, glaucoma, ocular cancer and other suspected serious conditions. Nursing students checked glucose levels, blood pressure and educated patients about the importance of routine care with diabetes.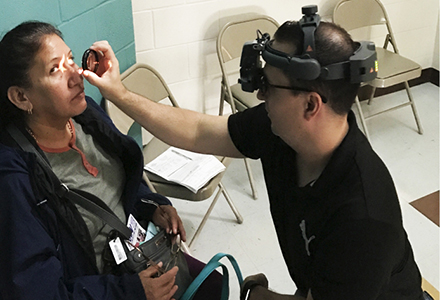 "In this particular location in Texas, there is a high population of uninsured or 'under-privileged' people in dire need of medical care," Gutierrez said. "Many of the residents in this community do not qualify for Medicare or Medicaid. The mission brought much-needed medical care to the community."
Gutierrez will graduate with distinction from the HEBSBA MHA program this May and has been selected as the honor graduate from the HEBSBA MHA class of 2017. According to professor Dr. Dan Dominguez, director of the MHA program, Gutierrez is only the second Army optometrist to complete the program while simultaneously pursuing a full-time clinical residency in optometry. Dominguez said Gutierrez has been an exemplary student throughout his time in the program and has set a high standard for all clinicians who follow him.
"I am very pleased to know that Maj. Gutierrez will be assuming duties as the residency supervisor for the primary care residency program at Womack Army Medical Center in Ft. Bragg, North Carolina, once he graduates," Dominguez said.
In this role he will be responsible for developing and increasing the clinical acumen of incoming residents and fourth-year externship students who rotate through the clinic from all over the country.
"This is a perfect assignment for Maj. Gutierrez," Dominguez said. "Not only is he an exceptional clinician, but he also has demonstrated an uncommon grasp of the knowledge, skills and abilities of the professional health manager. Who better to educate, train and mentor future clinical leaders than an academically accomplished and experienced clinical leader."