Entrepreneurship Coursework
Students can take entrepreneurship-related courses that introduce business principles to complement their current degree plans. Taking courses gives students critical skills needed to apply business knowledge acquired through the H-E-B School of Business and Administration at entrepreneurial events to support future business opportunities.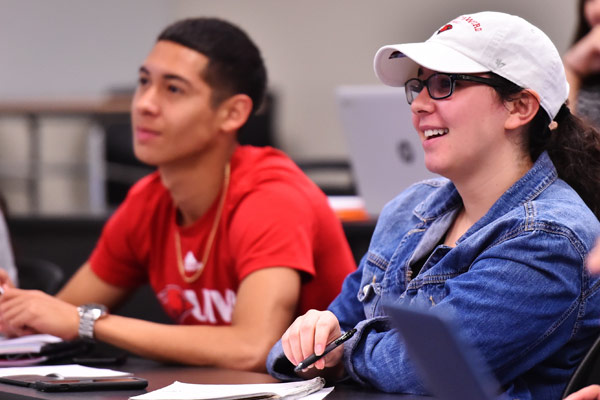 Who Can Take Courses?
All UIW students can take entrepreneurship and entrepreneurial-related courses at the H-E-B School of Business and Administration. The Center supports students with coursework planning based on their degree plan. The course curriculum is designed for students seeking experiential activities and meeting business leaders to learn about real-world experiences.
Coursework and Competencies
This course provides a comprehensive study of management activities associated with entrepreneurial ventures and small businesses. Topics include analysis of opportunities, development of venture strategy and small business problem solving. Student teams may act as consultants to small businesses or develop new business plans for competitions.
This course provides a comprehensive study of the relationship between organizations and the environment in which they operate. The focus is on the ethical and social responsibilities of firms. Emphasis is on the analysis of business-society problems and issues, and the formulation of appropriate managerial solutions.
This course introduces students to organizational behavior theory and research, which are combined with experiential exercises to develop students' ability to take responsibility for making and living with decisions about their behavior in an organizational context. Students will be exposed to issues in an organizational environment and develop an understanding of the theoretical and practical implications of human behavior. Students will gain an awareness of the realities of organizational inter-dependencies and their consequences for individuals, dyads, groups, teams and organizational systems. Focus is on modifying behavior and predicting the effects upon productivity, satisfaction, and development of individuals as members of the business unit.
This course will provide an introduction and application of operations management models as well as concepts and techniques related to product and service operations. The course will also examine value chains as well as operations performance management and operation strategies. The course will also investigate aspects of technology used in operations management and will stress process design and supply chain management and resource management. Operational quality control techniques will also be studied.
Analysis of international business opportunities and practical entrepreneurial issues associated with taking a small/medium-sized business into global markets. The focus is on those businesses related to exporting and importing products and services.
What are the steps and processes involved in creating, funding, and operating a startup in emerging markets? The course will use an institutional framework, variations of the lean startup framework, and real-world case studies to explain startup creation and institutional challenges in emerging markets. Students will work in a team to create mentor-supported startups. Students will participate in a short-term study abroad (one week) excursion to Mexico to visit entrepreneurial clusters and network with successful startup entrepreneurs. Students will develop entrepreneurship skills, design-thinking skills and intercultural competence skills.
An analysis of the importing and exporting processes, sources of supply, market potential, currency implications, government regulations, and current issues affecting the importing and exporting processes.