HEBSBA students share their skills with real-world businesses before graduation.
As part of the business curriculum, HEBSBA students in Bachelor of Business Administration (BBA), Master of Business Administration (MBA) and Master of Health Administration (MHA) programs are required to take a capstone course in their respective degree plans.
These courses are referred to as a "capstone" because they are one of the final pieces in a student's degree and a culmination of their program education. The capstone course asks students to harness all the knowledge and skills gained from their other courses and apply them to real-world scenarios through a capstone project.
What is a Capstone Course in Business?
Working together in teams, students are paired with an established business or nonprofit organization – their client – and tasked with studying operations, approaches and company culture for the duration of the semester. Through their study, the teams identify real organizational challenges, and utilize their comprehensive business knowledge learned throughout their program to discern real opportunities and develop solutions that the client can then apply. Student teams share their organizational analysis and solutions via a formal proposal presentation for the client and HEBSBA faculty.
Capstone Benefits
Capstone course projects draw upon the wealth of student knowledge and business education to help businesses and organizations address challenges. Students also benefit greatly from the project experience and complete the course more prepared to enter the workforce because the capstone course offered them the opportunity to:
Meet with organizational decision makers.
Understand organizational structures, employee roles and day-to-day operations.
Analyze business processes, policies and infrastructure.
Identify business, climate or market challenges.
Apply creativity and business understanding to develop workable business solutions.
Hone presentation skills.
Generate portfolio-quality work and resume addition.
Develop key contacts and grow professional network.
The Capstone Client Experience
Over recent years, dozens of organizations from charitable nonprofits to education institutions to retailers to mid-size corporations have partnered with HEBSBA on the capstone course. Among the many businesses who have partnered with HEBSBA on capstone courses is Commonwealth Coffee. The chain of cafes has grown steadily since its launch and its owners frequently utilize the capstone course to help them with specific business challenges and unearth new, creative ideas. The coffee company will soon launch another new endeavor, devised in partnership with their most recent capstone student group.
When the owners of Commonwealth Coffee opened their first location in 2015, they knew their success would depend on the surrounding community ... after all, they say, it's in the name. What they didn't realize at the time was that they would find one of the driving forces for their success right across the street from their flagship location.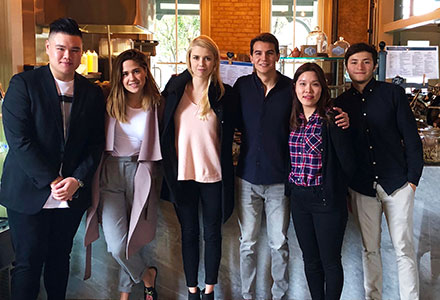 "The University of the Incarnate Word really helped us get a leg up as we were new to the area," says Jose Campos, who founded Commonwealth along with co-owner Jorge Herrero. "We forged relationships with the art department, the music department, the different directors from different schools to really incorporate our idea that we were going to be part of the community."
In particular, they found an ideal partner in H-E-B School of Business and Administration capstone projects. Now, five years and eight locations later, Commonwealth still returns to that capstone common ground when they are generating new business ideas.
"You think over five, five-and-a-half years, there have been some semesters where we have taken two capstone groups," says Campos, who estimates he has taken part in at least a dozen UIW capstone projects. "It's been a case-by-case basis. For instance, as we expanded, we engaged capstone groups to help us with market analysis, competition analysis for different locations because now we are all over the city."
Campos and Herrero are starting a new venture called Callejero Roasting, importing coffees from around the world to San Antonio. An idea they are once again cooking up with an old neighbor.
"I am always very open to new ideas," says Campos. "I see it as a partnership. I tell them this is where we are. This is what we are looking for. This is how I think you can help. And we throw them a lot of information and ask for feedback. It's very much a back and forth. And it's not like a one-off. There have been several students who have done capstone who ended up coming on to our team as interns. We had a marketing intern who at one point ran all our social media. We had an operations intern who helped develop the employee handbook. So you just never know."
But one thing they do know at Commonwealth is that they have a community with a common interest in tackling whatever business venture an entrepreneur can brew up next.
"We never could have imagined this kind of growth. It was never in the plans," Campos said.
HEBSBA students have worked with a wide variety of clients. Click below to find out more about recent years' capstone projects.