Students of the H-E-B School of Business and Administration learn in state-of-the art, dynamic environments designed to develop and enhance the theoretical and practical mastery of business fundamentals and their specific specialization.
Enhanced Classroom Experience
The Financial Markets Lab, also known as the Ticker Room, is a modern technology lab. Workstations are equipped with PCs on which students study portfolio value and fund management. Located in the Gorman Building, Room 118, the lab also hosts multiple monitors and a digital ticker, displaying stock value in real time.
Just upstairs in the Gorman Building, Room 212, an updated classroom offers amphitheater-style tiered seating and multiple monitors, making it an ideal environment for presentations and multi-media learning.
Professional-Level Technology
Students in the H-E-B School of Business and Administration have access to the same technology found at high-powered financial institutions around the world. One such instrument is the Bloomberg Terminal, available to all UIW students.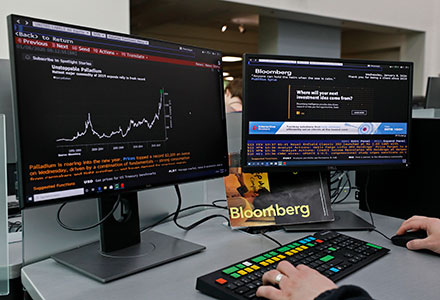 The Bloomberg Terminal compiles real-time data on all financial markets, breaking news, in-depth research, analytics and communications tools. Business students at UIW use the terminal for assigned coursework and to broaden their financial skills outside of the classroom. In fact, students can become Bloomberg Certified while at UIW, giving Cardinals a valued skill for their resume and an edge in the competitive marketplace.
The Bloomberg Terminal is located on the first floor of the J.E. and L.E. Mabee Library, directly across from the H-E-B School of Business and Administration. Contact Business Librarian Paul Andersen (panderse@uiwtx.edu) to learn how to get started on the Bloomberg Terminal.
Healthcare Environment
Students of the Master of Health Administration program take courses at UIW's Rosenberg School of Optometry (RSO), offering the unique experience to pursue their advanced degree in an educational health care facility. The RSO facility incorporates clinical experiences and is adjacent to the UIW Eye Institute, a full-scope clinic.