MHA student wins third place in national essay contest
May 13, 2019
Navarro's essay explores maternal mortality rate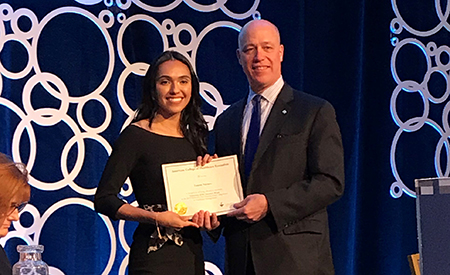 SAN ANTONIO – Lauren D. Navarro, a second-year student in the UIW Master of Health Administration program, recently placed third in a national essay contest designed to demonstrate the ability of future healthcare executives to identify and describe important issues and developments in their chosen profession.
Navarro's essay, titled "The Maternal Mortality Rate Disparity Between White and Black Mothers in the United States," earned a third-place finish in the American College of Healthcare Executives Richard J. Stull Student Essay Competition. ACHE only accepts one essay per graduate health administration program.
Navarro presented her essay at the 2019 ACHE Congress of Healthcare Leadership in Chicago.
The was the first time the UIW MHA program has participated in the contest. The first and second place winners were, respectively, Marisa S. Polonsky from the University of Iowa and Jessica G. Maloy from the University of Minnesota.