2018 Honors Convocation, DMD Induction, UPD Induction
April 16, 2018
74 students honored at annual event
SAN ANTONIO – The H-E-B School of Business and Administration honored 74 students over the weekend at its annual award ceremony combining the Honors Convocation and the induction ceremonies for the Delta Mu Delta and Upsilon Phi Delta honor societies.
Students, along with their friends and loved ones, gathered in the UIW Student Engagement Center Ballroom for the afternoon ceremony. UIW alumnus Rick Martinez was the guest speaker. Mr. Martinez is the founder of Wellness Project RX and is also a member of the HEBSBA Advisory Board. He encouraged the student honorees to focus on the impact their work will have on the people they serve and to find a mentor to help guide them in their careers. He was also recognized at the event as an honorary member of Delta Mu Delta.
---
Honors Convocation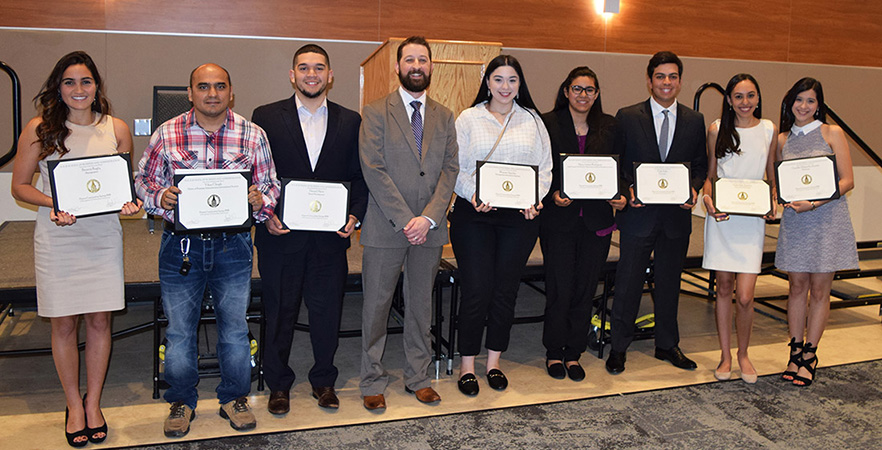 The Honors Convocation recognizes business students who excel in their respective disciplines, as well as those who go above and beyond through service in pursuit of the UIW Mission. The honorees for each academic discipline are selected by the faculty of the respective disciplines. Expand the table below to see a full list of honorees.
Outstanding Undergraduate Students
Accounting – Melina Merritt
Banking and Finance – Angelina Vela
Economics – Cole Solis
General Business – Madison Frerking
International Business – Gada Soto Segebre
Management – Beatriz Regly
Management Information Systems – Wyomi Aguilar
Marketing – Claudia Alejandra Zapata
Sport Management – Daniel Mata
Outstanding Graduate Students
Master of Business Administration – Marisol Cepeda
Master of Business Administration International Student – Vikas Chugh
Master of Health Administration – Zahida Mahmood
Master of Science in Accounting – Sam Alcoreza
Special Honorees
Amy Freeman Lee Scholastic Achievement and Service Recognition Award – Mary Justine Rodriguez
Kappa Gamma Pi St. Catherine Medal – Claudia Alejandra Zapata
James w. Donovan Accounting Scholarship – Isabella Crawford
Special Awards
Accounting Society Leadership Award – Harshita Patel
Business Club Leadership Award – Lawson Picasso
Undergraduate VITA Volunteer – Tyrande Zhang
Graduate VITA Volunteer – Ulysses Luna and David Lawrence
Foster McGraw Health Care Administration Student Peer Award – Khian Antwi
Graduate International Relations – Abbie Anna Rivas
Financial Executives International – Dominique Lopez and Najd Aldawood
The Texas Society of CPA's Accounting Education Foundation Excellence Award – Haley Frias
---
Delta Mu Delta Induction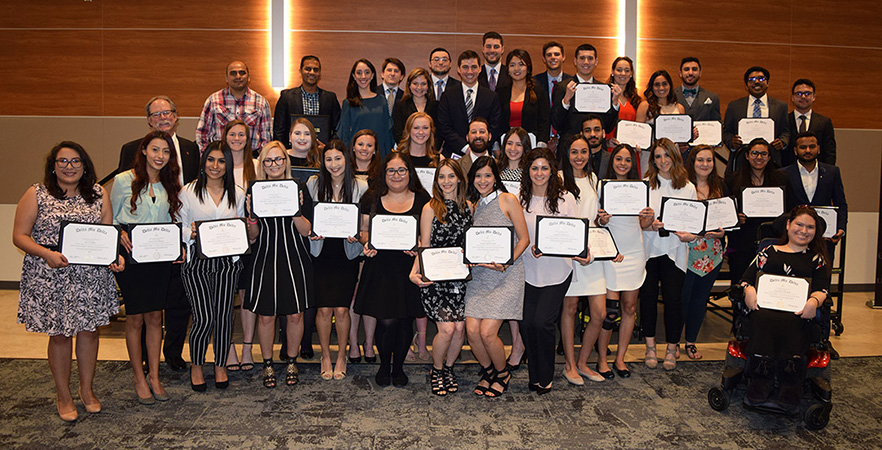 Delta Mu Delta (DMD) is a business honor society that recognizes and encourages academic excellence of students. Membership is reserved for juniors, seniors and graduate students in the top 20% of their class. Expand the table below for a full list of inductees.
Juniors
Ali Al Hujiri
Colby Reese Anthony
Dabin Moon Cleary
Amanda Fisher
Crystal Alexis Flores
Luis Kalani Lazo Garza
Robert Dean Hackley II
Adrian Marie Hanagriff
Bianca Gisselle Lopez
Victoria Denisse Soto
Matthew Daniel Swanson
Abdulaziz Salem Towairqi
Zoe A. Valadez
Kelly Amanda Wright
Caden Ray Wylie
Seniors
Yousif Aziz Almutairi
LaVoucher V. Bai
Alyssa Belle Blakey
Victoria Lee Bratcher
Devon Brooke Dockery
Tessa Gayle Foster
Camile Guerre
JoAnne Hargraves
Anoop M. Kurian
Katelyn Annette Lopez
Celeste Leann Martinez
Harsh Indravadan Patel
Nicholas Sheridan Perkins
Stirling Frances Phillips
Andrea Ramos
Mary J. Rodriguez
Beatriz Regly Silva Abrantes Teixeira
Madison L Slaughter
Gada Denisse Soto Segedre
Courtney Taylor Stephens
Eusebio Valero
Angelina Nohemi Vela
Elodie-Jane Yates
Claudia Alejandra Zapata
Graduate Students
Vikas Chugh
Chelsea Ann Comeau
Francisco Jose Diaz Gutierrez
Alejandro Eli Flores
Taylor N. Jimeson
Muhammad Hisham Khan
Rene Juventino Vargas Jr.
---
Upsilon Phi Delta Induction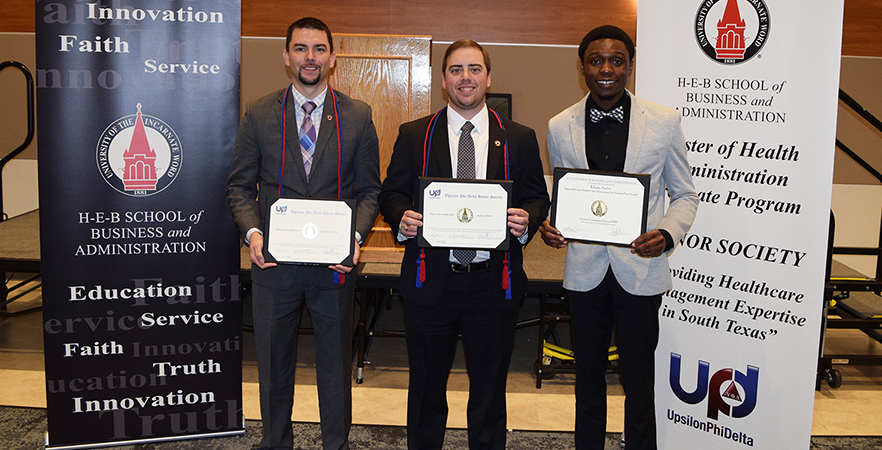 The Upsilon Phi Delta Honor Society (UPD) recognizes and encourages academic excellence in the study of healthcare management and policy. Four students in the Master of Health Administration (MHA) program were inducted into UPD in 2018. UPD membership requires a GPA of 3.9 or higher. Expand the table below to see a full list of inductees.
Stephen Lane
Omar Basam Thannoun
Zahida Mahmood
Kyle Jenkins
---
The H-E-B School of Business and Administration congratulates the 2018 honorees and would like to thank DMD faculty adviser Dr. Joshua Bazzy and the DMD student officers for their efforts in organizing the event. A special thank you is also due to Assistant to the Dean Elaine Cornejo and School Secretary Ivan Ortega for their instrumental planning efforts.
Click through the slideshow below for highlights from the event.