Earn a spot in the local chapter of this national business honor society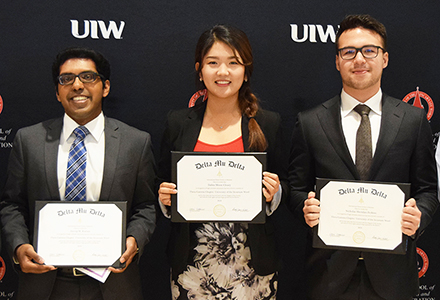 Delta Mu Delta is a business honor society that recognizes and encourages academic excellence of students to create a community that fosters the well-being of its individual members and the business community. Members of the society hold life-time membership.
The Delta Mu Delta society was founded in 1913 by the dean from Harvard University, and four professors from Yale University and New York University. The University of the Incarnate Word is home to the Delta Mu Delta Theta Gamma Chapter.
Undergraduate students with a cumulative GPA that ranks in the top 20 percent of their junior and senior classes are invited to join Delta Mu Delta. At the graduate level, membership invitations are issued to students in the MBA and MSA programs who have completed at least 15 hours of graduate work and who have a cumulative GPA that ranks in the top 20 percent of their respective programs.
An induction ceremony for new members is held each spring on the UIW campus.
Delta Mu Delta Online Storefront
Pay membership dues
Order graduation cords
Reserve extra seats for the induction ceremony
Events and Information
Discover upcoming and recent events via UIW Engage.