Join a group of future information systems leaders.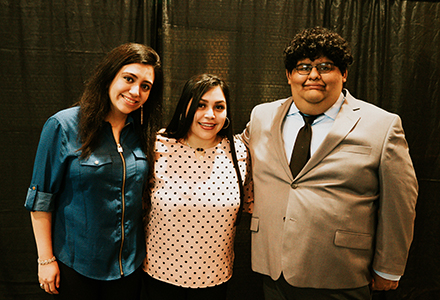 The goal of the ISACA Student Group (ISG) is to provide guidance and opportunities to students who are preparing for a career with a leadership role in all industries reliant upon and supported by information systems. ISG focuses on empowering students to develop professional networks with industry professionals, enhancing leadership skills, identifying career paths and creating opportunities while supporting other like-minded students.
ISG initiatives include hosting successful guest speakers to share their experiences in the IT industry and holding workshops on such topics as work-specific best practices, certification training, improving interview skills and more.
About ISACA
ISACA, or the Information Systems Audit and Control Association, is a diverse global community of more than 145,000 professionals, including more than 70,000 in North America. The association "engages in the development, adoption and use of globally accepted, industry-leading knowledge and practices for information systems," according to its website.
UIW Chapter
ISACA Student Group (ISG) is the UIW chapter of the ISACA organization.
San Antonio/South Texas Chapter
The UIW ISACA Student Group partners with the ISACA San Antonio/South Texas Chapter. This chapter's membership is comprised of 623 professionals from organizations like Rackspace, Ernest and Young, USAA and Frost Bank, among others.
Students who join the ISACA Student group at UIW will also receive membership to the ISACA San Antonio/South Texas Chapter.
National Chapter
Below are additional benefits of joining the National Chapter as a Student Member:
More job opportunities. Members have access to the ISACA Career Center, where they can post their resume and sign up for job notifications via email.
Discounts on conferences and training events with industry professionals
Attend ISACA events and network with business contacts
Add value to your resume
Membership
Students interested in ISG include those taking courses in accounting/accounting information systems, business administration, information systems/MIS, computer science, engineering, decision sciences and other related disciplines leading to careers in IT audit, cyber security, risk and control, management and governance of enterprise IT.
Below are the benefits of joining ISACA Student Group and what you can expect as a member.
1-on-1 career and interview consulting with ISG e-board
Private alumni networking events
Hosting certification training
Hosting the annual IIA/ISACA joint meeting of more than 120 professionals from over 40 businesses
Monthly meetings with local ISACA chapter leaders
Hosting guest speakers from a variety of professional organizations
Participation in Business Club and Entrepreneurial competitions
Graduation sashes available (starting Spring 2020)
Surprise giveaways (shirts, key chains, sunglasses and more)
Automatic membership into the ISACA San Antonio/South Texas chapter
In order to join, students must meet the following requirements:
Members must be a paid member of the local and national chapters of ISACA.
Members must have a minimum GPA of 2.8 within their core major. Officers must have a minimum GPA of 3.0.
Students who wish to join the UIW ISACA Student Group must complete the following steps.
Apply as a Student Member on the national ISACA website.
Send a copy of your Student Member application to UIW ISACA by email.
Pay your membership dues: $40

To pay the membership fee online via credit card or by check, please the Faculty Advisor Dr. Ron Washington (rwashing@uiwtx.edu) or the organizational email (uiw.isg@gmail.com).
The fee is good for the entire academic year and covers ISACA San Antonio/South Texas chapter membership, as well.
Events and Information
Discover upcoming and recent events via UIW Engage.