MHA faculty present competency evaluation model at international conference
July 22, 2020
Drs. Nesser, Downs share findings at AUPHA conference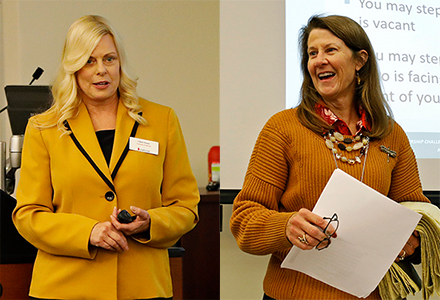 SAN ANTONIO – Two faculty in the Master of Health Administration program recently presented the department's innovative model for evaluating student competencies and program effectiveness at an international conference hosted by the Association of University Programs in Health Administration (AUPHA).
MHA Director Dr. Chris Nesser and Assistant Professor Dr. Lynn Downs illustrated the program's competency evaluation model through a virtual poster presentation after the AUPHA conference was moved online due to the COVID-19 pandemic.
The poster, titled "Measuring Student Competency Achievement for the Future: Infusing the Continuous Improvement Process," demonstrates the MHA program's effort to continually improve its curriculum in order to provide a premiere education for its students. Click here to review the poster.
"Health administration educational programs must continue to change to meet the future challenges of healthcare leadership in a rapidly changing market," Downs said. "To do this, programs and faculty need a mechanism by which they can readily update their competency models to meet those future demands."
Nesser and Downs detailed how the MHA program at the University of the Incarnate Word developed its model – the Cardinal Assessment and Review Dashboard, or CARD.
The MHA program evaluates students on 23 competencies, such as innovative thinking, project management and information technology management. Course assignments are designed to measure students' aptitude in specific competencies. These results are tracked through each student's CARD and then aggregated by cohort to determine program effectiveness as it relates to the targeted competencies. Faculty use this data to make adjustments to curriculum.
Nesser and Downs shared data from two student cohorts measured over a three-year period. The data demonstrate the MHA program's comprehensive competency attainment model developed with feedback from the program's health care executive advisory board. The presentation highlighted the effectiveness of the model at identifying competency levels and improving program outcomes.
"We began tracking student competency achievement using CARD in 2018. Our initial evaluation of the average student's achievement of the program competencies resulted in two competencies standing out as being areas for improvement," Nesser said. "In the subsequent years we implemented interventions in a few of our courses to increase the student learning in those two competencies and we have seen positive results."
The faculty of the Master of Health Administration program meet each year to refine the curriculum. The continual improvement of the program is demonstrated in the success of its graduates, who carry their knowledge and skills to the communities they serve.