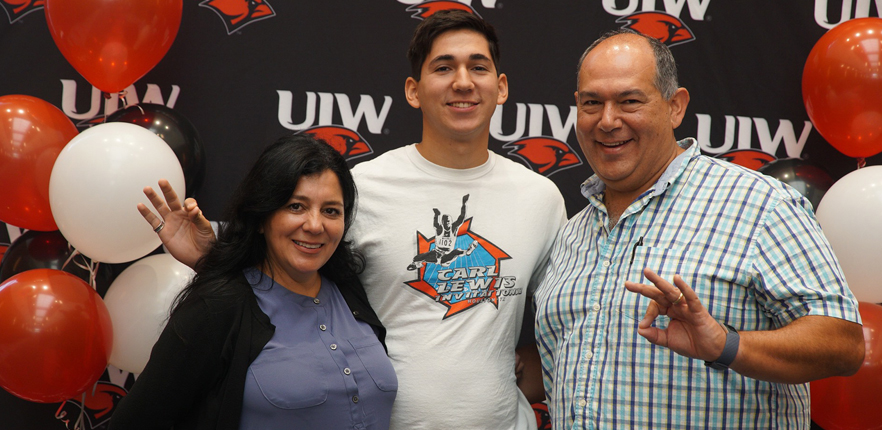 Welcome to UIW, Future Cardinal Parent!
The Office of Admissions is here to help parents of prospective students through every stage of the application process from providing information about costs and financial aid to scheduling virtual visits to completing the next steps once your student is admitted to the University of the Incarnate Word.
If you have any additional questions about the admissions process, contact the Office of Admissions at (210) 829-6005 or admission@uiwtx.edu.
Explore and Visit UIW
The Office of Admissions offers several visit options – including virtual tours, one-on-one phone appointments and drive thru tours – all of which answer your questions about the admissions process, campus life and financial aid opportunities for your student.
Financial Aid and Scholarships
UIW is committed to providing financial aid and scholarship opportunities to students.
99% of our full-time, first-time in college students receive some type of grant/scholarship aid, with an average amount awarded of $24,805.
About $223 million is awarded from all sources each year.
Visit the Office of Financial Assistance webpage.
UIW automatically awards between $7,000 and $20,000 in academic scholarships to students upon admission. For more information, visit the Scholarships and Financial Aid Opportunities webpage.
Applying to UIW
Learn more about the application process for prospective students.
Parent Tips
As a parent, you play a critical role in helping your son or daughter select their future college home. Here's some helpful information.
Join your student on campus visits.
One of the best ways to determine if a college is the right choice for your student is by visiting campus. Find out if UIW is the right fit for your student and schedule a virtual tour!
Research university student resources.
Every parent wants their son or daughter to succeed in college. When researching colleges, make sure you look into the academic support services available to students.
Keep track of important dates.
As a parent, you're also going through the admissions process. Make sure your student is aware of important dates to stay on track.
File the FAFSA early.
Speaking of important dates, the Free Application for Federal Student Aid (FAFSA) opens in December every year. Complete it early to ensure you don't miss any deadlines!
Next Steps for Parents
Contact the Office of Financial Assistance.
Contact our financial aid staff to discuss your student's grants, scholarships, loans and work study. Information is available at the Financial Aid New to UIW page.
Remind your student to submit proof of bacterial meningitis vaccination.
Students under the age of 22 must submit record of their bacterial meningitis vaccination to the Office of the Registrar by emailing their document in PDF format to registrar@uiwtx.edu.
Remind your student to submit final documents before the beginning of the fall semester.
Students must submit the following documents to the Office of Admissions:

Official final high school transcript (including final GPA and graduation date).
Students who took dual credit courses must submit an official college transcript.
AP or IB test scores, if applicable.

Remind your student to waive UIW insurance (if already covered by health insurance).
If your student is already covered by health insurance and will not need UIW insurance, he/she can waive it before Jan. 25, 2024, to avoid University charges. Be sure to have your student's UIW ID to complete the waiver.
Make sure your student has access to Cardinal Apps.
With their Cardinal Apps account, students can check their schedule, UIW e-mail, balances, etc. Please make sure your student has access to their UIW e-mail, as this is the official communication portal at UIW.
Remind your student to apply for a parking permit.
Make sure your student applies for a parking permit through the Cardinal Cars section of Cardinal Apps.
Sign up for a payment plan, if needed.
If your student needs a payment plan, please make sure he/she signs up on Cardinal Apps. More information can be found on the Business Office Pay Your Bill page.
Attend New Student Orientation with your student.
At New Student Orientation, parents can connect with other Cardinal families and staff, as well as help their student complete all the required items that students need before attending UIW.

For more information about New Student Orientation, watch the following video from Dr. Brandy Finck, Associate Vice President of Enrollment Management and Student Experience.
Download the Next Steps for Parents (pdf)
UIW Future Cardinal Parents Facebook Group
Join the conversation at the UIW Parent and Family Association Facebook group. Go Cardinals!
UIW Parent and Family Association
The UIW Parent and Family Association is a free membership program and serves as an opportunity for parents to engage with and support the University's initiatives. It offers resources for you as you navigate the transition to college and throughout your time in the Nest.
For more information about the Parent Association, visit the Parent Association website.
UIW Zoom Backgrounds
We have designed exclusive UIW Zoom backgrounds for you and your student to use.