Women's History Month 2018
The 2018 Theme for National Women's History Month is  "Nevertheless, She Persisted:  Honoring Women Who Fight All Forms of Discrimination Against Women." http://www.nwhp.org/
Learn of  Women and Gender Studies at UIW
During 2018 the San Antonio Tricentennial year, we remember that Incarnate Word Sisters responded to the needs of the city starting the first public hospital in 1869, caring for orphans a few years later, getting a charter from Texas to be educators in 1881, and then continuing to make pathways for women's leadership through service.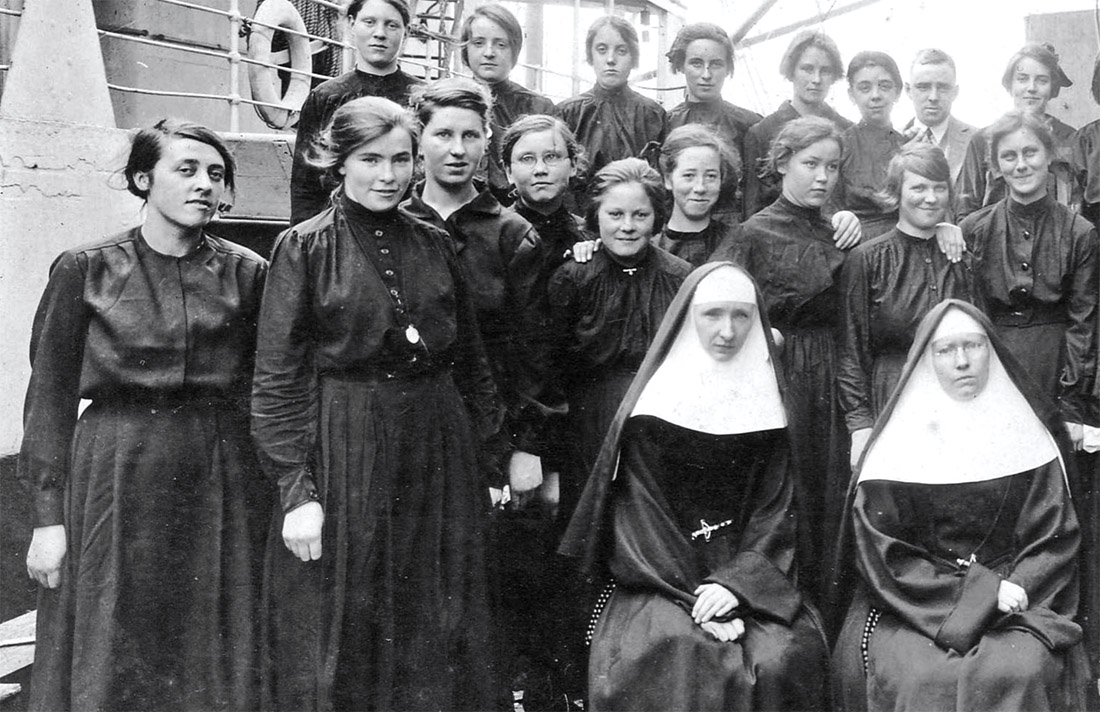 Young women boarding a ship in Ireland about a hundred years ago to come to San Antonio to learn and to serve. (Photo: Archives of the Sisters of Charity of the Incarnate Word)
March 1, 2018,  9-10:30am—Student Engagement Center Ballroom
Paula Gold Williams, CEO, CPS Energy will be speaking as part of the Energy Symposium Series
March 2, 12 – 1pm, Rosenberg School of Optometry Events Room
UIW RSO Annual Women's History Month luncheon will feature guest speaker Ms. Magaly Chocano, the Founder and CEO of SWEB Development. Contact: Dr. Narges  Kasraie
March 4, Catholic Women Preach  a project of global reach, Catholic Women Preach uses modern technology to bring the voices of diverse Catholic women to the proclamation of the Gospel through web-based resources. Following the liturgical year, Catholic women reflect on how the texts relate to all with a special emphasis on the lives of women, their apostolic call, and their roles in the Church and the world.
March 4, 2-6pm, UIW McCombs Centre Rosenberg Sky Room, 847 E. Hildebrand Ave. SA 78212 Roshnic 2018 Fashion Show. Roshnic Latif's latest beautiful creations at a fashion show that benefits Women's Global Connection and will be hosted by former San Antonio Express-News Fashion Writer Michael Quintanilla. To purchase advance $50 tickets and learn more, see https://www.womensglobalconnection.org/events/
March 6, 12-1pm, P3 Forum
UIW Feik School of Pharmacy will host a forum about how women help each other and manage work life while impacting our world. One student will share her experience at a women's prison for drug trafficking in Brazil and how this experience transformed her and the women inmates. There will be time for reflection and general discussion. Contact: Dr. Marcos Olivera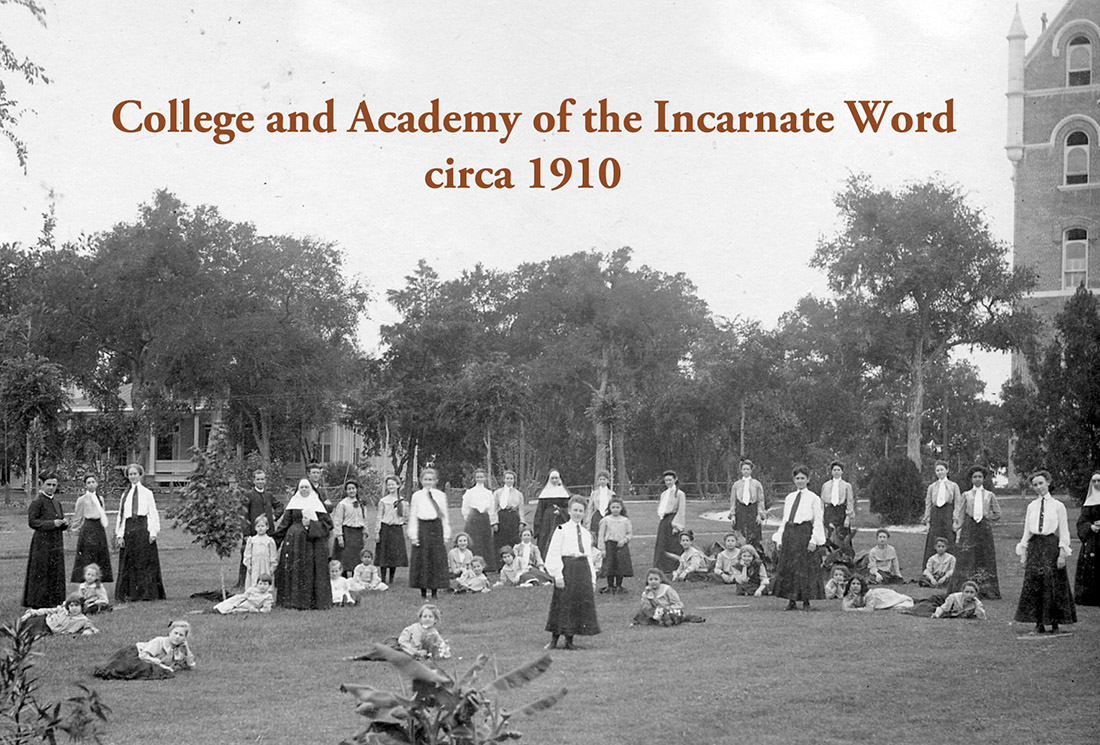 (Photo: Archives of the Sisters of Charity of the Incarnate Word)
March 6, 3-4pm, Special Collections
The Women's and Gender Studies Legacy panel, "The Mission Continues," will feature speakers, Dr. Lisa Uribe (Women's Global Connection), Dr. Alex Antram (Director of Headwaters Coalition), and Sr. Mary Cecilia Henry (Director of the Heritage Center). Contact:  Dr. Tanja Stampfl and Dr. Sree Nair
March 7—11am-2,pm UIW Library Circle
The 3 rd Annual UIW Women's Fair hosts representatives from UIW and the larger San Antonio community including information about prominent women around the world presented by UIW international students, Women's Health Resources, information about community non-profits and women-run business in San Antonio.
Contact: intl@uiwtx.edu
Registration to present: registration form.
March 8-14  Annual Celebration of National Catholic Sisters Week
March 7, 6:30-8pm, Seddon Recital Hall
Dr. Katie Ann-Marie Bugyis will present "Unveiling the Ministries of Medieval Women Religious." Her talk will focus on what arguably was and still is the most controversial ministry Benedictine women religious performed during the Middle Ages: hearing the confessions of fellow community members and visiting laity and pronouncing absolution over them. Sponsored by Religious Studies, National Catholic Sisters Week, and Women's and Gender Studies.
Contact: Dr. Adrienne Ambrose
Sister Margaret Patrice Slattery, Incarnate Word College president 1972-85, received the Ford Salute to Higher Education for distinguished service, was awarded the Mirabeau B. Lamar Medal for Leadership in Learning by the Association of Colleges and Universities in Texas, was honored by the San Antonio Express-News for leadership in education and was elected into the San Antonio Women's Hall of Fame. (Photo: Archives of the Sisters of Charity of the Incarnate Word)
March 8, 12-1:15pm, Madeleine Room, Heritage Center by the Chapel of the Incarnate Word.
"Sisters' Stories: Courage, Compassion, and Joy" As San Antonio celebrates its 300 th anniversary, we remember that Incarnate Word Sisters have been an important part of that history since 1869. Students from the UIW "Women and Faith" and "Spirituality and Prayer" classes will share research.  How can we carry these wonderful traditions of lives of generous service into the future?  A part of National Catholic Sisters Week.   Sisters who have been in the San Antonio Women's Hall of Fame will be recognized. Sister Sarah Lennon, CCVI, will be inducted into the San Antonio Women's Hall of Fame. Join us for lunch and discussion. RSVP to Sister Marichui Bringas, CCVI   marichui.bringas@amormeus.org
March 20, 6-7pm in Special Collection The Pre-Law Society and Women's and Gender Studies will host a "Women in Law" roundtable with Sonya Garcia, a Laredo based attorney, Caitlin McCamish, the current UIW Title IX coordinator, and Samantha Alecozay, a law student and former UIW alumna. Contact:  Dr. LuElla D'Amico and Elizabeth Hidalgo.
March 20, World Water Day All are invited to explore the Headwaters at Incarnate Word, the only nature sanctuary in the heart of San Antonio.
March 22, 2-4pm, Mabee Library Auditorium "It ain't Pretty" (2017) A documentary about the challenges and triumphs of female big wave surfers fighting sexism in the water, in competition, in the media and in the surf industry with the support of a closely-knit community of likeminded women. A part of Farhad's Film Series.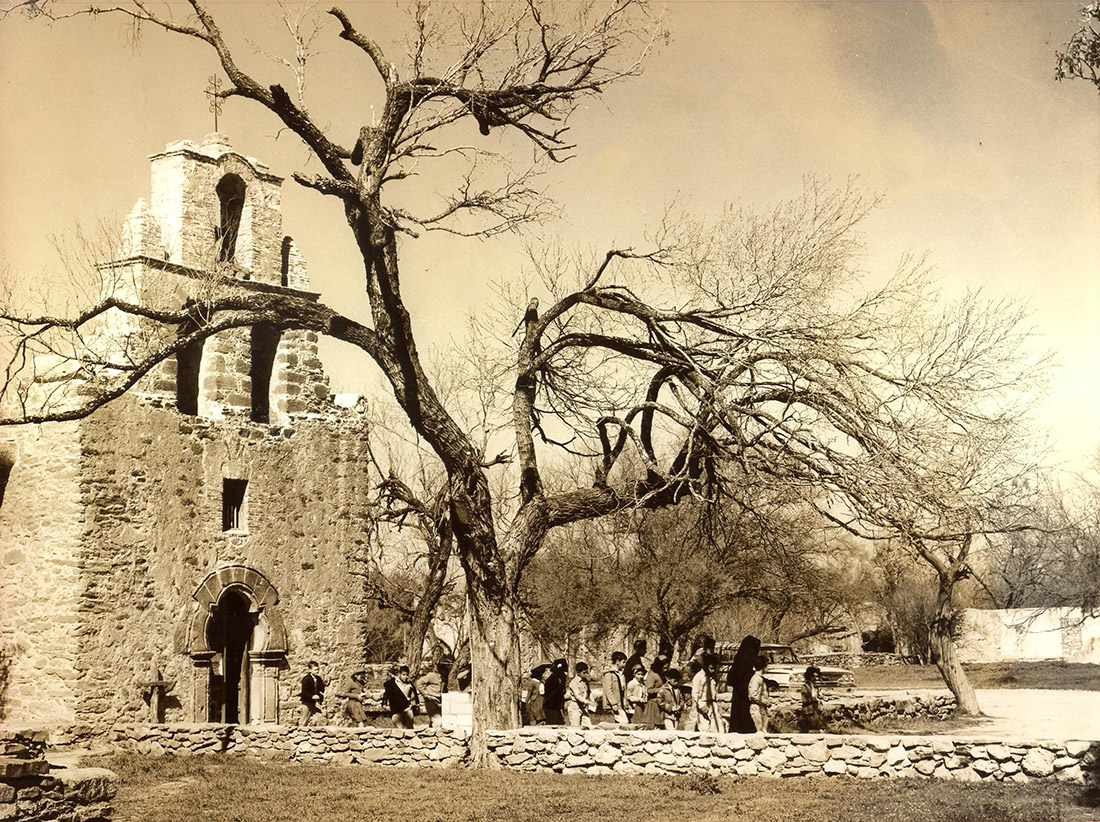 An Incarnate Word Sister leads students at Espada Mission where the Sisters taught for many years. (Photo: Archives of the Sisters of Charity of the Incarnate Word)
March 24th, 9-3pm, beginning at the Incarnate Word Sisters Heritage Center Tricentennial Historical Tour Remembering Incarnate Word Sisters' History and San Antonio History including Missions Espada and Concepcion, UNESCO World Heritage Sites, and San Fernando, the oldest Cathedral Sanctuary in the US. See an introduction video free, but please find registration information on the historical tours page.
March 26, 12-1:15pm, AD 365
Women's History Month Co-Organizer and Religious Studies Associate Professor Adrienne Ambrose will give a lecture titled, "The 'New Woman' & Religious Change in America:  Learning from the Past" Contact: Dr. Adrienne Ambrose.
Coordinators of Women's History Month events:
Dr. Adrienne Ambrose (ambrosea@uiwtx.edu), Dr. LuElla D'Amico ( ldamico@uiwtx.edu), Sister Martha Ann Kirk ( kirk@uiwtx.edu)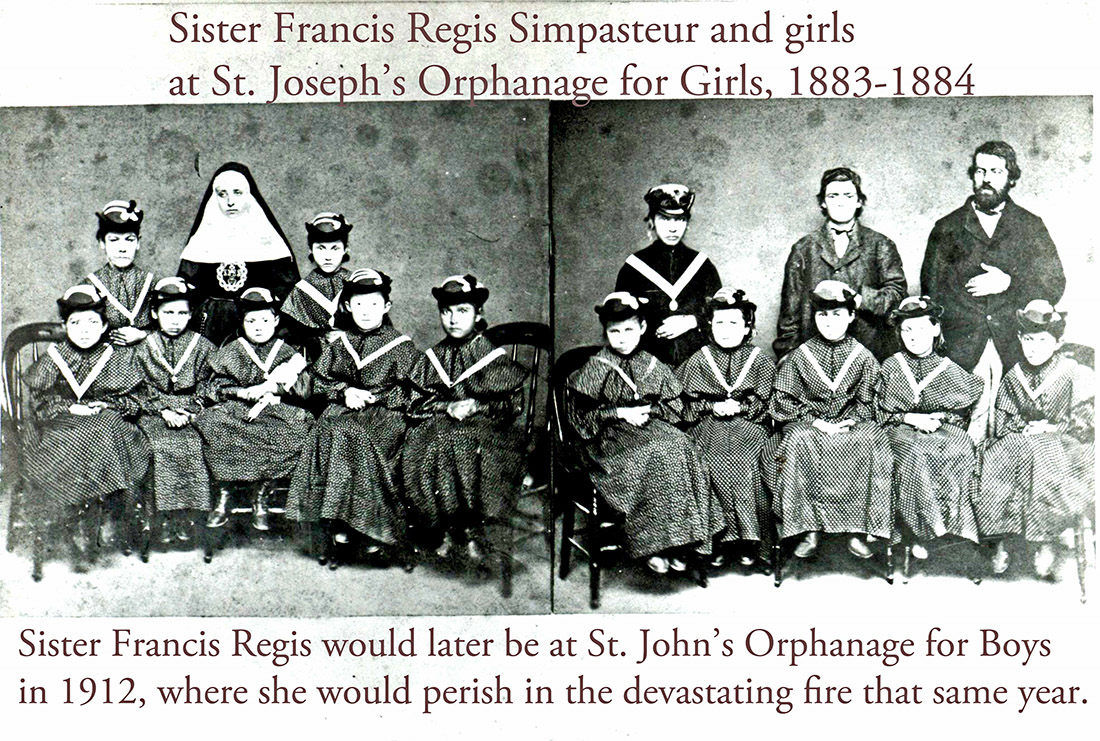 Sister Francis Regis cared for these orphan girls in the 1880's. Later she and four other Sisters would give their lives as they rescued about ninety orphan boys from a terrible fire. (Photo: Archives of the Sisters of Charity of the Incarnate Word)