About Thomas M. Evans, PhD
Dr. Thomas M. Evans is the 10th president of the University of the Incarnate Word (UIW). Founded in 1881 by the Sisters of Charity of the Incarnate Word, UIW today is the largest Catholic university in Texas with a global enrollment of approximately 9,000 students who reflect the diversity of South Texas, Mexico and the world.
As president, Evans oversees the management of the UIW system, which includes multiple campuses in San Antonio, international campuses, and St. Anthony Catholic High School. Globally, UIW maintains two campuses in Mexico, a European Study Center, and Global Online, a program offering UIW's U.S. degrees, in Spanish, to Latin America. In San Antonio, the University encompasses five health professions schools, five liberal arts schools and one college. Evans also heads the Brainpower Connection, a circle of collegiality established between Catholic elementary and secondary schools in San Antonio that offers an education pathway for students from pre-school to Ph.D. He leads an institution of more than 1,100 full-time employees that is regularly recognized as a top employer and exceptional workplace. According to Independent Colleges and Universities of Texas (ICUT), UIW's economic impact is valued at more than $524 million.
President Evans' Inauguration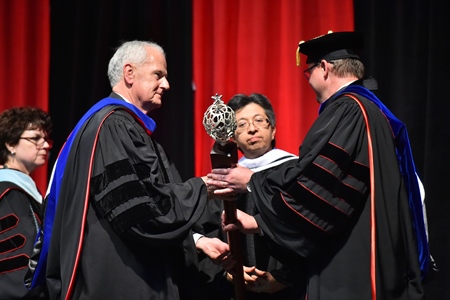 By its very nature, an inauguration is a welcoming of a new beginning. It's a time of renewal and of ushering in new ideals. In March 2018, hundreds of members of the University community, friends, family and dignitaries from across the country gathered to celebrate the inauguration of Dr. Thomas M. Evans, PhD as UIW's 10th president. In his address, he shared how that pioneering spirit and reverence for UIW's core values of faith, service, innovation, truth and education guides the formation of future plans – a new vision for the University.