UIW Prepares for Research Week, Service Learning and Engaged Scholarship Showcase
March 31, 2023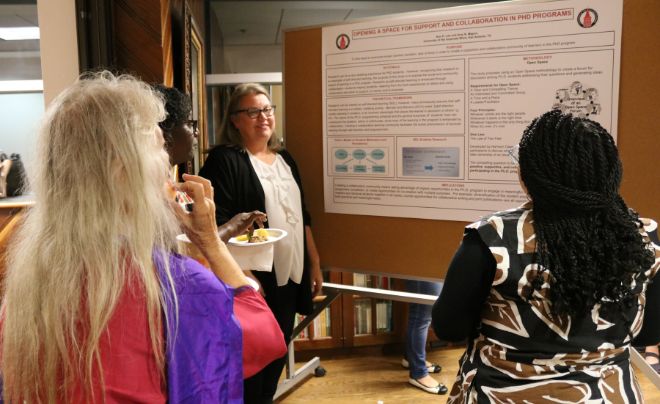 From April 11-14, UIW students across a variety of disciplines will participate in Research Week, an annual event that celebrates and showcases academic accomplishments in research. Established in 2008, the event has evolved and now is filled with multidisciplinary presentations, demonstrations and lectures. This theme of this year's Research Week is "Challenging the Known." Presentations will take place virtually, in the UIW Student Engagement Center (SEC) and in the Mabee Library Auditorium. The Service Learning and Engaged Scholarship Showcase is held annually in conjunction with Research Week.
"Research Week has a 16-year history of being a forum where the UIW community shares the results of the inquiry and scholarly activities," said Dean of Research and Graduate Support Dr. Mark Nijland. "The opportunity to present their work in a formal setting, be that by a poster or podium presentation, exposes students to the experience of public discourse about their work. For faculty and students alike, Research Week also provides a way of sharing work presented at events and conferences away from UIW campuses."
"This year the theme is 'Challenging the Known.' We chose this theme to encapsulate the idea that by challenging what we know, we must embrace the unknown without fear of making mistakes. By making mistakes, appreciating criticism, reformulating our questions, and being willing to jump tracks, we expand on what is known."
As shared on the Research Week webpage, "at the University of the Incarnate Word, we take pride in our research and know that through our search for and communication of truth, we become stronger in educating 'concerned and enlightened citizens within the global community.'"
Poster presentations will include topics such as athletic performance and potential performance enhancing inhibiting factors, deciphering vision loss in patients with retinal dystrophies, and a project called "3D Game Environment: Witch's Date Diorama."
Tuesday, April 11, will feature poster presentations and the Fulbright Student Poster award ceremony. On Wednesday, April 12, participants will deliver podium presentations in the Mabee Library Auditorium. Dr. Lee Ann Waltz, assistant professor of Nursing and the UIW Moody Professor, will wrap up the day with a presentation titled "Understanding Millennials and Generation Z: What do They Need and Want?" Our Lady of the Lake Moody Professor Dr. Wallis Sanborn will share on "The Paradox of Greatness: Language, the Natural World, Genocide, and the Limited Role of Women in the Fiction of Cormac McCarthy."
Thursday will highlight actionable research for community health and wellbeing. This section is in conjunction with Healthy Neighborhoods, The City of San Antonio Metropolitan Health District and Any Baby Can.
The Service Learning and Engaged Scholarship Showcase utilizes presentations and poster submissions related to all aspects of service learning. This year, the showcase is slated for April 11-12 from 9 a.m. - noon, April 11. Dr. Laura Cannon, associate professor of History and the University's Social Justice and Peace Concentration chair, will serve as the day's keynote speaker. She will share her research on "Social Justice and Earth Justice in Incarnate Word Sisters History and Today," which she completed alongside student researchers Jude Drouillard, Oliver Soliz, and Andrew Perkins.
The showcase will also feature keynote speaker Dr. Cynthia Orozco on April 12, an award-winning, best-selling author. She received the Liz Carpenter Award from the Texas State Historical Society for her book Agent of Change: Adela Sloss-Vento, Mexican American Civil Rights Activist and Texas Feminist, which she will discuss during her address.