March 3, 2023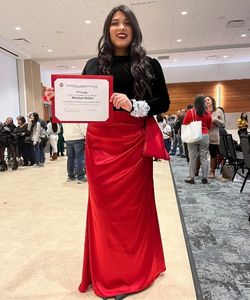 A sea of red filled the SEC Ballroom for the annual Red Dress Fashion Show on Saturday, Feb. 25. This event holds a special place in the hearts of two UIW Fashion students who designed dresses for the show. After all, it's why they decided to attend UIW in the first place. Madalyn Molina (freshman, second place) attended the event with Richard King High School (Corpus Christi), and Gabby Maya (sophomore, third place) participated in the fashion show during her junior and senior years at East Central ISD.
Although Molina did not participate in the fashion show during her high school years, it was where she was introduced to UIW, and it made a lasting impression. During a visit to campus for the show, the Richard King HS fashion program took a tour of the Fashion Management building and learned what the program offers. Molina fell in love with it all.
"It was in high school that I knew this program was meant for me," said Molina. "I dreamed of being able to attend UIW for fashion. Being here now, I am so thankful for all that this program offers. The professors are outstanding and encourage you to always do your best. I love every day I am here!"
As a student, Molina now enjoys competing in the Red Dress Fashion Show among the students she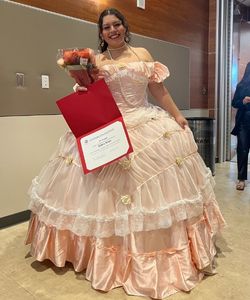 admired on her first visit to campus.
"My favorite thing about competing in the Red Dress Fashion Show is the opportunity to challenge myself in my design/ construction, to get out of my comfort zone when it comes to modeling, and to see all the talented designers show off their amazing work," Molina added.
Maya, who finished third in this year's event, is no stranger to winning an award during the show. She also won first place at the competition as a junior and again as a senior. While participating, she realized the hard work it took to produce a show of that caliber, and she admired the skill and dedication of those in the UIW Fashion Management program. She knew she wanted to be part of a program like that.
Now, she is still impressed with the effort that goes into the Red Dress Fashion Show.
"My favorite part of competing in the Red Dress Fashion Show is getting to admire everyone's hard work and see their heart and soul being poured into these dresses," said Maya. "Our work gets to be recognized and be put on display for the crowd to see, and it's fulfilling to see the crowd's reactions to our amazing work!"
Senior Maya Kanawati, who recently represented UIW at New York Fashion Week, won first place.