UIW Fashion Students Take on New York Fashion Week
February 17, 2023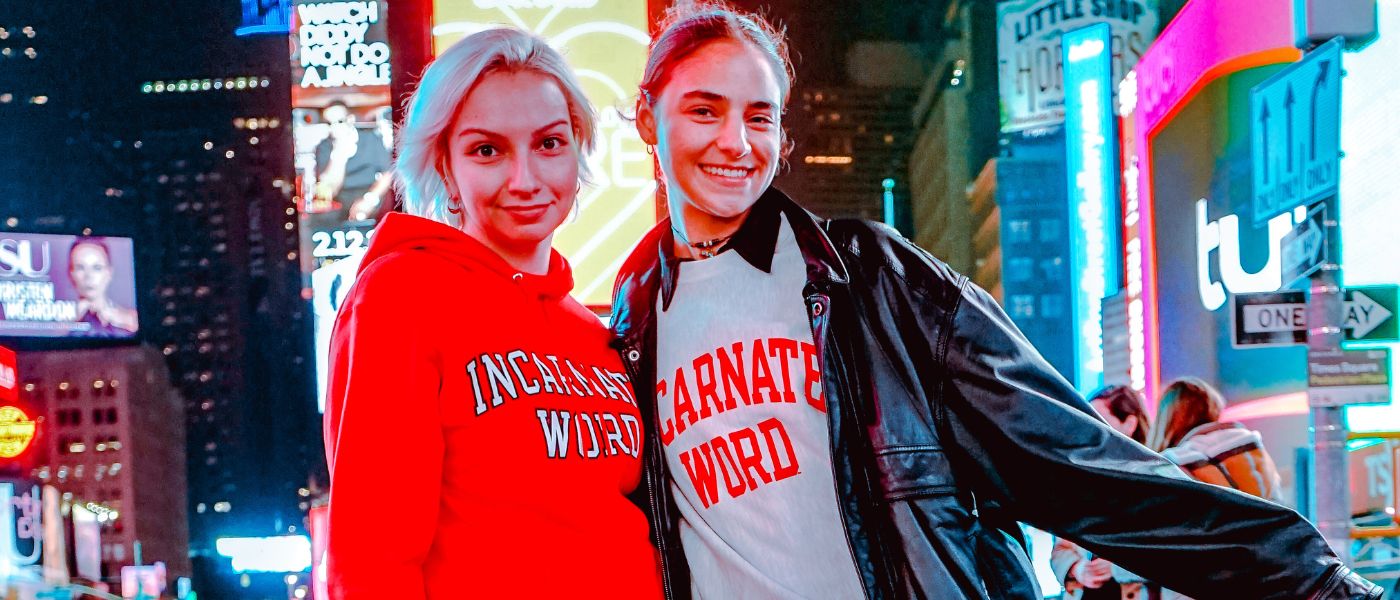 "I thought we were going to volunteer at a fashion show. I thought we were going to be in the back, helping the models get dressed, and then they said, 'here's this VIP badge, you can come in and out, you can go anywhere in this building that you want to go,'" UIW Fashion student Maya Kanawati recalled, still in awe of her recent experience at New York Fashion Week (NYFW).
This charmed VIP experience at NYFW was a dream come true for Kanawati and Sarah Cox, another UIW Fashion student. The duo was selected to attend the world-famous event as part of a special opportunity provided by CLC, the nation's leading collegiate licensing company, and IMG, the operator of New York Fashion Week: The Shows. The two organizations partnered to deliver the tenth installment of the successful UofNYFW, a one-of-a-kind education experience for 30 students from 18 universities at this February's NYFW. This unique academic enrichment program, which is an extension of CLC's continued efforts to support innovative education initiatives for its partner institutions, including UIW, provides future fashion leaders a behind-the-scenes look at the industry, including entry into select runway shows, panel discussions and networking opportunities with industry leaders.
"Our goal for the UofNYFW college program is to deliver innovative experiences and once-in-a-lifetime learning opportunities to students at our partner institutions, which adds tremendous value to the participating universities beyond our traditional role of brand licensing," said Cory Moss, CEO of CLC. "Since the inception of this unique program, we have been honored to help inspire and influence many talented students on their path to a career in the fashion industry."
To qualify for the program, Kanawati and Cox underwent a rigorous application process that included a written essay and portfolio presentation. The students were also required to maintain a GPA of 3.0 or higher to be considered. Once past the first round, the duo competed for their spots as finalists in a thorough interview process where they impressed judges with their extensive portfolios and Mission-oriented aspirations.
Once in New York, the students were treated to a runway show with top Korean designer Son Jung Wan, as well as an exclusive look at the new line by Tiffany Brown Design, who designs timeless fashion for the young career woman. Kanawati and Cox also received special access to the Ella Emhoff Likes to Knit! Pop-Up Showroom. Additionally, students participated in a Q&A with representatives from IMG, as well as a backstage tour of the production and execution of a fashion show at Spring Studios, the central hub of New York Fashion Week: The Shows.
"It was honestly really cool that Sarah and I got to be there, because every other school that was there was a big name," shared Kanawati. "No one had heard of us so it was especially great for us to be there … I just felt like, 'wow we really made it!'"
"We got to spread our University name around," added Cox. "It was great to be able to tell people … everyone in our program is so ambitious in wanting to do something."
In addition to the unique NYFW experiences, the students spent a day at top athletic fashion brand and collegiate licensee Champion, where they had the opportunity to learn firsthand how a clothing line is developed and merchandised. While Kanawati and Cox were nervous at first, they soon realized they were right at home and well prepared for this moment.
"I felt like, 'oh, you guys use Illustrator, we use Illustrator, you guys use Adobe, we use Adobe!'" shared Cox about her experience at Champion. "I think that's why it was our favorite part of the trip, because education-wise, we were the most prepared for that."
"It seemed like a lot of the other students who were there were focused on one lane, but the cool thing about our program is we learn a bit of everything," Kanawati noted. "Everywhere we were on the trip, I was able to apply it to things that I've learned at UIW, from the fashion show to the marketing."
For the two Cardinals, the experience at New York Fashion Week isn't one they'll soon forget. They shared that their time in New York strengthened their resolve to make it in the fashion industry and confirmed that their time as UIW Fashion students has taught them the skills they need to do so. 
"This is further motivation towards any projects I have left in the future, and to maximize my time here at UIW learning," added Cox about the impact the trip had on her. "I really want to improve and ask questions while I'm still here, so that when I'm in the workforce, I feel more prepared."
"It's been really inspiring," said Kanawati. "I've barely slept since we got back. Just going and seeing everything made me more confident in my own work – it was confirmation in what I can do."
Learn about UIW's Fashion Program
About IMG
IMG is a global leader in sports, fashion, events and media. The company manages some of the world's greatest athletes and fashion icons; owns and operates hundreds of live events annually; and is a leading independent producer and distributor of sports and entertainment media. IMG also specializes in licensing, sports training and league development. IMG is a subsidiary of Endeavor, a global entertainment, sports and content company.
About CLC
CLC is the nation's leading collegiate trademark licensing company with a mission to elevate college brands through insight and innovation. The company is uniquely positioned to deliver consumer connections and brand visibility for institutions through data-based, customized solutions that include impactful licensed merchandise strategies and innovative marketing platforms to navigate the ever-evolving consumer and retail marketplace. Headquartered in Atlanta, Georgia, CLC is guided by values to serve others, build trust, lead well, innovate often, and be passionate. Founded in 1981, CLC is a part of LEARFIELD, the leading media and technology services company in intercollegiate athletics.